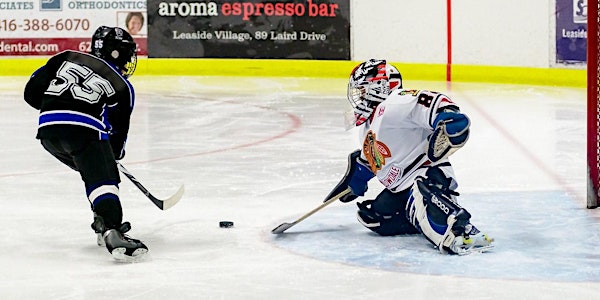 2021 Fall Goalie Skills Program, U9 (2013) to U13 (2009), 2-3:30: Dec 11
For North York Knights House League & Select Players. Registration is ONLY to be completed by House League Coaches.
By North York Knights Hockey Association
Date and time
Sat, Dec 11, 2021 2:00 PM - 3:30 PM EST
Location
Mitchell Field Arena 89 Church Ave North York, ON M2N 6C9 Canada
About this event
For North York Knights House League & Select Players ONLY
Registration is ONLY to be completed by House League Coaches
Goalie Skills Program
Registration for this weekly program is targeted at the player who has volunteered to be in net for their house league game in the upcoming week; as such only these players will be eligible for registration. We felt this approach would maximize the opportunity for players to get the training when they needed it most and when it would have the most impact on their skillset and confidence. Each week there will be 4 spots available so there is a good chance that any player who is in nets more than once during the season will have an opportunity to attend the Goalie Program at some point in time.
Registration will be completed by house league coaches through this registration system on a weekly first-come-first-serve basis with a new session being opened each Monday at 9pm. We would ask coaches to only register the player who will be in net for the appropriate week and if you're able to secure a spot one week to allow someone else to register the following week so that everyone will have an equal opportunity to attend the clinic. We are going to spot check this process but we are relying on the honor system, so we appreciate the support of all coaches on this new initiative. Once registration is complete, the coach will receive an email confirmation which can be forwarded to their team's goalie which should be shown to the instructor at the clinic to confirm their registration and attendance.
Goalie Skills Program – Sample Weekly Practice Plan
About the organizer
The North York Knights Hockey Association is incorporated as a not-for-profit, non-denominational, volunteer-run community organization dedicated to making hockey accessible and fun. It is governed by a nine-member Board of Directors. The Knights serve families in the North York area and the northern part of Toronto. Our philosophy is to provide children a solid foundation of hockey fundamentals in a learn-to-play program before integrating game experience.
Three program streams – Learn-to-Play, House League and Select – provide over 980 players and their families with a hockey experience that meets their commitment and competitive needs. The affiliation with the GTHL Knights offers an additional option for players looking for more ice time per week and a higher level of competition.