Al-Rashid Youth Club Presents Frosty Fun Box. Surprise boxes with fun activities for kids ages 5-12.
About this event
❄️☃️❄️☃️❄️☃️❄️☃️❄️☃️❄️☃️❄️☃️❄️☃️❄️☃️❄️☃️❄️☃️❄️☃️❄️
The Al-Rashid Youth Club presents for the second time, The 2021 Frosty Fun Box!!!!!
This years box includes many different activities designed to keep your children entertained over the course of winter break! This years box includes a Masbaha making kit, seed growing kit, mug personalization with hot chocolate, personalized coloring book, special sweet treats, painting kit, toys, and more! Each box is priced at $30 including delivery with a family bundle available if you purchase 4 or more boxes!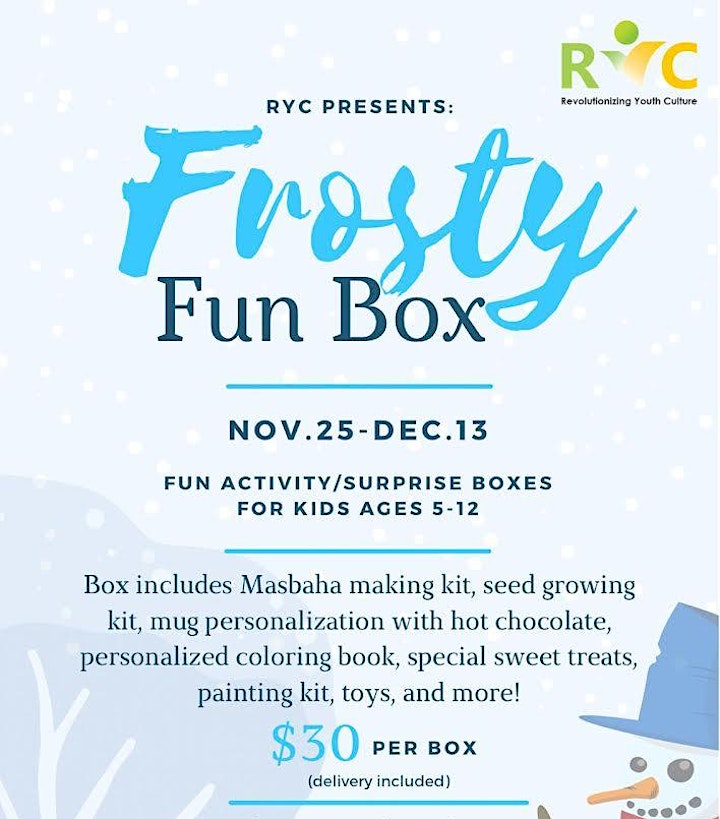 Organizer of 2021 Frosty Fun Box
Established in 1995, Al Rashid Youth Club goal is to unite the Muslim youth of Edmonton and to develop strong leaders, capable of leaving a legacy of compassion, resilience, and accomplishment. We hope to encourage and provide youth with the keys to chase their dreams. We aim to achieve this by developing and delivering programs that will encourage Muslim Youth to build stronger connections not only to Islam but with each other so that our community grows and flourishes to be one of strength, support, guidance, and success. We propel our youth into avenues that allow them to work with the Edmonton community, to grow as involved citizens and create foundations for giving back to the City and its diverse communities.