Our Inspirational Speaking Competition features competitors going head to head and heart to heart, to inspire you with their stories.
About this event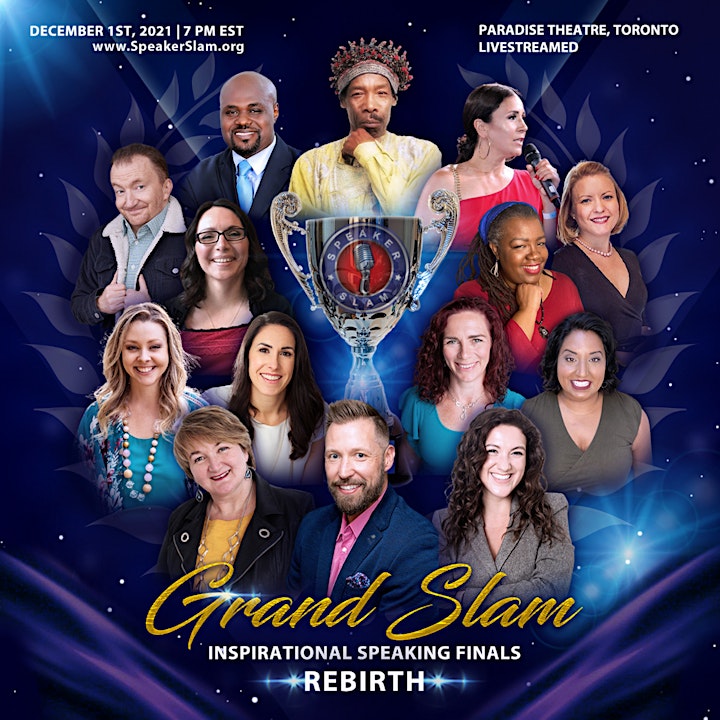 After our fifth year of Speaker Slam, it has all come down to this: The Grand Slam!
14 of the year's best from of our online competitions and live events, ready to take center stage and go head to head and heart to heart to determine who is the 2021 Inspirational Speaker of the Year. The winner will walk away with the Grand Slam trophy, $2000 cash, and a prize package valued at over $10,000.
It's been an incredible year filled with changes and challenges but one thing is for certain – our speakers have remained resilient and ready to inspire!
For the speakers, it all starts with a secret desire – may be to push through their fear or step outside of their comfort zone, or to share a vulnerable moment with an attentive, heart centered audience, or maybe, just maybe, to storm the stage and leave victorious as the intensely engaged crowd cheers wildly!
This year's theme will be sure to touch and inspire every person in the audience. Are you ready to witness this magnificent display of brilliance?
Do you want to experience Speaker Slam but don't want to come out to the live event and want an affordable option? Watch the LIVESTREAM from your couch by clicking here!
Top 6 Reasons to Attend Speaker Slam!
1. 14 inspiring speakers sharing their 5-minute masterpieces.
2. 8 amazingly dynamic and reputable judges.
3. Hosted at the beautiful Paradise Theatre and Livestreamed.
4. Be a part of Speaker Slam history and celebrate the best of the year.
5. An opportunity to check out the vibe and format of our event while you prepare for your own Speaker Slam debut – yes, YOU can join our contest and compete to win cash and prizes!
6. An enjoyable, entertaining evening out with two wonderful hosts
To learn more, please visit our website: https://www.speakerslam.org/tree
Join our community over at: @SpeakerSlam
Watch Our Videos Here: www.YouTube.com/SpeakerSlam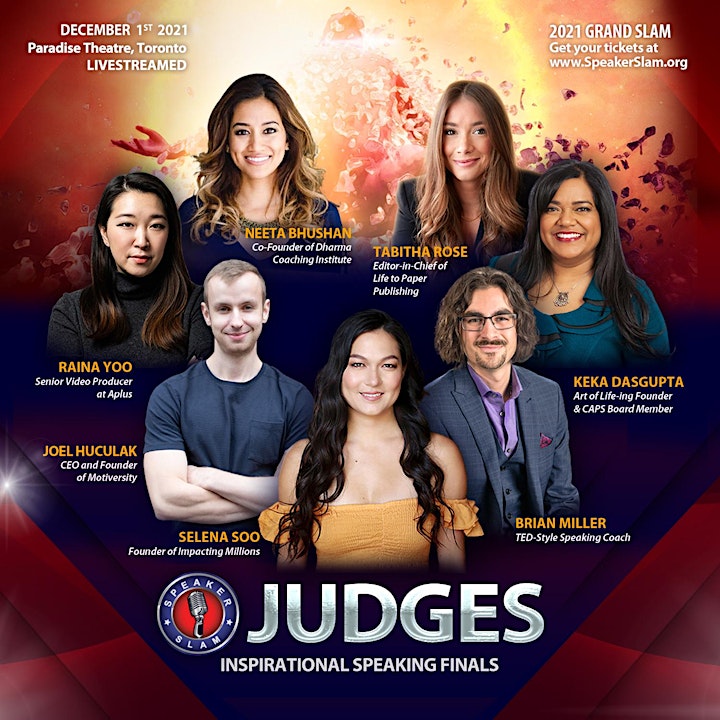 Organizer of 2021 Grand Slam of Inspirational Speaking
Speaker Slam™ is a Global Inspirational Speaking Competition. Where the skill of public speaking meets the thrill of competition. Our Inspirational Speaking Competition features competitors going head to head and heart to heart, to deliver 4-6 minute speeches based on a monthly theme with a chance of winning cash and prizes valued up to $10,000. Our winners have gone on to get paid speaking gigs, TEDx talks, and online notoriety.