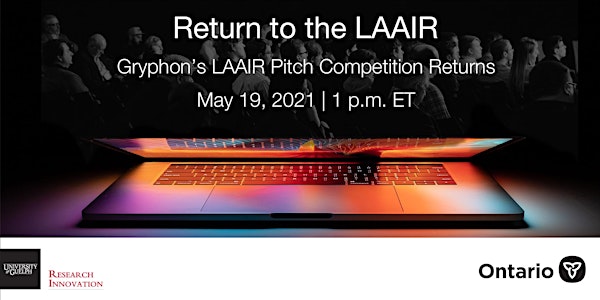 2021 Gryphon's LAAIR Pitch Competition Finale
Join us for the 2021 Gryphon's LAAIR Pitch Competition Finale!
About this event
Registration is now only available here:
https://hopin.com/events/research-innovation-festival-2021-gryphon-s-laair-showcase-and-pitch-competition
The Gryphon's LAAIR Innovation Showcase and Pitch Competition returns!
Join us online as five founders present their world changing technologies for the first time! Attendees will be inspired by the U of G innovators who are building world changing technologies. This interactive event will give attendees an opportunity to start conversations, network with agri-food professionals and business leaders and explore partnerships that have mutual benefit.
Online Event Timeline:
Live Stream Pitch Finale: May 19 from 12:45 pm to 2:00 pm
Online After-Party: May 19 from 2:00 to 3:00 pm
What to expect:
Host: Dan Clapson, Globe & Mail columnist and founder of Eat North
Five Teams led by Academic Entrepreneurs:
AstraRedex
BioFerm Functional Foods
DigiTrack Systems
Guelph Petrographic Imaging
Obi Veterinary Education
International Judging Panel will choose a $10,000 prize winner
Harry Gandhi, Founder & Start-up Coach (Canada)
Jim Hardin, Senior Investment Manager, AVAC Group (Canada)
David Maasz, Co-founder & CEO, INPAPAMC (Hungary)
Jenn Smith, Program Director, Grow-NY (USA)
Suhas Narayanaswamy, Investment Professional, Lewis and Clark Agrifood (USA)
For more information please visit the official event webpage. Please note: we'll be adding more details about the teams, the event and how you can get involved to vote for the $2,500 people's choice award over the coming weeks so please check back often!
In the meantime, here's a link that lets you watch last year's competition:
Below is information that will help you to enjoy the May 19th event fully!
See the Pitches: starting Monday, May 10th, each day we'll share one of the competing Gryphon's LAAIR pitches on our Twitter account and YouTube pages so that you can watch them at your leisure before the awards event. So, follow our @CreatedAtGuelph Twitter handle to see the pitches and all Research Innovation Festival content.
People's Choice Award: voting for the people's choice pitch prize opens up Friday, May 14th at 5 pm EDT. Vote here! Or, scan the QR code at the end of any of the pitch videos to instantly link to the voting page. Or, visit the Research Innovation Festival website and follow the links.
Event Login: a day or two before the Gryphon's LAAIR awards ceremony, look for an email from the University of Guelph with the subject line "Gryphon's LAAIR Login Info". The email will contain all the details you need to enter the event platform.
Have questions? Email us at the Research Innovation Office: researchinnovation@uoguelph.ca
We look forward to seeing you on social media next week for the Research Innovation Festival and live on May 19th for our interactive awards event!
Organizer of 2021 Gryphon's LAAIR Pitch Competition Finale