Second-year USask engineering students will be welcomed into their disciplines
About this event
Second-year USask engineering students will be welcomed into their disciplines by alumni, department heads, faculty members, senior students, and industry leaders. The hard hat ceremony features a colorful display of hard hats representing the engineering disciplines. Reception to follow for students to celebrate their newly chosen discipline.
The 2021 Hard Hat Ceremony is a unique celebration as we will be celebrating two cohorts of students - our 2021 second-year students and our 2020 second-year students who did not receive an in-person ceremony because of the pandemic.
Hard Hat Ceremony Timeline:
Doors open at 6:30 PM (Hall B, Prairieland Park)
Ceremony begins at 7:00 PM
Reception to follow the ceremony
The event will be held at Prairieland Park and is open to parents and family of students. Due to COVID-19, we will be following all USask Pandemic guidelines:
Single-use masks will be provided for all guests and must be worn at all times during the event
Hand sanitizer stations will be located throughout the venue
All students and guests are required to RSVP in advance and check-in at the registration table upon entering the Hard Hat Ceremony
If guests are feeling sick, unwell and/or presenting COVID-19 symptoms, we ask that they stay home.
The bar and dessert reception will be open after the ceremony is complete, this allows students and guests who are not comfortable eating/drinking with large groups the option to participate in the Hard Hat Ceremony while still leaving before dessert is served.
All USask COVID-19 guidelines can be found here: https://covid19.usask.ca/
IMPORTANT NOTE FOR STUDENTS:
In previous years, students needed to attend the Hard Hat Ceremony in order to receive their hard hat. Due to the pandemic and the large nature of the event (we anticipate ~600 guests), students who are sick and/or not comfortable with large groups will be able to RSVP to pick up their hard hats at a later date and watch a live-streamed portion of the evening. Students - please note, you will see the option to pick up your hard hats at a later date when you register via EventBrite.
A special thank you to the 2021 Hard Hat Ceremony sponsors for making this evening possible:
Graham, Hard Hat Ceremony Lead Sponsor
Engineering Advancement Trust, Presenting Sponsor
Hatch, Ethics Pledge Sponsor
APEGS, Chemical Engineering Discipline Sponsor
O'Kane Consultants, Environmental Engineering Discipline Sponsor
K+S Potash Canada, Mechanical Engineering Discipline Sponsor
Calian Advanced Technologies, Electrical Engineering Discipline Sponsor
Vendasta, Engineering Physics Discipline Sponsor
Saskatoon Engineering Society, Geological Engineering Discipline Sponsor
__________________________________________________________________________________
For more information, please contact the Event Coordinator, Carlene Deutscher at carlene.deutscher@usask.ca or 306-966-5286.
__________________________________________________________________________________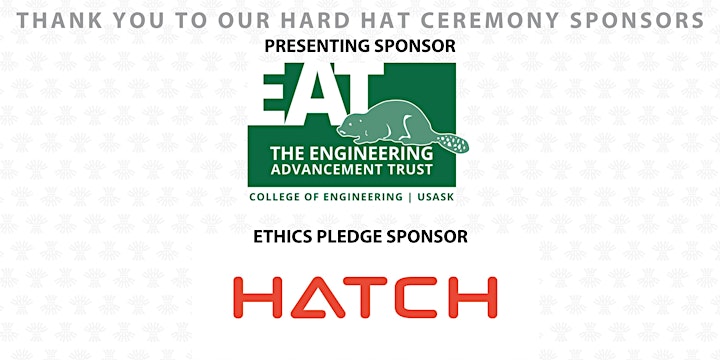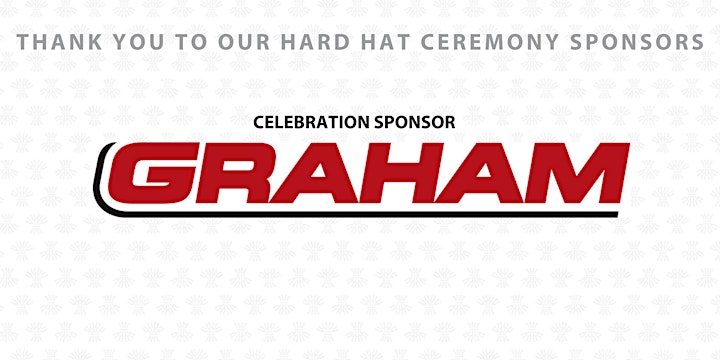 Organizer of 2021 Hard Hat Ceremony
At the heart of Saskatoon, on Treaty 6 territory and the homeland of the Métis, is the College of Engineering at the University of Saskatchewan (USask).
USask is one of the top research-intensive, medical doctoral universities in Canada, and is home to world-leading research in areas of global importance, like water and food security. Study and discovery is enhanced by our outstanding facilities, including the Canadian Light Source synchrotron, VIDO-InterVac, the Global Institute for Food Security, the Global Institute for Water Security and the Sylvia Fedoruk Centre for Nuclear Innovation.
Guided by our University Plan: The University the World Needs, we work together across disciplines and with our communities to find creative solutions to the most pressing global challenges. Our graduates, recognized for their strong work ethic, resourceful nature and determination, are leading change here at home and around the world.
Contact the College of Engineering:
Dean's Office / (306) 966-5273
Carlene Deutscher, Event Coordinator / carlene.deutscher@usask.ca
Richelle Kenn, Major Gifts Officer / richelle.kenn@usask.ca