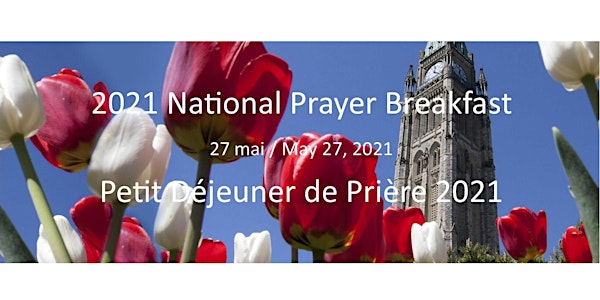 2021 National Prayer Breakfast of Canada/Petit Déjeuner de Prière du Canada
Le 56e Petit Déjeuner de Prière du Canada présente virtuellement a cause the la pandémie /presented virtually due to the COVID-19 pandemic.
About this event
Welcome video - click to view.
The annual National Prayer Breakfast of Canada is a Christ-centred event held by the Parliamentary Prayer Breakfast Group in our nation's capital. The purpose of this event is to come together collectively to honour and continue to hold to our Christian heritage. This allows our elected officials to gather together with men and women from different backgrounds to pray and connect through our shared faith. For 2021 we will again have a virtual Prayer Breakfast.
Le petit-déjeuner de prière national annuel du Canada est un événement centré sur le Christ organisé par le groupe de petit-déjeuner de prière parlementaire dans la capitale de notre pays. Le but de cet événement est de se rassembler collectivement pour honorer et continuer à conserver notre héritage chrétien. Cela permet à nos élus de se réunir avec des hommes et des femmes d'horizons différents pour prier et se connecter à travers notre foi commune. Pour 2021, nous aurons à nouveau un petit-déjeuner de prière virtuel.
_______________________________________________________________
Please consider a donation to the National Prayer Breakfast to help offset the production costs. Donate when you register on Eventbrite or use these alternative donation methods:
e-transfer (send to: cdnprayerbreakfast@gmail.com)
Mail cheques to: Canadian National Prayer Breakfast - Suite 746, Confederation Building -229 Wellington St. - Ottawa, ON K1A 0A6
Tax receipts will not be issued.
Nous vous invitons à faire un don au Petit déjeuner prière national canadien pour payer les coûts de production. Faites un don lorsque vous vous inscrivez sur Eventbrite ou utilisez l'une ou l'autre des méthodes de collecte de dons suivantes :
par virement électronique (à cdnprayerbreakfast@gmail.com) ou par chèque à l'adresse ci dessous :
Petit déjeuner prière national canadien Bureau 746, édifice de la Confédération 229, rue Wellington Ottawa (Ontario) K1A 0A6
Aucun reçu ne sera remis aux fins de l'impôt.
_____________________________________________________________
For more information please visit our website. Pour plusieurs informations s'il vous plait consulter notre sit-web.
Suivez nous sur Facebook pour les informations le plus récent. Follow us on Facebook for the most up-to-date information.
Si vous avez des questions vous pouvez nous contacter a cdnprayerbreakfast@gmail.com. For questions contact us at cdnprayerbreakfast@gmail.com.