Join us virtually for the Third International Symposium for "Promoting Healthy Brain Aging and Preventing Dementia" on May 18-19, 2021.
About this event
Campus Alberta Neuroscience is proud to host the Third International Dementia Symposium that will bring together experts from Alberta, Canada, and around the world to share knowledge and contribute to the ongoing discussions on the research and translational tools required to improve the prevention, detection, intervention and management of dementia.
Join international experts in healthy brain aging and dementia for the virtual 2021 Symposium on Promoting Healthy Brain Aging and Preventing Dementia: Research and Translation, taking place May 18-19th. The new virtual format will include opportunities to engage with speakers during discussions, networking, and abstract presentations.
The Event Program, including the full agenda, abstract information, and speaker biographies can be viewed here.
Topics Include:
Applied Sciences and Interventions for Brain Health and Dementia
COVID-19 Effects on the Brain: Direct, Indirect and Persisting Consequences
Integrating Big Data, Neuroinformatics, and Precision Health Approaches
Challenges of Animal Models and Clarifying the Science Surrounding the Amyloid Hypothesis
Registration Details:
Registration is now closed. Instructions for accessing the event have been sent to attendees. If you have any questions about your tickets, please email abneuro@ucalgary.ca.
The event will be recorded. If you are unable to attend the live session, a link to the recording will be sent to you after the event.
Call for Abstracts:
Abstract submission is now closed. Thank you to everyone who sent in their abstract! Notification of success and details regarding abstract presentations will be sent on April 14, 2021.
For more information on this event, please visit our website.
Please follow Campus Alberta Neuroscience on Facebook, Twitter, and LinkedIn. Also, be sure to sign up for the CAN newsletter for the most up-to-date information.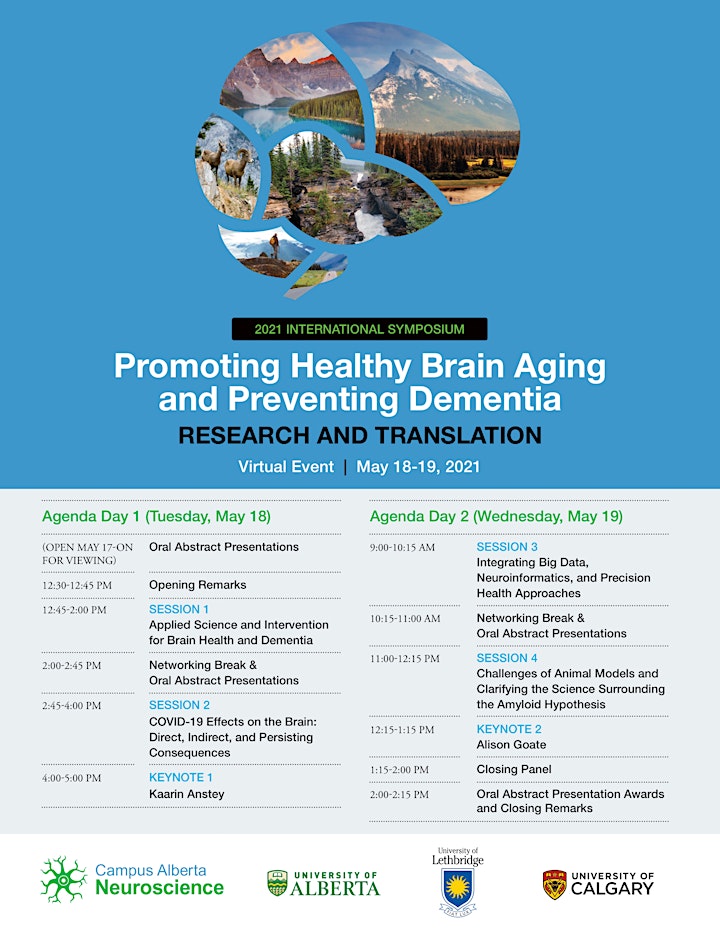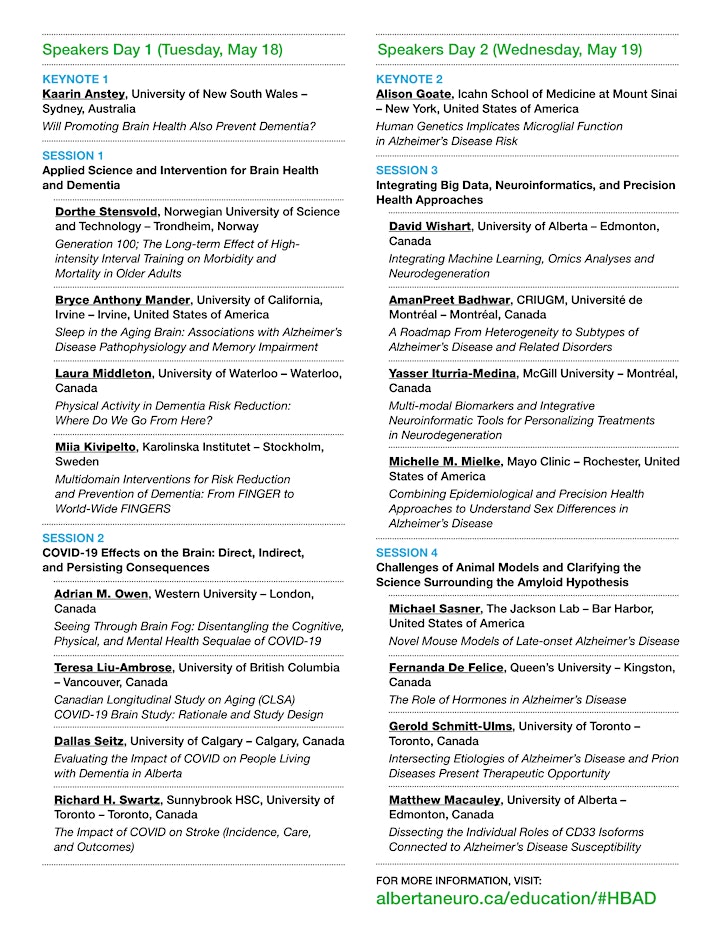 Sponsors
Campus Alberta Neuroscience would like to give a huge thank-you to our 2021 sponsors. Without their generous contributions, the symposium would not be possible.