VFL Simcoe & District - Annual Fundraising Drive -(on it's second year Prolife Virtual Walkathon event) Come Join Us!! A Walk For Life!!
About this event
https://www.canadahelps.org/en/charities/voice-for-life/p2p/virtualwalkforlife2021
Virtual Walk for Life from September 1st to 30th , 2021
Each year, Voice for Life has a walk-a-thon event in downtown Simcoe as a fundraiser while sharing pro-life witness. This year Voice for Life's annual Walkathon has once again gone virtual. This means you have the opportunity to choose your day and time – anytime between September 1st and September 30th – to walk, run or roll in your own personal way to benefit unborn children, pregnant women in need, and the elderly and vulnerable who reside in our area of Norfolk and Haldimand counties.
You design the walk. You can pull a wagon, walk a dog, push a stroller, wheelchair, ride a skateboard, bike, scooter …, run, jog, stroll, ..or walk on a treadmill, walk about your home. The choice is yours!
First step is to set your own goal. Whether you want to go a few kilometres around your neighbourhood, do a certain amount of steps in a week; or alternately, take part in a 7-day or more pro-life challenge, we will be cheering for you. A challenge, for example, is to post a pro-life message to social media each day, which can be a great way to raise awareness of pro-life issues among your friends and family, and even encourage them to donate.
You can create a personal fundraising page - Join as a Team or as an Individual. You can register as an Individual and let your friends and family know and they can sponsor your efforts by making a donation to your fundraising page. OR Join an existing Team or create your own and invite your friends and family to join or sponsor.
The best thing about a virtual walk? Anyone can join your Team whether they live next door or 2,000 kilometres away! Don't want to walk but you still want to participate? No problem! Simply create an Individual fundraising page and ask people to donate.
Maximize your fundraising impact! Ask your friends and family to sponsor your walk. Ask them to donate per kilometre (make it a 5K walk) or to donate a flat amount for your effort. Please also keep in mind that there's no set amount for sponsorship, so your friends and family can sponsor you at any level that's practical for them. All of your sponsors will receive a charitable tax receipt from CanadaHelps.
Your sponsors are also welcome to donate by e-transfer to voiceforlife@amtelecom.net. Just make sure they tell us that they're sponsoring you, and provide their address so we can issue them a tax receipt!
Once you've set a personal goal for yourself, go for it! Be sure to snap a photo as you or your family are completing your individual walk, or tag us online if you choose to do the 7-day pro-life challenge!
Record and share your experience with photos and we will post them on social media. E-mail your photos to johnbarra@sympatico.ca
Final step, feel good about doing good! Thank you for your caring heart.
______________________________________________________
Embed P2P code in website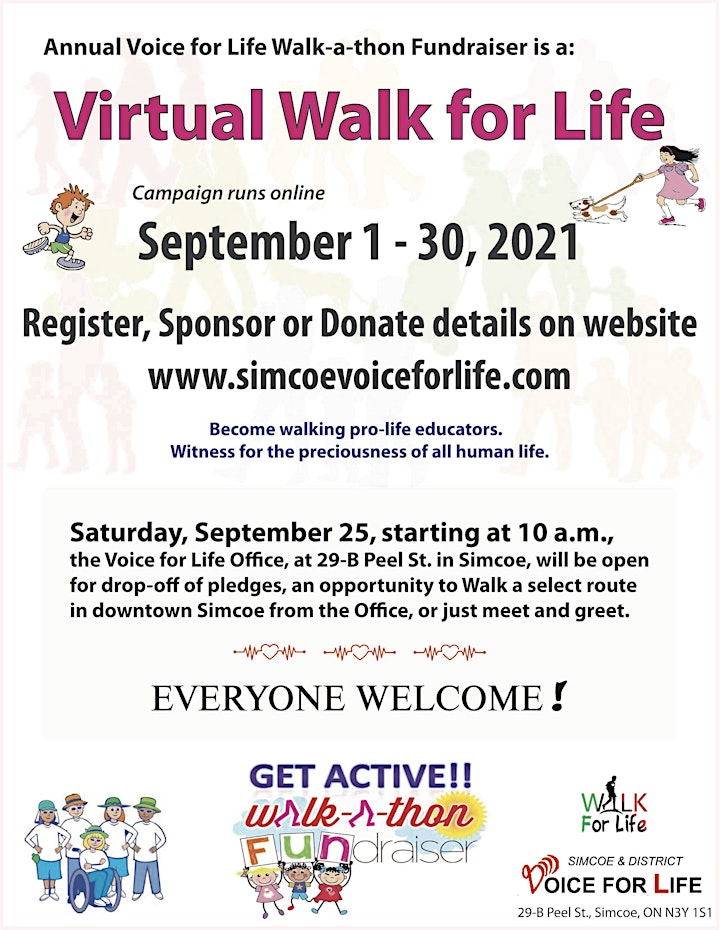 https://www.youtube.com/watch?v=z-O9D6v050Y
The love of a mother brings a new baby
into the world mother and child begin a
lifetime journey together the universal
bond of every race color and Creed with
mothers around the world we celebrate
life to every mother whoever and where ver you are!
thank you mom for the precious gift of life !!
A message of hope from Simcoe and district
voice for life promoting a respect and
love for all human life from conception
to natural death through education
because we believe and we care Simcoe
and District voice for life visit us at
simcoe voice for life com or call: 519 4285 146
Radio Ads Script Written By:
Elizabeth Christian Cruz O'Malley/VFL Simcoe & District Board Member
www.simcoevoiceforlife.com
Organizer of 2021 SEPTEMBER (VIRTUAL) WALKATHON ANNUAL EVENT- VFL SIMCOE & DISTRICT