Location
Sundre Pro Rodeo Grounds
Sundre Rodeo Grounds
Sundre, AB T0M 1X0
Canada
Refund policy
Contact the organizer to request a refund.
Eventbrite's fee is nonrefundable.
THE SHADY GROVE BLUEGRASS FESTIVAL WILL CELEBRATE ITS 30TH YEAR AT A NEW VENUE – THE RODEO GROUNDS IN SUNDRE, ALBERTA.
About this event
The festival will remain the same family friendly event we have had for many years, with some bonuses. The new venue offers excellent dry camping. You can expect
to set up and jam with your friends in the same Shady Grove tradition as always.
In addition, because we are in the town of Sundre, those who want to attend but not camp have access to excellent hotels and motel very near the festival grounds.
There will be an open mic, workshops, and great performances. There will also be a saloon, perhaps a beer garden, food trucks, and performances by some of the best bluegrass groups from western Canada.
There will be workshops and facilitated jams, so expect to get some sore fingers by the end of the weekend. See our website for ticket deals and the latest information.
Access to the many amenities Sundre
has to offer is a great bonus, and part
of a perfect getaway, with great golf
and over 4000 camping sites in the area. For those that want a little time away from the festival Sundre has restaurants,
a historic village, and some wonderful paths and hiking trails close to the festival site.
Bands
———
Denis Dufresne Band - AB
Allen Christie and Acoustic Mayhem - A B
Back Spin - BC— Cancelled
A.L and the other guys - AB
Morningside - AB
Steve Fisher Band - AB
Craig Young & Rhonda Shippy - BC
Under the Rocks - BC
Doggone Brothers - BC
Straight Raisers - AB
Over the Moon - AB
Visit our website for updates. Www.shadygrovefestival.ca
Children 16 and under are free (must be accompanied by an adult)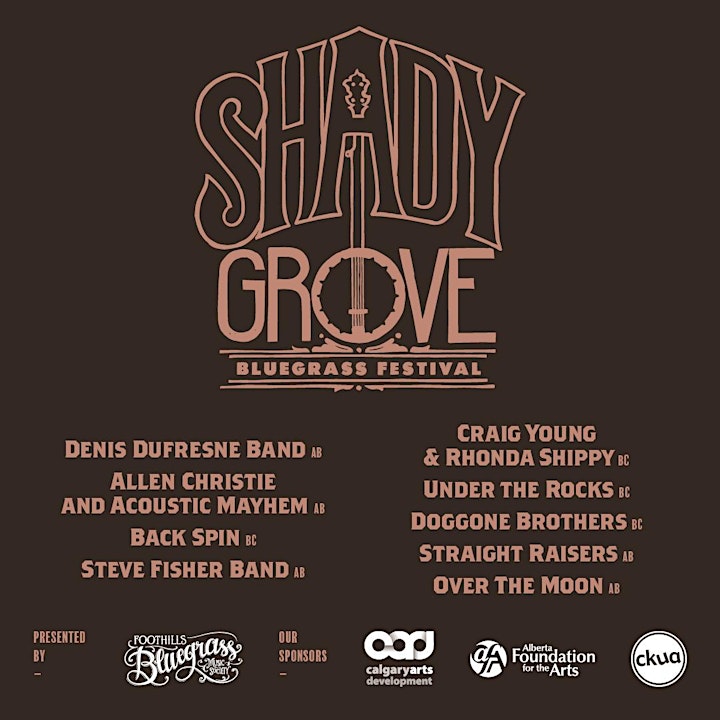 FAQ
Gates Open at 10:00 AM Friday Aug 20 2021
There is a Children's music workshop at 10:30 AM Sat Aug 21st
Are there any Covid Restrictions?
As per the Stage three directive from Alberta Health Services all restrictions on indoor and outdoor gatherings are lifted. We are not expecting any changes to the restrictions, but we will fully comply if the situation changes.
We will continue to provide items such as hand sanitizers for the use of patrons.
Any person who is feeling unwell should not attend the Festival.
Any person who comes down with symptoms while attending the Festival should immediately contact our onsite medical team.
We expect that our patrons will take personal responsibility for their wellbeing and follow common guidelines regarding protection from communicable diseases, including hand hygiene and respiratory etiquette.
The personal choice to wear a mask or not will be respected.
Is there accommodations for people with disabilities?
We will have close access parking for those with disabilities
There is wheel chair access to grand stands
What are the rules around pets?
No pets allowed in the performance main stage area aside from certified service pets.
Pets must be kept on a leash at all times outside the performance area.
Be prepared to clean up after your pet.
Is there special pricing for kids?
Kids 16 years old and younger are free, but must be accompanied by an adult.
How does camping work?
Camping cost – Flat rate of $25.00 for the festival per unit (trailer, camper, tent)
Camping is dry camping only (no hookups for water, sewer, power)
There will be a quiet area for those who wish to avoid jamming.
Quiet hours between 2 am – 8 am
No open fires or fire pits
Propane firepits may be allowed depending on the fire restrictions imposed by the Mountain View County and the Town of Sundre.
Jamming is not only allowed, but encouraged.
Is there parking?
Yes, daily parking is available for non-campers – NO OVERNIGHT PARKING.
If you are camping, you may park your car overnight.
Is there a beer gardens?
Yes. You must present your valid I.D. to purchase alcohol. Beer Garden begins on Friday. Kids are welcome in the Beer Gardens if accompanied by an adult.
PLEASE: DO NOT DRINK AND DRIVE.
Can I come on and off the site?
Yes, once you have paid and received your wristband you have unrestricted access. There is no after-hours driving in and around the property at night for safety reasons.
Can I buy tickets at the door?
Yes, however, tickets are limited and we encourage buying tickets in advance.
2021 Shady Grove Bluegrass Music Festival Tickets, Fri, 20 Aug 2021 at 6:30 PM | Eventbrite
What Facilities are on site?
Covered grande stands for up to 200 people - Yes
Open space for Festival style seating (bring your own chair) - Yes
Porta Potties - Yes
Food stands / food trucks - Yes
Beer Gardens / Saloon - Yes
Recycling / Garbage - Yes
Drinking water – Yes
First aid medical – Yes
Showers or washing up facilities – No
Instrument security check in - No
What should I bring?
Chairs without attached umbrellas
Umbrella for rain
Sunglasses
Sunblock and a hat
Water
Food
Bug spray
Sense of humor and a love of music
Coolers are okay.
Instrument for jamming. (Guitars, Mandolins, Dobro, Fiddle, Bass, Banjos)
Trailer, Camper, Tent if camping
What CAN'T I bring into the festival Main Stage area?
No alcohol.
No cannabis.
No illegal substances.
No glass containers.
Pets, other than certified service animals
Shade umbrellas
What CAN'T I do anywhere within the Festival grounds?
Drink alcohol outside of immediate camping spot, or outside of the Saloon
Smoke cannabis outside of immediate camping spot
Having fun and enjoying music is mandatory
TICKETS
• All sales are final; there are no cancellations, refunds, or credits.
• Tickets/Wristbands are non-transferable and non-exchangeable.
• We are not responsible for lost or stolen Tickets/Wristbands.
• All prices listed are "per person".
• You must wear your admission wristband for the duration of the festival.
• Wristband(s) are non-transferable.
• All customers purchasing a ticket to the Shady Grove Bluegrass Festival agree to the festival guidelines (found here and under Event Info).
• Artists and times are subject to change without notice; the festival is rain or shine.
PRIVACY POLICY
Shady Grove Bluegrass Festival respects and is committed to protecting your privacy. Although personally identifiable information is collected when you visit the Event Brite site and purchase a ticket, the information is solely for the purpose of being able to bill and process ticket orders as well communicate about the festival.
PHOTO POLICY
By entering the Foothills Bluegrass Festival, you understand that you may be photographed, filmed or videotaped, and you authorize the promoter the unqualified right to take pictures and/or recordings of you and grant the perpetual right to take use your likeness, image, photo without compensation, for broadcast or exhibition in any medium.
OFFICIAL REFUND POLICY
The Shady Grove Bluegrass Festival and Event Brite are not responsible for LOST or STOLEN tickets. Our official policy states that there will be NO REFUNDS for tickets. All sales are final. There will be no reissues for lost or stolen tickets. The 2021 Shady Grove Bluegrass Festival will take place rain or shine, and artists and times are subject to change without notice.
UNFORSEEN CIRCUMSTANCES
These circumstances will not be grounds for a refund, including but not limited to the following: local or national weather conditions and natural disasters, waiting in lines, road closure or traffic issues.
FESTIVAL TALENT
A ticket is for the Foothills Bluegrass Festival, not a specific artist. Artists and schedules are subject to change without notice. Artist cancellation is not grounds for a refund.
GROUNDS FOR NO-ENTRY OR REMOVAL
Promoters, Venue owners, Security and Event Staff have the right to refuse entry to any ticket holder, without a refund, for any reason at their discretion, including but not limited to: disorderly behavior, intoxication, venue capacity, breach of security restrictions.