The 2021 Technology Impact Awards celebrates the people, leaders, and companies that are the very best of BC's tech community.
About this event
November 18, 2021 | 6-10pm
Event format: Networking with live awards show & entertainment
Dress code: Fancy but comfortable (trade in the dress shoes for sneakers!)
Live Stream: Share the live stream link with colleagues and friends
Part 1 - The Innovation Story: Innovation is the spark that ignites us to create something novel & exciting, launch a company to meet an unmet need, find new ways to tackle old problems, create a culture that is uniquely your own and find ways to pivot your business when faced with adversity. In the following awards, innovation takes centre stage in remarkable ways that will change the world forever.
Excellence in Technology Innovation
Company of the Year - Startup
Excellence in Technology Adoption
Tech Culture of the Year
Spirit of BC Tech – Resilience
Part 2 - The Inspiration Story: Inspiration is what sustains us. It keeps us strong as we scale our ambitions & abilities, helps us sustain the communities around us, explore untapped markets, honour our commitment to our employees and deliver on our individual potential to change the world. In the following awards, we celebrate those who have set bold goals and empowered those around them to achieve greatness.
Company of the Year - Growth
Company of the Year - Export
Company of the Year - Scale
Gamechanger - Diversity & Inclusion
Person of the Year
Company of the Year – Anchor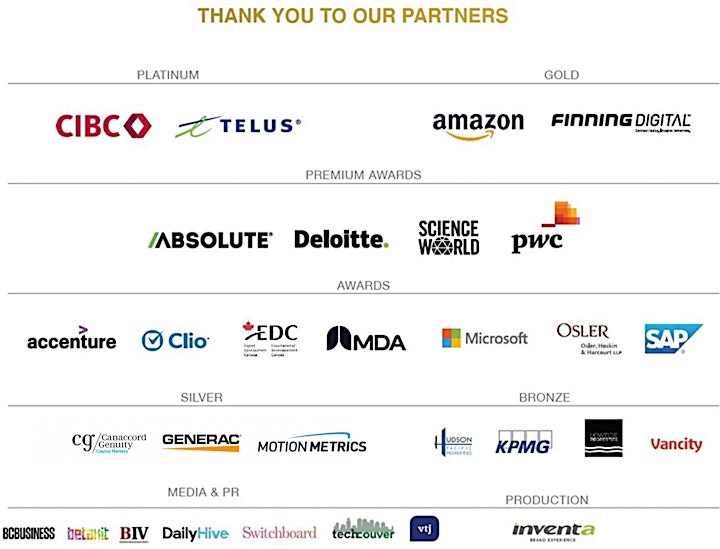 Organizer of 2021 Technology Impact Awards
BC Tech
is a non-profit dedicated to making British Columbia the best place to grow and scale a tech company. We pursue this mission by: providing the places and events for the community to come together; impactful programs that help companies grow, scale, export and adopt technology; up-to-date information about the tech sector; and the solutions required to ensure our industry and our province continue to grow and thrive. To learn more visit: https://www.wearebctech.com/