Sales Have Ended
Ticket sales have ended
Ticket sales for theatre screenings are closed but you can still watch the TMFF 2021 films online. For more info, visit torontomotofilmfest.com/tickets
Sales Have Ended
Ticket sales have ended
Ticket sales for theatre screenings are closed but you can still watch the TMFF 2021 films online. For more info, visit torontomotofilmfest.com/tickets
Five friends make they way through the most isolated corners of the world on four rusty old Ural sidecar motorcycles.
About this event
972 BREAKDOWNS - ON THE LANDWAY TO NEW YORK
After their graduation, Anne, Efy, Elisabeth, Johannes, and Kaupo get their motorcycle licenses and set off on four old rusty Ural 650 sidecar motorcycles, travelling eastward from Germany to New York City. When plans collapse things start to get interesting. Roads dissolve into deserts, swamps, and rivers until they reach the 80 kilometres of open sea separating Russia from Alaska, the Bering Strait.
Their unreliable motorcycles suffer ongoing breakdowns and the raw and rugged terrain throws them the most unrelenting difficult challenges. Equipped with no more than naivety and persistence they somehow make their way through the most isolated corners of the world.
After 20,000 km of breakdowns, all roads end and the only way to get closer to the Bering Strait is by The Kolyma, a remote 1,600 km long river. To cross it, the group build an amphibious motorcycle rig that will lead them closer to Bering Strait.
Combining animation and a score that uses the sounds of the worn-down Urals, 972 Breakdowns takes you along on an audio visual journey that will either make you want to take on a similar trip, or say, "hell no!"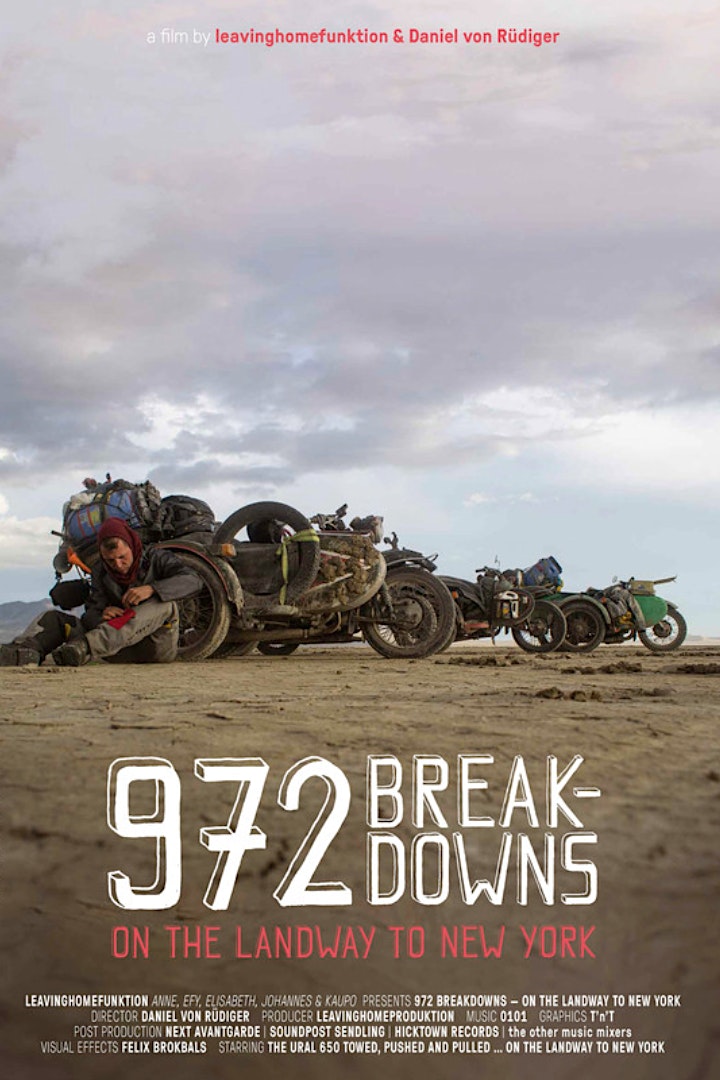 Organizer of 2021 TMFF Individual Ticket - Friday, Sept 17 @ 6:30 PM
Universal stories told through the lens of motorcycling.
Since 2017 the Toronto Motorcycle Film Festival has been celebrating the intersection of motorcycles, film, and the arts and is the first and only Canadian festival dedicated to screening movies focused on motorcycles and the incredible culture of motorcycling. Held over multiple days, the Festival features world, international and Canadian film premieres, meet and greets with filmmakers, jury and audience awards, Q&A panels, and receptions.