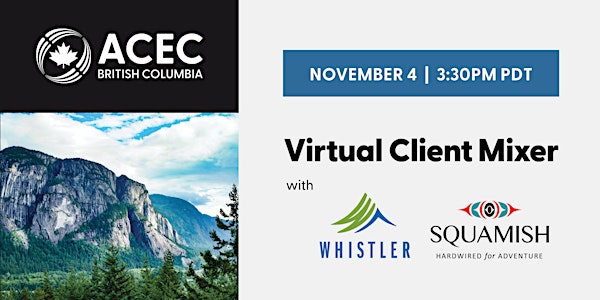 2021 Virtual Client Mixer: Whistler and Squamish
The ACEC-BC Municipal Engineering Committee invites you to a virtual mixer with the Resort Municipality of Whistler & District of Squamish!
About this event
We're excited to welcome key representatives from the Resort Municipality of Whistler and District of Squamish to discuss upcoming capital plans and major projects!
Who will you hear from?
District of Squamish
David Roulston, Manager of Municipal Infrastructure, Engineering
Laura Princic, Manager of Municipal Engineering, Engineering
Devin Kiyonaga, Municipal Engineer, Engineering
Resort Municipality of Whistler
James Hallisey, GM Infrastructure Services
Tammy Shore, Project Manager, Infrastructure Services
Chelsey Roberts, Project Supervisor, Infrastructure Services
Emma Dal Santo, Transportation Demand Management Coordinator, Infrastructure Services
Following the presentations, attendees will have the opportunity to network and connect with speakers and other representatives from each municipality in the virtual networking rooms.
Cost: ACEC-BC member: $20 | Non member: $35

Networking Rooms
Squamish & Whistler: Community, Transportation, Transit
Squamish: Flood Management/Water/Wastewater
Whistler: Water Treatment / Wastewater Treatment Systems Upgrades