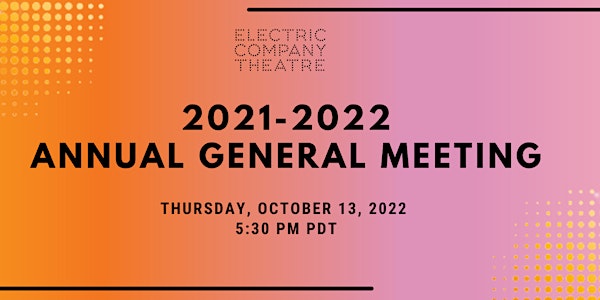 2021/2022 Annual General Meeting
2021-2022 Electric Company Theatre's Annual General Meeting
About this event
Join us for Electric Company Theatre Society 2021-2022 Annual General Meeting in person AND online!
Date: Thursday, October 13
Time: 5:30PM -6:30 PM PDT
Location: Progress Lab 1422 (1422 William St, Vancouver, BC V5L 2P7) or Zoom (link will be sent to you directly)
Refreshments available on-site (or BYOB from your own kitchen if joining online).
Gather round to hear all about the past season and what is coming up as we LIGHT UP THE STAGE in 2022-2023!
To RSVP to the event in person, please email our Communications & Marketing Coordinator, Valeria, at valeria@electriccompanytheatre.com
Why do we need your address information?
We need to collect your address information for our Society records, just as you would sign into our AGM in person. We will not sell or share your personal information.
We look forward to seeing you!
The Electrics ⚡️