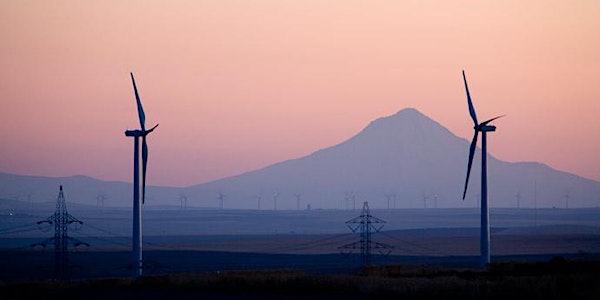 2022-2023 Clean Energy Fellows Cohorts Kickoff
You've been invited to celebrate CE's Clean Energy Fellows launching regional /national projects & discuss potential areas of partnership.
About this event
You are invited to participate in presentations of the 2022-23 Clean Energy Fellows Cohorts unique projects
Join our eleven Clean Energy Fellows from across the Pacific Northwest who have been working diligently to develop place-based plans that deeply engage their students in local energy challenges, social justice issues, and career pathways. With plans ranging from building a vision for a new school to clean energy curriculum and career training, we celebrate the commitment these educators have to their students' participation in this future as our region presses forward in the development of a clean, resilient, and adaptable power grid.
In addition to specific regional action plans, we will also hear from two new cohorts, our Clean Energy Fellows: Water Power and Clean Transportation cohorts. These educator-leaders will be working to develop implementation toolkits around these unique topic areas, hoping to increase nationwide implementation of high-rigor curriculum and foster the development of classroom career connections.
Build educational networks and identify areas of collaboration
Participants in this meeting on September 28 will get the chance to ask questions and discuss methodology planning to be implemented by these educator leaders, continuing to ensure the critical linkages needed between industry and education.
Agenda
4:00-4:10 Welcome and Introduction
Round 1 of Presentations:
4:10-4:20 Scott McComb (Seattle, WA) Developing a new school with a project-based curriculum focused on themes of environmental stewardship, sustainable entrepreneurship, climate advocacy and justice
4:20-4:30 Kari Hinkle & Bess Hjartarson (Cut Bank, MO) Developing student-led problem solving lessons that connect to local energy issues through the lens of environmental justice
4:30-4:40 Anne-Marie Eklund & Syver Pearson (Cascades Academy of Central Oregon) Empowering students to become changemakers for climate and energy solutions to combat climate anxiety
4:40-4:50 Jamie Whitney (Kennewick, WA) Developing teacher-scientist partnership work and "See yourself in STEM" program
4:50-5:00 Q & A for Round 1 Presenters
Round 2 of Presentations:5:00-5:10 Mark Hansen (Driggs, ID) Integrating career connections into all CTE learning and developing training for district staff on carreer connections
5:10-5:20 Stacey Zaback (Monmouth, OR) Engaging students in clean energy engineering design for projects that solve energy security in rural communities
5:20-5:30 Clean Transportation Cohort: James Mulanax & Brett McFarland: Incorporating emerging clean transportation technology and engineering design into existing STEM, CTE, automotive and physics programs.
5:30-5:40 Water Power Cohort: Brian Vollmer-Buhl: Engaging students in creative engineering design to explore solutions through marine renewable energy
5:40-5:50 Q & A for Round 2 Presenters
5:50-6:00 Wrap-Up
ZOOM INVITATION WILL BE SENT LATER TO REGISTERED PARTICIPANTS