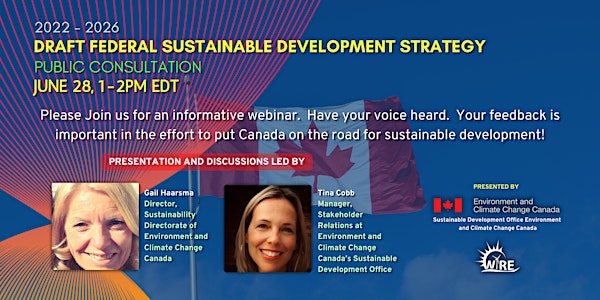 2022-2026 Federal Sustainable Development Strategy Public Consultation
Join us for an informative webinar. Your feedback is important in the effort to put Canada on the road for sustainable development!
About this event
Join us for the public consultation on the draft 2022 – 2026 Federal Sustainable Development Strategy (FSDS), which sets out the Government of Canada's sustainable development priorities, establishes goals and targets, and identifies actions to achieve them.
The FSDS brings together all major environmental initiatives, such as Canada's Strengthened Climate Plan, the Canada-wide Zero Plastic Waste Action Plan, and the Greening Government Strategy, into one place.
Your feedback on the strategy is important! Please Join us for an informative webinar to learn more about advancing sustainable development in Canada! Let's work together to make this a better world. It's that simple.
PRESENTERS
Gail Haarsma
Director in the Sustainability Directorate of Environment and Climate Change Canada
Gail Haarsma she is currently responsible for the Federal Sustainable Development Strategy and Progress Report as well as implementing the Federal Sustainable Development Act. She has more than 30 years of consultation and engagement experience both inside the federal government and in the private sector and has been with Environment and Climate Change Canada for 12 years.
Tina Cobb
Manager , Stakeholder Relations, Environment and Climate Change Canada Sustainable Development Office
Tina Cobb is the Manager, Stakeholder Relations at Environment and Climate Change Canada's Sustainable Development Office. Prior, she led the Partnerships team at the Sustainable Development Goals Unit at Employment and Social Development Canada where she managed the SDG Funding Program. Tina brings 14 years of Government experience in strategic partnership work and international climate change communications and policy. She is passionate about social impact, the environment, and breaking down organizational silos to make collaboration happen. She can often be found participating in discussions to help champion action on the Sustainable Development Goals in Canada.
------------------------------------
After the featured presentations, we will also have some (virtual) casual networking time to reconnect and meet fresh faces with other women and allies in the sector from across Canada.
This event consists of:
1. Opening remarks and introductions
2. Presentations from our guest speakers
3. Q&A with our guest speakers
This virtual event will take place through Zoom. For joining on Zoom at the time of the event, attendees can either log in to Eventbrite to be directed to the Zoom event or can access it by following instructions that will be emailed to registered attendees ahead of time.
For this reason, it is important that you receive a confirmation email from Eventbrite shortly after completing registration. In case you do not receive a confirmation email, check first that Eventbrite emails are not being filtered into your spam/junk box and then, if needed, contact info@womeninrenewableenergy.ca to resolve further.
Non-Attendance Policy: To those with tickets to attend this event, we ask that if you can no longer attend, to please cancel your ticket as soon as you can out of courtesy to others who may be on a waitlist for event tickets (there is a limit for the number of participants we can host in our virtual events on Zoom). If you can no longer use your ticket to attend the event, then cancelling your ticket will give the chance to someone on the waitlist to participate instead. Thank you!
If you are experiencing any issues or have any questions please contact us info@womeninrenewableenergy.ca
Visit us at www.womeninrenewableenergy.ca and join our newsletter to stay up to date on all the amazing WiRE programming!