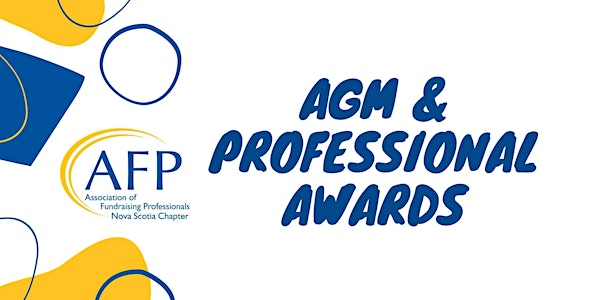 2022 AFP Nova Scotia Professional Awards and AGM
Let's celebrate all the power of philanthropy, the fabulousness of our profession, and the people-power that makes it happen!
About this event
Join us on Tuesday, June 7th, 2022 for our Annual General Meeting and Professional Awards.
The Awards Ceremony takes place virtually from 9:30 a.m. to 9:45 a.m., immediately followed by our AGM from 9:45 - 10:15 where we'll reflect on the past year and elect our new AFP Nova Scotia Board of Directors for 2022-2023.
Heartfelt thanks to all those who made this event possible, including: our nominators, nominees, presenters, Awards Organizing Committee , Nominating Committee, and our Sponsors, for their many efforts and incredible support in making this event possible.
For those of you who are attending our Maritime Fundraising Conference, this event is outside of the Pheedloop Conference Platform. You will need to register here for this event.
2022-2023 Slate of Directors:
Slate of Officers
Whitney MacLean – President
Heather Strickey – Past President
Alison Clements – President Elect
Tom O'Handley – Treasurer
Fiona Valverde – Secretary
Slate of Directors
Vanessa Burns
Daphne Carter
Daisy Cobden
Tracey Comeau
Taylor Heustis
Geoff Hurst
Mark Inglis
Anne Long
Shaylyn MacAulay
Katie MacDonald
Whitney Machin
Mackenzie Moyer
Gillian Reid-Thomas
Jill Pelkey
Liz Struijf-Mandishora
Ben Trenaman
Registration is free!
Award Categories*:
Professional Fundraiser
Rising Star
Fundraising Innovation for Small Shops
Youth in Philanthropy
*To see the nominees in each category and category descriptions, please click here.
If you have any questions related to the awards or nomination process, please contact Jill Pelkey: jill@rmhcatlantic.ca