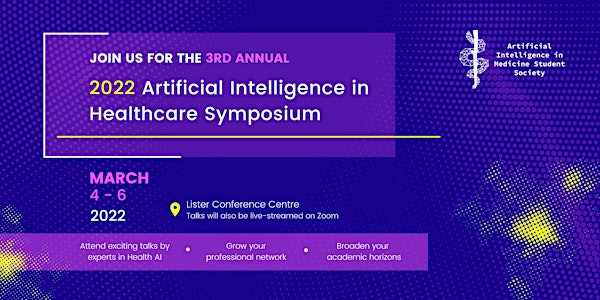 2022 Artificial Intelligence in Healthcare Symposium
Event Information
Location
Lister Centre
11613 87 Ave NW
Edmonton, AB T6G 2H6
Canada
The AI in Healthcare Symposium is a hybrid interdisciplinary event that bridges the gap between medicine and computing science.
About this event
Welcome!
We at the Artificial Intelligence in Medicine Student Society (AIMSS) are thrilled to announce our third annual AI in Healthcare Symposium.
Join us March 4-6, 2022 at the University of Alberta North Campus and Downtown for:
Exciting talks by experts in Health AI
Networking opportunities
Industry booth fair
Poster presentations
Tutorials and workshops
Food and free stuff!
People from all educational backgrounds are encouraged to register. No pre-requisite knowledge is required to enjoy the symposium, only curiosity and a willingness to learn!
Agenda
March 4 (Downtown): Introduction, Networking, AI in Medicine primer, Evening mixer
March 5 (UAlberta Campus): Breakfast and Registration, Opening Ceremonies, Lecture Series Part A, Booth Fair, Poster Presentations, Lunch, and Coffee
March 6 (UAlberta Campus): Lecture Series Part B, Lunch, Machine Learning Foundations, Coffee, Closing ceremonies
Please see our webpage for the full event itinerary as it unfolds. Locations will be sent to those who register.
Keynote
Our keynote speaker this year is Dr. Michael Levin of Tufts University, who will be speaking about his work using artificial intelligence and neuroscience to find out how information stored in biological tissues can be used in the pursuits of bioengineering and biomedicine.
Dr. Levin's lecture and Q&A will be live-streamed to all in-person and remote attendees on March 5 from 11 AM -12 PM MST.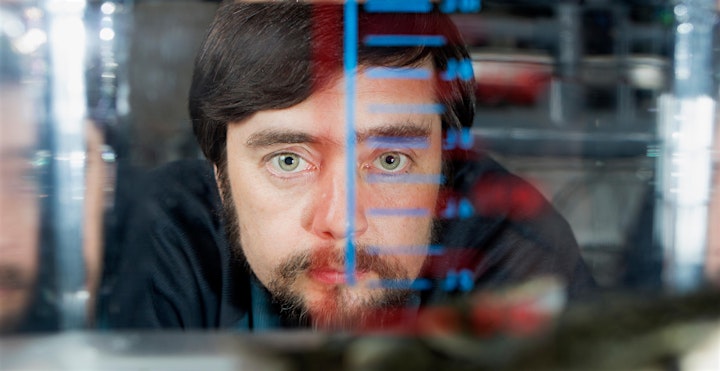 Safety
COVID safety is of the utmost importance to us, and we have kept the well-being of our attendees in mind while planning this event. Masks will be provided for attendees if necessary, and are required at all times except when food is being consumed. Meals are either individually packaged or served to you and must be eaten at your chosen table. The number of people seated at each table will not exceed six. Tables will be spaced with ample room between, and hand sanitizer will be available at multiple stations throughout the event. The number of attendees is capped at one-third venue capacity.
Not able to attend in-person? No problem!
To take advantage of the online platforms we have all gotten so used to over the past two years, we will be streaming all the lectures directly to you, in your home, for free! Be sure to reserve a complimentary online event pass, which will give you access to the Zoom webinars.
If you cannot make it to the in-person portion of this event for any reason, please request a refund before the event so we can free up a spot for someone else.
Date and time
Location
Lister Centre
11613 87 Ave NW
Edmonton, AB T6G 2H6
Canada
Refund policy