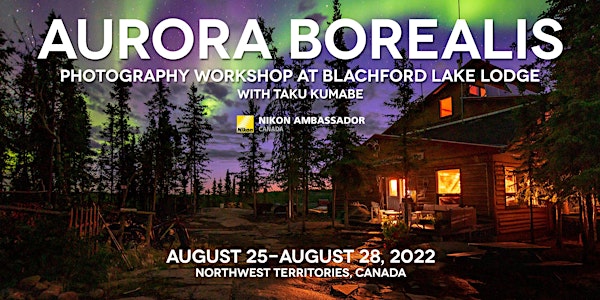 2022 Aurora Borealis Photography Workshop at Blachford Lake Lodge
Photograph the Aurora Borealis in one of the most beautiful backdrops outside of Yellowknife, with Nikon ambassador Taku Kumabe!
By Taku Kumabe Photography and Design
Date and time
Thu, Aug 25, 2022 10:00 AM - Sun, Aug 28, 2022 12:00 PM MDT
Location
Blachford Lake Lodge Blachford Lake Blachford Lake Lodge, NT Canada
About this event
Only 1 single spot remains for a female! If you are a female and would like to share a cabin with another female participant, please contact Taku for deposit and registration information.
Northwest Territories
With flat lands, no sea-water, and a dry climate, Yellowknife—sitting directly under the aurora oval—is scientifically considered to be one of the best places in the world to see the Aurora Borealis.
Northwest Territories—with its arctic landscape—is also a stunningly beautiful backdrop to photograph nature, waterfalls, and more. If you have the opportunity, Taku highly recommends extending your stay to experience Yellowknife and its beautiful surroundings.
Please feel free to consult with Taku for suggestions on a pre-/post-Blachford itinerary.
Blachford Lake Lodge
Blachford Lake Lodge is approx. 100km away from Yellowknife, sitting on a rocky shore along Blachford Lake. It is so remote it can only be accessed by a 25min. float plane ride from Yellowknife, and is the perfect eco-friendly lodge to act as a backdrop to the Northern Lights. It is no wonder why the royal couple (Prince William, Duke of Cambridge, and Catherine, Duchess of Cambridge) spent some time at the lodge during their 2011 Canadian tour.
Visit their website for more information: https://blachfordlakelodge.com.
Workshop Details
Date: August 25 - August 28, 2022
Cost: CAN $2095 plus GST (Fees are based on double occupancy.)
Skill Level: All
**This is an all-inclusive eco-lodge, so all food, non-alcoholic beverages, 10% staff gratuity, cabin room, and flight to/from Yellowknife to lodge are included in the price.**
Itinerary
Each day will include time for leisure activities. Hosted by the lodge, these can include hiking (2km, 4km, or 4km loop trails), a 2 hour guided boat tour, canoeing, kayaking, fishing (fishing license required), sauna, swimming, using the hot tub, or just relaxing in the lodge or cabin.
Itinerary at Blachford Lake Lodge subject to change. Photography editing requires laptops that are not provided.
August 25
Arrive at the float plane base in Yellowknife for 9am. Your float plane ride to Blachford Lake Lodge will leave at 10am.
Upon arrival, a short lodge orientation will be led by staff.
Settle down in our cabins
Lunch
Afternoon photography lesson led by Taku.
Leisure
Dinner
Sunset photography session
Aurora photography session
August 26
Sunrise photography session (optional)
Breakfast
Photography session: lessons, viewing, editing, critiquing our photos
Lunch
Leisure/Optional one-on-one time
Dinner
Sunset photography session
Aurora photography session
August 27
Sunrise photography session (optional)
Breakfast
Photography session: lessons, viewing, editing, critiquing our photos
Lunch
Leisure/Optional one-on-one time
Dinner
Sunset photography session
Aurora photography session
August 28
Sunrise photography session (optional)
Breakfast
Pack up bags
Leave for Yellowknife late morning
Return to airport/continue your trip
What's Included
Float plane ride to/from Blachford Lake Lodge from/to Yellowknife
All meals at Blachford Lake Lodge
Hiking, canoe, kayak, boat tour
10% staff gratuity
Photography guide by Taku Kumabe throughout entire trip at Blachford Lake Lodge
What's Not Included
Transportation to Yellowknife, Northwest Territories; you will likely need to arrive in Yellowknife at least the night before
Ground transportation to/from the float plane base in Yellowknife
Items of a personal nature
Travel insurance
Alcohol at the lodge (can be purchased at the fully licensed bar)
Additional tour fees at the lodge, if applicable
Volunteer gratuities
Cost
CAN $2095 plus applicable taxes and Eventbrite charges, based on double occupancy.
Single participants will be paired into same-gender cabins on a first-come, first-served basis. Single occupancy supplement, add CAN $450.
Canadian residents may e-transfer me the payment to save on transaction fees.
Structure
CAN $500 non-refundable deposit upon booking.
CAN $1595 balance before June 1, 2022.
Or pay all fees up front.
Cancellation Policy
Spots are non-refundable upon booking, but can be transferred to another individual. Participants are responsible for finding their own suitable replacement.
Taku Kumabe reserves the right to cancel the workshop at any time for any reasons (ie. minimum number of participants not met, global or extreme weather conditions severely impacting itinerary, etc.). In the event of cancellation by Taku, all workshop fees will be refunded, including the deposit. Flights and trip cancellation fees, and Eventbrite fees will not be refunded, nor any additional costs the participant may have already incurred for the trip.
Insurance
Trip cancellation and medical/illness/emergency medical insurance is not mandatory, but is highly recommended.
Travel Visa
It is the participant's responsibility to ensure they have the proper and valid travel visa (if applicable) for the duration of the workshop.
Accessibility
Blachford Lake Lodge is situated up high on a rocky shoreline. As such, many stairs and rocks need to be climbed to reach the lodge. Traversing to cabins also entails walking on bumpy rocks and climbing up and down stairs. Photographing the Aurora Borealis at night requires participants to walk in the dark with headlamps or lanterns over the uneven ground and steps.
Participants should be healthy enough to be capable of climbing steps and traversing over uneven grounds.
Unfortunately Blachford Lake Lodge is not wheelchair accessible.
Notes
Each participant will be required to sign waiver forms from Taku Kumabe and Blachford Lake Lodge prior to their departure to Yellowknife, otherwise the participant forfeits their right to participate in the workshop without any refunds.
If the participant does not/cannot partake in any activities throughout the workshop for any reason, no refunds will be provided.
Seeing the Aurora Borealis is never guaranteed. The visibility of the Northern Lights depends on several factors including any solar flares, strength of the storm, and local weather and cloud conditions. There is a high percentage of chance that you will see the Aurora Borealis at least one night during a three night stay. However, there is always a possibility that the Northern Lights will not be visible for the duration of the workshop. While unfortunate, please note there will not be any refunds should this occur.
This event has a minimum participant number of four (4) people, and a maximum of eight (8). If four participants do not book before July 1, 2022, the workshop may be cancelled.
Please feel free to contact Taku should you have any questions.
About the organizer
Taku Kumabe is a Canadian Nikon ambassador and freelance photographer in Toronto, Ontario. With a passion for outdoor, nature, and landscape photography, he encourages people to be active and explore their own neighbourhoods.
Taku has been educating youth and adults in photography for over nine years and loves to enrich and inspire individuals to acheive their photography goals.
Follow Taku on Instagram: https://www.instagram.com/smaku
See Taku's Portfolio: https://www.takukumabe.com