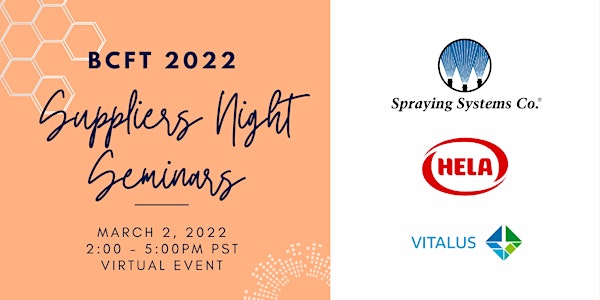 2022 BCFT Suppliers Night Seminar Presentations
Refund policy
Refunds up to 7 days before event
Eventbrite's fee is nonrefundable.
About this event
BCFT is pleased to announce our 2022 Suppliers Night Seminar Presentations. Due to the ongoing public health challenges presented by COVID-19, BCFT has regretfully elected to cancel our 2022 Suppliers Night tradeshow. We understand this news may come as a disappointment to many of you and would like to reaffirm that BCFT prioritizes ensuring the health and safety of everyone participating at our events. In place of our annual tradeshow, BCFT is pleased to announce that we will continue to host our popular supplier led educational seminars on Wednesday March 2, 2022. Presentations will be hosted virtually over zoom and will run between 2:00 pm to 5:00 pm PST.
Details of the event are as follows:
Seminar A
Time 2:00pm – 3:00pm
Topic: Innovation in the Vegan Marketplace, Beyond the Burger
Speaker: Eric Nummelin (Director of Sales) & Stefanie Messerschmidt (Research and Development Manager)
Company: Hela Spice Canada
Summary: Hela has quietly been a strong supporter of new vegan product conceptualization and development over the last decade and we are utilizing new ingredient and processing technologies designed for todays vegan consumer. The presentation would explore emerging technologies in producing vegan dairy style products like cheeses and desserts, vegan gravies, sauces, vegan entrees, vegan fermented meat style snack foods, vegan deli products, vegan seafood and other concepts. We will be discussing emerging vegan protein sources, the impact of Canadian Natural labelling requirements and finally new product and flavour trends for 2022 and beyond.
About the Speaker:
Eric Nummelin (Director of Sales) has been in the North American Food Industry, starting in 1992. He was the Country Manager for Solae Soy Proteins from 1992 to 2001, and Director of Sales for Hela Spice Canada from 2001 until Present. Eric heavily involved in the plant protein marketplace from 1992 until present.
Stefanie Messerschmidt (Research and Development Manager) graduated from the University of Hohenheim, Germany in 2012 with a Master of Science Degree in Food Science and Biotechnology and completed Master's Thesis at the University of Guelph under Prof. Goff. As student Stefanie worked several years at Bosch Pharma Packaging Technology and gained experience as R&D/Regulatory intern at Piller's Fine Foods in Waterloo. Stefanie started the career at Hela Germany as R&D assistant and transferred to Hela Spice Canada as R&D & Technical Sales Specialist. Today Stefanie is the R&D & Innovation Manager at Hela Spice Canada leading the R&D and Regulatory team developing new and innovative food products for the Canadian and US food market.
Seminar B
Time 3:00pm – 4:00pm
Topic: Efficiency and Safety Through Sustainability
Speaker: Anthony Wood (Director of Food and Pharmaceutical Markets) & Josh DeVoll (Director of System Solutions)
Company: Spraying Systems Co.
Summary: Sustainability is a way of doing business and built through company culture. Ingredients and chemicals, when not efficiently used, burden our water source and wastewater treatment plants, increase carbon footprint with excess usage, require more chemicals for cleaning, and at times can inhibit the safety of our work environment. Many of these ingredients and chemicals are managed in a fluid state where we are challenged with applying them to our products or cleaning in our process. Cleaning is often oversimplified. Impact, efficiency and coverage of nozzles is critical to reducing water, chemical and energy usage. Advances in technology with precision coatings and liquid application are changing the landscape. Many coatings are applied with nozzles or other coating methods that result in waste, poor quality or even hazardous conditions. Typically this is a result of difficult fluids based on their viscosity or surface tension. Advance nozzle technologies can precisely target objects with minimal overspray in high speed environments. Even fluids thought to not be sprayable like peanut butter or chocolate can be applied with the right technologies and methods. Ultimately the reductions in fluid waste, scrap product and hazardous conditions result in gains in fluid savings, product quality and more sustainable processes.
About the Speaker:
Anthony Wood is the Director of Food and Pharmaceutical with Spraying Systems. He has 15 years of food industry experience with the organization, which includes spray applications related to coating, drying, cleaning and sanitizing in food processing plants. Both through previous mechanical engineering design work as well as product selection and business development. Anthony has a bachelors degree in Engineering from Ohio State University and a MBA from Keller Graduate School.
Josh DeVoll is Director of Market Solutions at Spraying Systems Co. and specializes in coating applications in the food industry. Josh has extensive experience with bakeries and has worked with many of the leading companies in the industry. He has helped many food companies solve challenges of spraying release agents, glaze, butter, mold inhibitor, and even icing. A graduate of Saint Louis University with a Mechanical Engineering degree, Josh has been with Spraying Systems Co. for 16 years.
Seminar C
Time 4:00pm – 5:00pm
Topic: Dairy, plant, insect, cell-based proteins – how do they differ?
Speaker: Isabelle M.E. Lacroix, Ph.D. & Marcela Cota Rivas (Director, Product Management and Technical Sales)
Company: Vitalus Nutrition Inc.
Summary: Customers are becoming increasingly aware of the impact that their food choices have on their overall health. As a result, the popularity of protein-based foods and beverages has grown significantly in recent years. Animal proteins, including dairy, are generally considered superior due to their high digestibility and optimal amino acid content. However, the environmental impact of animal farming and the demand for more sustainable foods have led to a growing interest in non-animal protein as well as in cell-based cultured protein research. This presentation will highlight the key health functions played by dietary proteins and discuss the nutritional, functional and environmental differences between dairy, cell based, insect and plant proteins.
About the Speaker:
Isabelle Lacroix holds a Ph.D. in Food Science from the University of British Columbia (UBC) in Vancouver. Her doctoral and first post-doctoral research focused on studying the effect of dietary proteins on key enzymes involved in blood glucose regulation. She recently completed a Marie Curie post-doctoral fellowship at Wageningen University and Research (The Netherlands) where she developed an in vitro model system to investigate the intestinal absorption of dietary proteins/peptides and assess their effects on intestinal immunity. Isabelle's main research expertise are in the areas of dietary proteins, bioactive peptides and type 2 diabetes. She is the lead author of 12 peer-reviewed articles and 1 book chapter. Isabelle is currently part of the Research & Development team at Vitalus Nutrition Inc.
Marcela Cota Rivas has a Masters in Science: Food Science and Nutrition specialty and is a Biochemical Engineer. She has more than 20 years of experience in Food Science and Technology. As the Director of Product Management and Technical Sales, she manages the New Product Development, Regulatory & Scientific Affairs and the Technical Sales departments. Her overall responsibility is supporting account managers and direct customers, offering technical and regulatory support, advising products and solutions. Marcela builds, develops and maintains the internal/external customer relationships by coordinating project executions in relation to prospecting and initiating new customers in different market areas. She leads the technical training's, education and presentations to account managers, direct customers and distributors.
Please download/install Zoom Mobile Apps for iPhone or Android or Zoom Client for PC desktop before the meeting. (https://zoom.us/support/download)
Please register in advance due to limited seats. Instructions to join the meeting will be emailed to you once registered.