The Beverly Heights Variety Show is the longest running community based Adult Comedy Variety Show in the City of Edmonton
About this event
Ukrainian Dinner Night!
The Beverly Heights Variety Show has sustained a dedicated following for fifty seasons while contributing significantly to community based funding initiatives.
Celebrating our Fifty First season, the dedicated volunteers who produce the show offer quests twelve weekend nights of adult comedy and entertainment between February 25 and April 2.
Guests have the option of adding a delicious Ukrainian Dinner served at 6:30 from Paulina's Catering to their purchase.
Show Tickets just $20
Add the Ukrainian Dinner for just $17
Full serve bar with $5 drinks
Doors open at 6:30 pm and the show starts at 8:00 pm
Bring your own food or enjoy our dinner choices and concession
Your ticket supports community programs
Comedy themes are suited to 18+ Minors are not permitted
Due to the venue implementing the Restrictions Exemption Program all patrons must show proof of vaccination OR negative COVID-19 test within 72 hours OR medical exemption documentation to enter. Masks required.
Thank you for your understanding a cooperation!
Why bring your own food?
This a long standing tradition whereby fans bring their own food to share pot luck style with their friends and family. For those who prefer, terrific food choices are available from our kitchen.
May we bring in our own drink?
No we are a Special Event Licensed performance and are prohibited from allowing outside drinks. We offer a full-service liquor bar along with water, pop and coffee for sale.
Why is this a Fund Raising Event?
Over fifty years ago a group of Beverly Heights Community League members got together and produced a variety show to raise funds to support the community league hall and group programs. It was a great success, thanks to the many volunteers who contributed their time, talent and energy! That tradition continues to today with a dedicated fan base of young and old that mark their calendars every year and join the fun!
What is an Adult Comedy Show and what should I expect?
Expect to be entertained by a cast of talented but amateur actors performing songs, dance and sketches with the support of a live band! The humour varies from corny to hilarious depending on your tastes with occasional suggestive adult themes.
How long is the show?
Door to the hall open at 6:30 pm and we recommend guests be in their seats by 7:30. The show starts promptly at 8:00 pm and ends around 10:30 pm with a 20 minute intermission in the middle. Many patrons prefer to remain afterwards to mingle with friends, cast and crew as the bar service remains open. Coffee is also free to all after 10:30 pm.
For additional information, phone (780) 471-3600 or email varietyshow.bhcl@gmail.com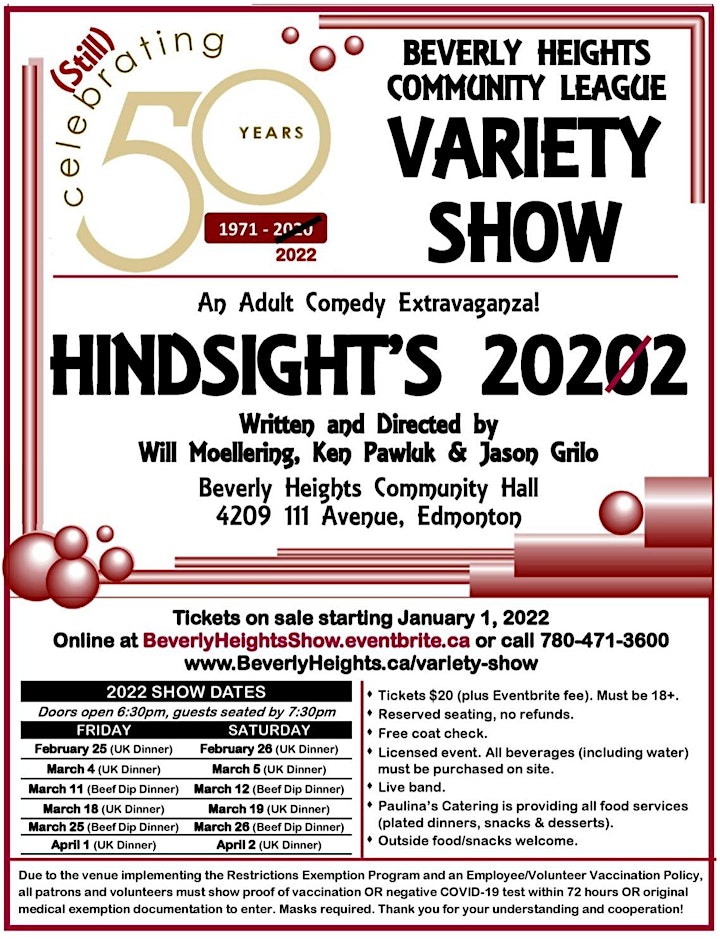 Organizer of 2022 Beverly Heights Variety Show March 5, 2022
Our Story
It started as a simple idea by a group of then young Beverly Heights community members who decided to produce a local, amateur variety show to help raise funds for community.
That was forty-nine years ago and "Once Upon A Time, Stories Your Mother Never Told You" was created and performed over four nights in mid-March. It's been running every year since, proving to be the longest running community-based variety show in the city of Edmonton!