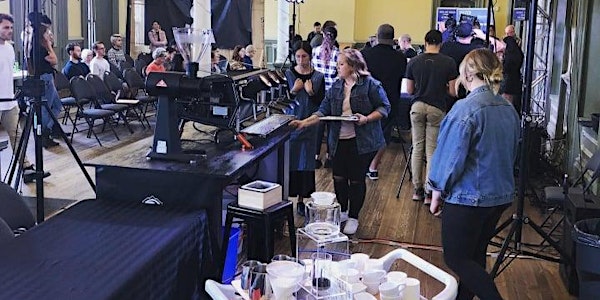 2022 Canadian Barista Championships - Qualifier (competitor tickets)
2022 Canadian Barista Championships - Qualifier 1 : Return of Competitions
When and where
Location
Enercare Centre 100 Princes' Boulevard #Suite 1 Toronto, ON M6K 3C3 Canada
Refund Policy
Contact the organizer to request a refund.
Eventbrite's fee is nonrefundable.
About this event
*Note: this is competitor ticket registration*
Hello!
The Canadian Chapter of the Specialty Coffee Association is extremely excited to resume organizing coffee competitions as sanctioned by World Coffee Events.
The Restaurants Canada Show will be hosting the Barista Championships Qualifier 1 at the Enercare Centre between 2022 February 27th and March 1st.
This is a qualifying round for the 2022 Canadian Barista Championships where the 6 finalists will move on to Nationals (date and location TBD). Once both qualifier 1 and 2 are completed, the top 2 scores outside of the confirmed national competitors across both qualifiers will be selected as the 13th and 14th spots at Nationals with wildcard spots.
Please note that both Qualifiers for the Barista Championships will be using the 2020 WBC Rules & Regulations. However, the National Barista Championships will be using the most recent 2022 WBC Rules & Regulations.
To be eligible to compete in this Qualifier 1, the competitor must have lived for full 24 months in Canada by the date of WBC 2022, Melbourne. This is so that your eligibility for competing at WBC is not jeopardized. On this note, we would like to communicate that WCE holds the final decision pertaining to the eligibility of a Champion. Please read the Rules and Regulations carefully for WBC to ensure that for any other reasons, you may not be eligible to compete at Worlds.
There will be limit of 2 competitors per same company. The reservation of a spot to compete by purchasing this ticket is final. We cannot accommodate refunds if you decide to change your mind and/or your circumstances change.
When purchasing the ticket(s) please use a valid email address which will be used for initial communication coming from SCA Canada. It is OK to purchase the ticket for someone else, however, an email will be sent out to the registered email to confirm the competitor's information very shortly after December 17th.
For each barista competitor, there will be 2 extra free admission tickets to the RC show provided in addition to the competitor's ticket. There will be significant discount codes shared for our community members (to be defined soon) and other guests that the competitors would like to invite for support!
Please note that due to the ongoing pandemic, Restaurants Canada Show has safety protocols that would need to be followed as the competitions are being held at the show. Please see below link for more information: https://www.rcshow.com/why-attend/health-safety-policies/
Restaurants Canada Show is a vibrant and industry leading event for all things Food and Beverages related. SCA Canada is very excited to see more engagement between our Specialty Coffee Industry and the Food and Beverages industry. Coffee is an extremely ubiquitous product and culture that exists in the Restaurants and Bar industry, but as with many other artisanal experiences and cultures, the Specialty Coffee values are seeping into daily consumers as well as businesses' standards.
As RC show covers everything from business operations solutions/tools, food inspirations, coffee, equipment, tools, and alcohol, the event has a strict 19+ age restriction. In the past, we have not had issues with this rule at the RC show with other competitions. However, we understand that those who are 18 years old may be interested in competing at this competition this year. Unfortunately, we will have to direct competitors under the age of 19 to the Qualifier 2 (Date and Location TBD) which will be held shortly after the Qualifier 1.
Please note that if you are on the waitlist, you have 48 hours after you receive an email from us to accept a spot on the competition. You will be billed directly by SCA Canada for the registration fee at that point.
In case of drop out of confirmed national competitor after the qualifier 1, in order of highest to lowest scores, the next competitor in line will be offered a spot at Nationals. Once again, please reply within 48 hours from the offer email to confirm your spot.
In coming weeks, we will be sharing more details about the competitions regarding espresso machine, layout, grinders, water, basket types/sizes, temperature/pressure, and etc.
Please send any questions and comments to competition@scacanada.coffee