Location
Le Centre Sheraton Montreal Hotel
1201 Boulevard René-Lévesque Ouest
Montréal, QC H3B 2L7
Canada
Refund policy
Contact the organizer to request a refund.
Eventbrite's fee is nonrefundable.
2022 Conférence nationale d'AMS | 2022 National SMA Conference
About this event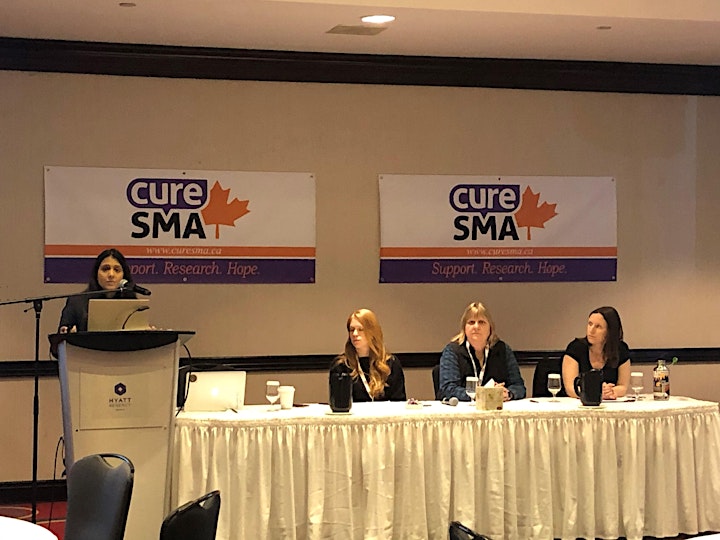 La connaissance, c'est le pouvoir! Comme une boule de neige dévalant une colline, le monde de l'amyotrophie musculaire spinale se développe rapidement en termes de ce qu'il y a à apprendre.
Renseignez-vous sur les dernières nouveautés en matière de recherche, de traitement et de soins de l'amyotrophie musculaire spinale.
Rencontrez d'autres familles canadiennes atteintes d'AMS!
Veuillez utiliser ce lien pour réserver votre chambre d'hôtel et bénéficier du tarif spécial de groupe.
Conférence nationale canadienne de la SMA
Si vous avez besoin d'une chambre accessible aux fauteuils roulants, réservez une chambre via le lien et contactez ensuite Cure SMA Canada à curesma@telus.net.
Cette conférence sera proposée avec des intervenants anglais et français avec des services de traduction complets.
Nous vous verrons à la rencontre d'ouverture le vendredi 19 août à 17h00 où nous dégusterons un vrai repas montréalais avec de la viande fumée de Montréal, du pain de seigle, de la poutine, et des plats de pâtes et de salades merveilleusement délicieux.
Rejoignez le symposium juste après la rencontre et l'accueil à 18h00 où nous aurons des informations pour les adultes dans une salle de réunion et la pédiatrie dans une autre.
Le stationnement sera payé par Cure SMA Canada.
Au plaisir de vous y voir !
Ordre du jour de la conférence
Forum communautaire Real Talk : Organisé par Roche Canada et Cure SMA, le tout premier forum communautaire canadien Real Talk avec période de questions réunira trois Canadiens qui vivent avec l'AS et un proche aidant afin de discuter de sujets importants au sein de la communauté de l'AS.
Session d'information pour les personnes récemment diagnostiquées
Séance d'information pour les adultes atteints d'AMS
L'importance des essais cliniques et de l'accès au processus de traitement
Dernières informations médicales
Informations sur l'accès au traitement Spinraza, Zolgensma, Risdiplam
Mises à jour sur les essais cliniques
Dépistage des nouveau-nés
AMS Passé Présent Futur
Panel d'orateurs - Travailler sur un mariage/une relation saine (quand l'un de nous est atteint d'AMS)
Panel d'orateurs - Travailler à un mariage/une relation saine (lorsque nous élevons un enfant atteint de SMA)
Panel d'orateurs - Sports et loisirs adaptés
Informations sur les soins - Nutrition, OT, orthopédie, santé mentale
Panel sur les technologies d'assistance
Si vous avez besoin d'aide pour participer, envoyez une demande de bourse à curesma@telus.net. Au plaisir de vous y voir!
Veuillez informer l'hôtel au moment de l'inscription que vous participez à la conférence Cure SMA Canada afin de bénéficier du tarif réduit.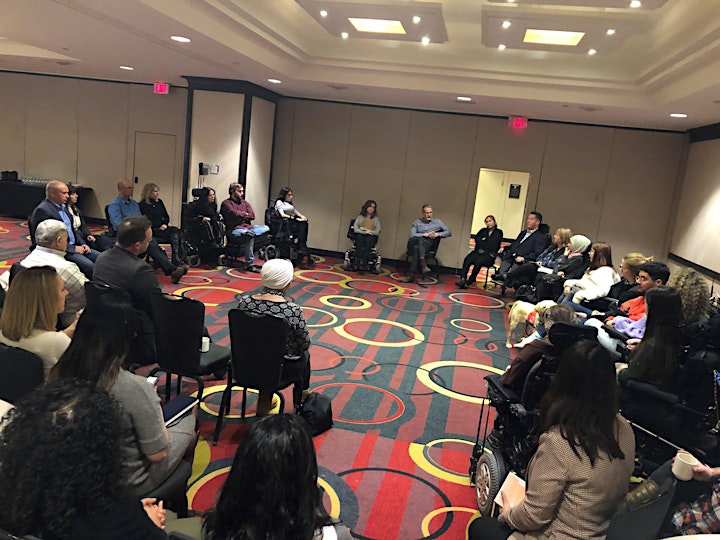 Knowledge is power! Like a snowball racing down a hill, the world of SMA grows quickly in terms of what there is to learn.
Learn about the latest and greatest in Spinal Muscular Atrophy research, treatment and care.
Meet other Canadian SMA families!
Please use this link to book your hotel room and receive the special discounted group rate.
Canadian National SMA Conference
If you require a wheelchair accessible room, book a room through the link and then please contact Cure SMA Canada at curesma@telus.net
This conference will be offered with English and French speakers with full translation services
See you at the opening Meet and Greet on Friday August 19 at 5:00pm where we will enjoy a true Montreal meal with delicious Montreal smoked meat, rye bread, poutine, and some wonderfully delicious pasta and salad dishes.
Join the symposium right after the meet and greet at 6:00pm where we will have adult information in one meeting room and pediatric in another.
Parking will be paid for by Cure SMA Canada.
Looking forward to seeing you there!
Conference Agenda Draft:
Real Talk Community Forum: Hosted by Roche Canada and Cure SMA Canada, the first-ever Canadian Real Talk Community Forum and Q&A will bring together three Canadians living with SMA and one caregiver, as they speak about important topics within the SMA community.
Newly Diagnosed Informational Session
SMA Adult informational session
The importance of clinical trials and access to treatment process
Latest Medical information
Treatment access information Spinraza, Zolgensma, Risdiplam
Clinical Trial updates
Newborn Screening
SMA Past Present Future
Speaker Panel – Maintaining a healthy marriage/relationship (when one of us has SMA)
Speaker Panel – Maintaining a healthy marriage/relationship (when we raise a child with SMA)
Speaker Panel – Adaptive sports and recreation
Care information – Nutrition, OT, Orthopedic, mental health
Assistive Technology Panel
And more!