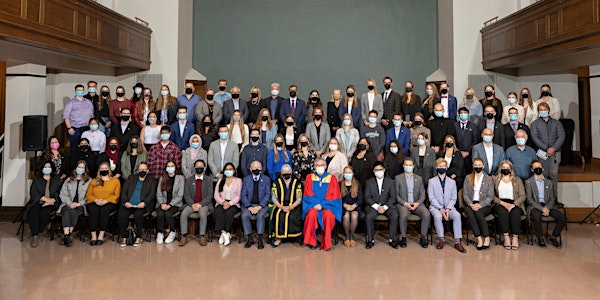 2022 Edwards School of Business Pinning Ceremony
Receive a pin that symbolizes your connectivity and professionalism with the Edwards School of Business network of business professionals
When and where
Location
Convocation Hall 107 Administration Place Saskatoon, SK S7N 5A2 Canada
About this event
Join us for the fourth annual Edwards School of Business Pinning Ceremony. This is Edwards most prestigious event, meant to prepare fourth year students for their upcoming convocation and welcome them into the alumni network they will be joining once they complete their degree.
Attendees will receive their Edwards pin to wear with pride throughout your professional journey and will join in reciting the Edwards pledge. The pledge commits you to being the business professional the world needs, and it symbolizes the hard work and dedication that has brought you to this spot and what makes you an Edwards Nation Builder
You will get to hear an inspirational message from two-star Edwards Alumni: Jeana Meyers (B.Comm. 2022) and Allison McMillan (B.Comm. 2006, MPAcc 2008).
The History of the Edwards School of Business Pinning Ceremony
Established in Edwards School of Business' centennial year, the Pinning Ceremony recognizes over a century of tradition and integrity.
The Pinning Ceremony celebrates students entering their final year of study and the great achievement of reaching this milestone. Receiving this pin symbolizes your transition into the professional business world and welcomes you into the network of alumni you will be joining after convocation.
The ceremony connects current students with alumni to inspire on what can be accomplished after graduation.
Join us to celebrate the possibilities of what the future may hold after you receive your Edwards degree!