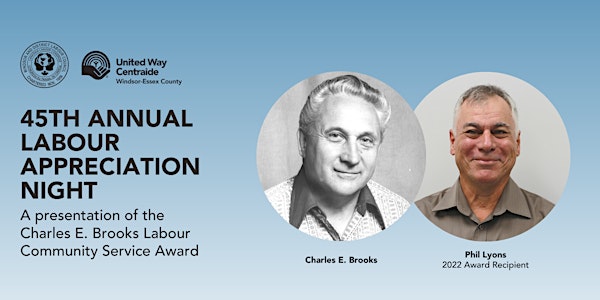 2022 Labour Appreciation Night
Join United Way and Windsor District Labour Council for Labour Appreciation Night at the Ciociaro Club on Thursday, November 3rd.
When and where
Location
Ciociaro Club 3745 North Talbot Road Tecumseh, ON N0R 1L0 Canada
Refund Policy
Contact the organizer to request a refund.
Eventbrite's fee is nonrefundable.
About this event
On Thursday, November 3, 2022, United Way/Centraide Windsor-Essex County, in partnership with the Windsor & District Labour Council (WDLC), will host the 45th annual Labour Appreciation Night at the Ciociaro Club of Windsor, honouring the recipient of the Charles E. Brooks Labour Community Service Award, Phil Lyons, CUPW Local 630.
United Way/Centraide Windsor-Essex County and the Windsor & District Labour Council co-created the Charles E. Brooks Community Service Award, which is presented annually to a trade unionist in recognition of outstanding contributions in the area of voluntary community service.
EVENT DETAILS: Doors open at the Ciociaro Club, Salon B at 5:30pm. Presentation begins at 6:15pm. Tickets are $65 - includes plated style formal meal. Please bring your event ticket (printed or on your phone) to the registration desk on the night of the event for quicker check-in process. RSVP Deadline is Thursday, October 27, 2022 at 4PM
Contact Leilani Logronio, Manager of Labour Programs and Services at United Way at llogronio@weareunited.com or 519-817-2204 for more event information.
Phil Lyons Biography:
Retired postal worker, Phil Lyons, is an avid community activist and former president of CUPW Local 630 and WDLC executive. His guidance and integrity, even in retirement sets him apart, inspiring so many to step up and use their voice(s). His charitable nature, and ever giving spirit made him the go-to when affiliates and allies needed a helping hand. A true believer in solidarity, Lyons demonstrates this while working behind the scenes and on the front lines of local campaigns, supporting allies to succeed.
"Phil's creativity, leadership and tireless efforts in the community elevated the work he was doing as a postal worker president to new heights" Tish Glenn Canadian Union of Postal Workers - Windsor Local 630 President.
He raised the bar for Postal Workers to contribute to the United Way by sharing his own personal stories. "Phil Lyons was instrumental in strengthening the relationship between CUPW Local 630 and United Way/Centraide Windsor-Essex County", says Lorraine Goddard, CEO, United Way. "A true champion of both the labour and United Way movements, Phil advocates this collective strength to make positive change and improve the lives of people in our community."
Lyons believes in people and the movement. His love for his family knows no bounds, as a proud father, brother, partner, friend to many, and ever doting papa to his grandchildren, their endless support has made his actions possible. Wherever Lyons goes he leaves a footprint of kindness and charity paving the way for future activists.
"The legacy of Charlie Brooks includes advocacy for social programs, health care, education, income support, and housing programs. An avid support of United Way, Mr. Brooks led by example by raising labour participation rates higher than anywhere else in Canada. The Charles E. Brooks Labour Community Service Award is just one way for the Labour Community to acknowledge this legacy, ensure it is remembered, and remind all activists that our work is never done." Mario Spagnuolo, Interim – President of the Windsor and District Labour Council.
Maureen Curtis | Keynote Speaker Biography
Maureen Curtis was selected as the Keynote Speaker for this year's event in collaboration with the award recipient, Phil Lyons. Both Phil and Maureen share the same the same social values and a firm belief that – as a community – everyone matters, and we are stronger when we work together.
Maureen began her career at Wyeth Pharmaceutical in Windsor and worked there until their closure. Throughout her time at Wyeth, Maureen held many roles in her union, including Plant Chairperson. She also worked with the Adjustment Committee to support members in their transition to new employment or training programs.
From there, Maureen's career path led her to United Way/Centraide Windsor-Essex County, where she served the community for 26 years as Manager of Labour Programs & Services. Throughout that time, Maureen delicately balanced her role that supported both the United Way and Labour movements in Windsor-Essex County.
For over two decades, Maureen dedicated her life to strengthening the ties between Labour and United Way to create positive change in the community. She facilitated the Workers Referral Assistance Program, and worked with unions and companies across the community. She also facilitated the Labour Community Advocate Training Program, where she educated over 700 labour representatives to become strong leaders and passionate advocates. Many of those labour representatives have gone on to become union leaders and community activists.
In 2013, Maureen received the Queen's Jubilee Medal for her outstanding community service, and in 2018, she was honoured with the Gary L. Parent Activist Award from the Windsor & District Labour Council.
An intuitive, kind and compassionate leader, Maureen has been instrumental in developing, engaging and educating others to raise awareness of the issues facing people in the local community. She facilitated changed, provided encouragement and strengthened the shared work between the Labour Community, the Windsor & District Labour Council and United Way.