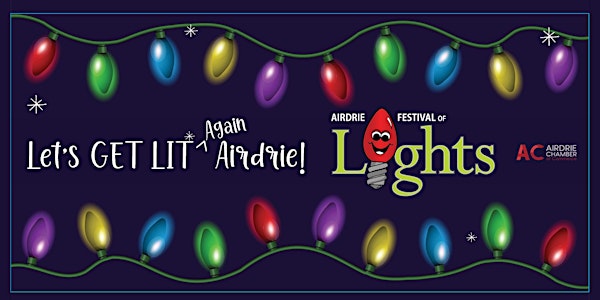 2022 Let's GET LIT >again Airdrie!
Let's Show the world how we make Airdrie GLOW!
About this event
Airdrie Festival of Lights ~ 3rd Annual Holiday Lights Tour!
AKA Let's GET LIT Airdrie!
It's time to showcase Airdrie's holiday spirit by getting those lights up and ready to GLOW! You don't have to be the biggest or even the brightest, we just want everyone to see how we can connect our community, literally one bulb at a time!
Register today for a chance at some fun, local prizes, including a one-year, family pass to Genesis Place! We'll be plotting all registered homes on a map to a Holiday Lights Tour through Airdrie! Contest is only open to Airdrie residents.
NOTE - Only the neighbourhood information collected by the Airdrie Festival of Lights Committee will be disclosed to the City of Airdrie ("the City"). The City will collect the neighbourhood information under the authority of Section 33(c) of the Freedom of Information and Protection of Privacy Act (the "Act"). The City will use the information solely for the purpose of promoting the Airdrie Festival of Lights competition. All other personal information collected on this form will be treated in accordance with the privacy protection provisions of Part 2 of the Act.
Questions about the collection of this information can be directed to the Airdrie Festival of Lights Competition Committee, PO Box 10353, Airdrie, AB T4A 0H6
Email: info@airdrielights.com