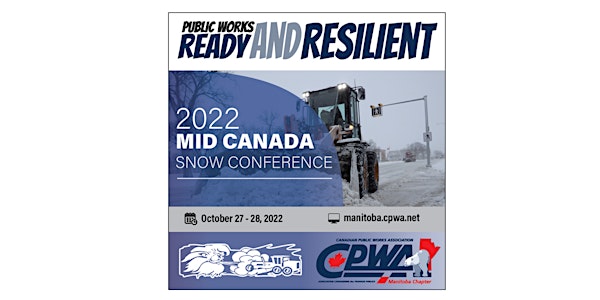 2022 Mid-Canada Snow Conference
2022 Mid-Canada Snow Conference October 27th & 28th, 2022
When and where
Location
Victoria Inn Hotel & Convention Centre 1808 Wellington Avenue Winnipeg, MB R3H 0G3 Canada
About this event
2022 Mid-Canada Snow Conference
Public Works: Ready and Resilient
Brought to you by CPWA - Manitoba Chapter
Thursday, October 27th, 2022
Registration: 7:30 am - 8:45 am
Conference: 8:45 am – 4:30 pm
Friday, October 28th, 2022
Registration: 8:15 am - 9:00 am
Conference: 9:00 am – 3:30 pm
Conference Registration: $400 + GST
Location
Victoria Inn Hotel & Convention Centre
1808 Wellington Ave
Winnipeg MB
Hotel Booking Information
Group Code: 231589 - attendees can reference this code to access the Group Block
Check In: October 26, 2022
Check Out: October 28, 2022
Rate: $125.00 (standard rooms with 2 queen beds or 1 king bed)
Phone: (204) 786-4801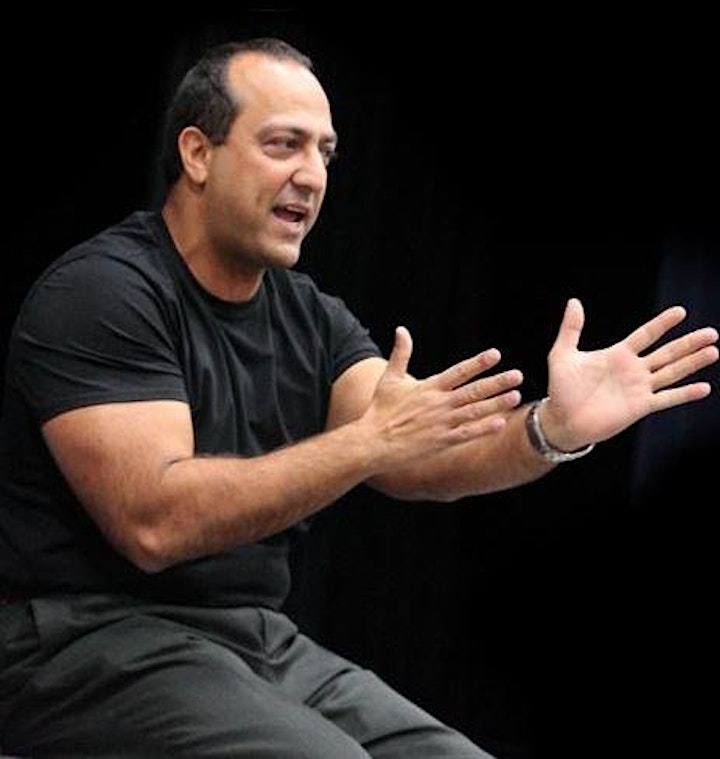 Ian Hill - CEO
INSPIRING CHANGE IN INDIVIDUALS, NEIGHBORHOODS, AND COMMUNITIES
Biography:
Humanitarian, Business Leader, Award Winning Social Innovator, Professional Development Pioneer, and World Record Breaker; these are some of the words often used when referring to Ian Hill. Whether running a multi-million-dollar business operation with over 1000 employees or spearheading first-of-their-kind life-changing community projects, Ian Hill is recognized for being a catalyst for positive change throughout the world.
Today, Ian is CEO of the National Grassroots Media Corporation and its family of networks. These Digital TV and Radio networks reach 185 million households across the US and 3.1 billion mobile devices around the world.
Ian is also a sought-after professional development expert who launched one of the most innovative professional and personal development models ever created. From the use of live video streaming starting as early as 2010, to a proprietary behavioral change model that helps participants maximize their potential personally and professionally, whole cities and major corporations have participated in his programs and benefited from demonstrated, quantifiable, and lasting change.
Currently, Ian is attempting to set another world record by becoming the oldest man to play college football. The effort is to save lives by de-stigmatizing mental health for men, as middle-aged men are 70% more likely to commit suicide than any other segment of the population, as well as introducing them to partner programs that will provide meaningful information and tangible tools that foster mental wellness, resiliency, and strength. Ian has partnered with the #1 long-snapping coach in the nation to achieve the record and already has interest from several top colleges.
Ian is also known for his humanitarian effort, "Let Them Be Kids", of which he is the founder and volunteer CEO. This first-of-its-kind initiative builds playgrounds in areas of extreme need. "Let Them Be Kids" has impacted over 170 communities across North America and as far away as Africa. The World Leisure Congress named the Let Them Be Kids program one of the foremost innovative social leisure programs in the world.
The National Council for Community and Justice and the Martin Luther King, Jr. Commission, recognized Ian for his commitment to positive change, by naming Ian Humanitarian of the Year. The Stand for Children Organization named Ian its Child Advocate of the Year.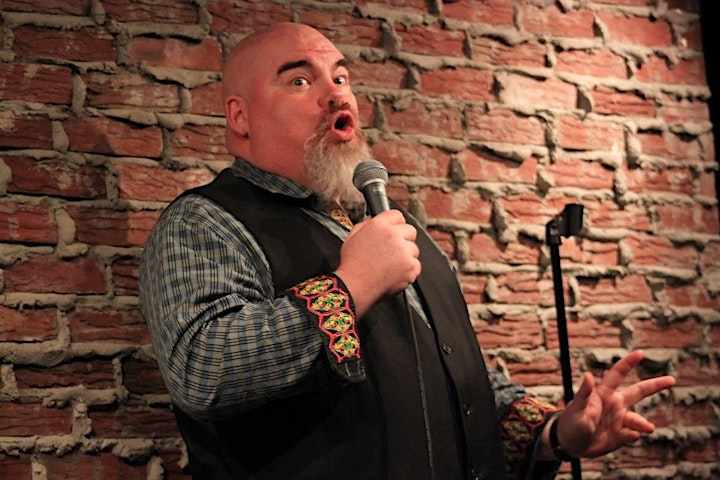 Big Daddy Tazz - Comedian
Biography:
After falling on his face, his teacher asked what he was trying to prove. Tazz quickly answered, "Gravity!" Laughter erupted, and thus the saga began.
Having performed a wide variety of shows stretching from a client's 101st birthday to a biker initiation makes Tazz one of the most sought-after comedians working today. Tazz is able to do what he loves both on and off stage, which is to make people laugh! His off-the-cuff style brings the audience together, making them feel like they are part of his family, sitting around the kitchen table playing crib.
Whole-heartedly believing that KIDS COME FIRST!, Big Daddy Tazz gladly dedicates his time to make fundraisers an event second to none. Wanting to draw attention to the Children's Wish Foundation, Tazz lived on the roof of a Saskatoon pub for 14 of the hottest days on record! Tazz entertained from his high-rise comedy stage, and his antics helped draw national media attention for the function. And even with the heat stroke, sunburn and many, many parking tickets, Tazz reached his goal — the charity received a healthy cheque, and hundreds people got a huge belly laugh!
Test your skills at the Roadeo!
The Roadeo competition demonstrates:
Accuracy
Skill
Proficiency
Good Sportsmanship in a relaxed and supportive atmosphere
Participants are timed from the start line of the course and stopped when dismounted at the end of the course. The participants will be scored as to how accurately they can negotiate the various obstacles in the course.
Event is open to everyone – no membership is required.
Our conference event page will be updated accordingly as new details, speakers and agenda are released!
Please visit the CPWA – Manitoba Chapter webpage for more information.
Session Discussion Topics
Getting Ahead of the Weather - New Technologies in Road Weather Forecasting
The presentation will discuss what is new in the field of weather forecasting and how these advances can be used to better prepare for winter weather events. Some new technologies include Virtual Road Weather Information Systems (VRWIS), machine learning for precipitation forecasting, and thermal data from connected vehicles. These technologies are making road weather information less expensive, more detailed, and easier to access. Lastly, I'll show some examples of how winter maintenance operations can utilize these technologies to be more efficient!
Presented by Scott Kehler
Scott is the President and Chief Scientist of Weatherlogics. Prior to co-founding Weatherlogics, he completed his Bachelor's and Master's degrees in meteorology at the University of Manitoba. While at the U of M, he researched the influence of the Manitoba lakes on weather and how severe thunderstorms form at night. This research has been published in multiple peer-reviewed journals. In his current role as Chief Scientist at Weatherlogics, Scott conducts weather research and develops tools to help clients plan for all types of weather conditions. This includes new methods to improve road weather forecasts. Despite his research focus, Scott still enjoys forecasting day-to-day weather and is often involved with preparing forecasts for high-impact events.
Salt SMART
The presentation will cover the following:• Why we need to be Salt SMART • The Rocket Science behind ice formation• How and why salt works • The concepts behind pre-wetting and anti-icing• Some of the latest technology • The importance of equipment calibration
Presented by Raynard Monk
Raynard was born and raised in Ashern, Manitoba where he grew up raised on a mixed farm in that area. Raynard has been with the Manitoba Transportation and Infrastructure for 25 years as an Operator Trainer, Supervisor and now as Operations Training Manager. He has also been in the Department's Maintenance Training Program in all 3 levels since 2006. Raynard's knowledge and experience developing have also excelled him to present the Department's Salt Smart program to conference attendees in years past. Raynard enjoys camping, winter vacations and tinkering, accessorizing with all sorts of vehicles and equipment. His motto is "if it ain't broken, fiddle with it"
Emergency Winter Preparedness
Presented by Jay Shaw
Jay Shaw is the Assistant Chief of Emergency Management and Public Information with the City of Winnipeg Fire Paramedic Service, leading the City's Office of Emergency Management. With over 24 years' experience in emergency services and health care, Jay has served as an operational firefighter and paramedic for the Department of National Defense, and since 2002, as a firefighter paramedic with the City of Winnipeg. He has had a wide array of emergency response and health care experiences, working in hospital emergency rooms and rural Emergency Medical Services.
Jay holds a Master's degree in Disaster and Emergency Management studies, and has numerous diplomas and certificates related to healthcare, emergency services, and disaster management. He is a 2020 graduate of Harvard University's National Preparedness Leadership Initiative studying Crisis Leadership, an instructor at Dalhousie Universities Fire Leadership program, and is currently enrolled in the Fire Service Executive Development Institute with the International Association of Fire Chiefs. Jay's current projects include a global view of new hazards such heat and air quality, tornadic frequency, and building high performance teams through crisis leadership processes. Happily married with three children, Jay enjoys time at the family cottage and dreams of one day becoming a champion BBQ aficionado.
Work Management & Data
This presentation focuses on how the City of Winnipeg's Public Works leverages work management data for informed decision making and financial awareness. Validation processes from manual oversights of our Work Management Technicians to complex web services, data warehouses & dashboards; ensure data that is captured is accurate and can be successfully utilized for pivoting operations, assist in budgeting and increasing general accountability of the public service.
Presented by Mike Smoljanovic
I currently work as a Supervisor of Work Management for the Public Works Dept. - City of Winnipeg. I have been working with the City of Winnipeg since May 2006. In my sixteen + years of experience, I have worked as a street work labourer, a concrete finisher, a grass cutter, a heavy equipment operator, a foreman and a Work Management Technician. From an early age, I inherited computer programming and graphic design skills from my family, later refining my skills at Red River College. A mix of field experience and technology skills has allowed me to improve processes & create applications to streamline essential information to the staff that need it the most, assist in improving operational decision-making, financial awareness and general accountability at the City of Winnipeg.
Risk Management and Claims
The presentation is designed to provide snow removal contractors with background information about the City's Risk Management Division, including the Claims Branch. The presentation touches on who we are and what we do. Brief explanations of the City's claims processes are provided and how the processes are applied to the contracts between the City and the snow removal contractors.
Presented by Cindy Bauer (CIP, CRM) & Tom Miller (CIP)
Cindy Bauer: Corporate Risk Manager, City of Winnipeg –I have over 35 years of experience in the insurance industry, mostly in the capacity of an Insurance Broker/Advisor. During this time period, I managed insurance needs for businesses of all sizes. In addition to achieving a Canadian Accredited Insurance Broker (CAIB) designation, in 2006 I obtained my Chartered Insurance Professional (CIP) designation followed by my Canadian Risk Management designation in 2008. I joined the City of Winnipeg, in July of 2011 as the Supervisor of Claims and Risk Control Services and was situated in the Claims Branch. In January, 2016, I was offered the role of Corporate Risk Manager, for the City of Winnipeg. My duties include management of the Risk Management Division, which is located within the Corporate Finance Department of the City of Winnipeg.
Tom Miller: Supervisor of Claims & Risk Control Services, City of Winnipeg – My career in the insurance industry spans 18 years. Prior to joining the City of Winnipeg in 2013, I worked as an Independent Loss Adjuster for several national firms in Winnipeg and Vancouver. In my years as a Loss Adjuster I gained experience in handling large property losses and investigating liability claims. I began my career with the City as a Claims Adjuster and accepted the roll of Claims Supervisor in 2015. My responsibilities include supervision of the City's Adjusting team and implementation of Adjusting & Investigative processes.
Communication About Snow & Ice Control
This session provides an overview of how the City of Winnipeg employs best practices when it comes to communicating effectively with the public regarding snow clearing and ice control operations during the winter months. The presentation will include real world examples of using a variety of communication methods, such as web, social media, and earned media to provide public education and timely information to support the work of crews in the field when snow clearing activities are planned, scheduled and underway.
Presented by Ken Allen
With over 40 years of experience at the City of Winnipeg, Ken has worked as a heavy equipment operator, crew foreman and supervisor, training coordinator, and communications coordinator. Ken's background and passion for adult education and training translates into engaging, informational and insightful learning sessions that provide actual examples and stories from his experiences related to snow clearing and communications.
Shift Work and Personal Health
This presentation looks at the issue of shiftwork and its effects on the body. We are accustomed to sleeping at night and being awake during the day. When our job doesn't allow this, the safety of ourselves and the people around us can be at risk. Understanding our body's response to altered sleep schedules will better equip us to deal with shift work. Small changes in our habits while on shift and at home can lead to a safer, more productive work environment but also more enjoyable home life.
Presented by Brad Gerbrandt
Brad Gerbrandt is the Physical Fitness Coordinator for the Winnipeg Police Service. Prior to starting his career at WPS in 2018, Brad worked in a similar role for the Edmonton Police Service in their Fitness Department for 4 years. This experience has given him a keen understanding of the difficulties of staying healthy in an unpredictable setting including long hours and overnight shifts. He holds a Master's degree In Exercise Science from the University of Manitoba, is a Certified Strength and Conditioning Specialist (CSCS) and is a Certified Exercise Physiologist (CSEP-CEP). In his spare time, Brad loves to play ultimate frisbee, disc golf and spend time outside with his family.
Panel Discussion Topics
Level of Service
Presenter Bios
Luc Leroux
Road Maintenance Manager for the Capital Region, Manitoba Transportation & Infrastructure. Luc served the public in road maintenance for the last 38 years in the North and South of the Province as an equipment operator, field supervisor, asset management technician and regional manager. Luc strives to achieve the optimum in service and tax dollar management. Civil Servant, but also Road User and Tax Payer.
Michael Cantor
I'm a Civil Engineer with over 22 years of experience in transportation design, planning, maintenance and operations. I began my career as a Transportation Engineer, first in construction management and later in designing and planning transportation facilities. In 2010 I have joined the City of Winnipeg as a Traffic Signals Engineer. In 2018 I have moved to manage the Streets Maintenance Division. I'm passionate about working with like‐minded people to transform the workplace and improve the level of service by implementing innovation, technology and improved processes.
Randy Reimer
I have managed the Public Works Department for the City of Steinbach for the past 28 years. The first fourteen of those years included Solid Waste as well. Since I started in 1994 the population has gone from 8500 to just under 20,000 people which has brought its share of challenges. The years for me have gone by quickly but with the variety in my job description, I still enjoy my work and look forward to Mondays. My past experience in heavy equipment operation, construction and running a shop with 14 mechanics has really helped me in dealing with the public. My staff and I take pride in delivering quality services to our residents in particular when it comes to snow removal and other facets of street maintenance. We have a great team that is passionate about the work they do and in the process we try to have fun doing it.
Contracts
Presenter Bios
Jean-Luc Lambert
Jean-Luc Lambert is an Engineer with the City of Winnipeg Streets Maintenance Division. He has overseen contracting of winter snow clearing services, material procurement and hire of equipment for over 9 years with the City of Winnipeg. During this time Jean-Luc has worked with local industry to meet the service levels and expectations of the City. Prior to joining the City of Winnipeg, Jean-Luc completed a Master of Science in Engineering from the University of Manitoba and worked in the consulting industry.
Jason Zawadsky
I have worked for MTI for over 25 years. My career began on the capital construction side and I worked for approximately ten years learning all aspects of roadway construction and project management. I then spent approximately ten years working for CSS (Construction Support Services) where I specialized in grading projects and aggregate production. During my tenure with CSS my duties also included performing post-project final audits on MTI grading projects. Most recently, I have been the Maintenance Manager for the Northern Region of MTI for 4 ½ years.
Equipment
Presenter Bios
Brent Kowalowich
Brent Kowalewich is a 24 year employee with the City of Winnipeg. Graduating from Red River College's Civil Technology Program Brent spent the 1st half of his career leading the City's Bridge Operations group before transitioning in 2012 to his current role as a Supervisor with Streets Maintenance. As a Streets Supervisor Brent has been a key team member in the operational decision making involving City of Winnipeg snow and ice control.
Whitney Street
Whitney has served in various positions with Manitoba Transportation and Infrastructure, starting in Northern Manitoba (Snow Lake) as a labour/ operator on the Maintenance Crew, Operator on the asphalt plant, Assistant Works Supervisor on the Thompson crew, Operator Trainer, Works Supervisor in Shoal Lake, Superintendent for the Birtle sub-region, Regional Asset Management Technician for the Brandon/ Dauphin Regions and Operations Manager Western Region since 2018.