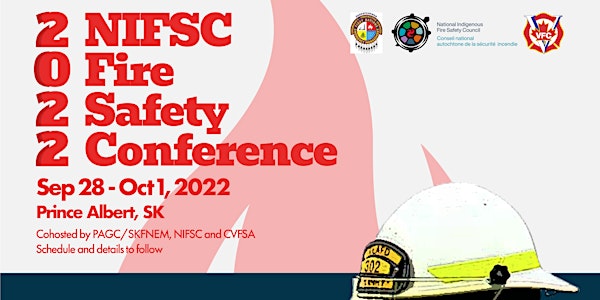 2022 NIFSC Fire Safety Conference
The 2022 NIFSC Fire Safety Conference will be hosted in Prince Albert, Saskatchewan by cohosts; NIFSC, PAGC/SKFNEM, and CVFSA
When and where
Location
Prince Albert 815 Exhibition Drive Prince Albert, SK S6V5T1 Canada
About this event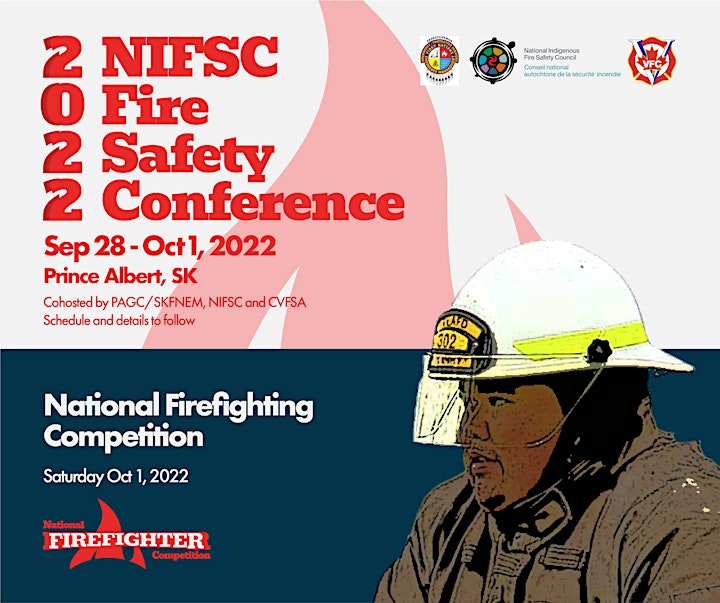 Welcome to the 2022 NIFSC Fire Safety Conference and National Firefighting Competition, held on Treaty 6 territory.
During this four day conference, you will have the opportunity to attend one of eight different firefighting training sessions and/or select from twenty-six different conference sessions.
There will be a mandatory NFC Teams Orientation on Wednesday, September 28th at 10:30 am. Any teams that do not have full attendance at this orientation session will not be allowed to compete in the National Firefighting Competition.
Each training session will run for a day and a half, limiting your conference session attendance to session 1 on Wednesday morning and sessions 7&8 on Friday should you choose to attend training. Each training session has a capacity limit of 40 people, and each conference attendee may only attend one training session.
The conference schedule is shown below: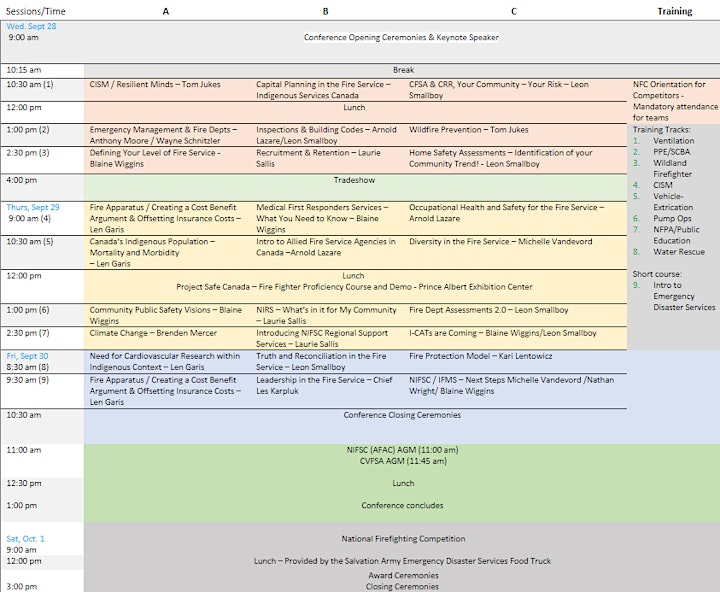 At this conference there will be 8 unique one and a half day training sessions on offer, and 1 four hour training session.
If you decide to register for a full length training session, you will only be able to attend a maximum of 3 conference sessions. If you register for the short training session, you can attend 7 conference sessions.
The training sessions that will be offered on Wednesday and Thursday (limited to 40 people per session) are:
1. Ventilation
2. PPE/SCBA use and maintenance
3. Wildland Firefighter condensed course
4. CISM Training
5. Vehicle Extrication
6. Pump Ops
7. Fire Prevention/ NFPA/ Public ED
8. Water Rescue
The training sessions that will be offered on Wednesday (limited to 20 people) is:
9. Introduction to Emergency Disaster Services
If you choose not to attend a training session, there will be the opportunity to attend 9 sessions at this Conference over the three day duration.
On Wednesday there are three opportunities for sessions (1-3), Thursday there will be four session opportunities (4-7), and on Friday there will be two (8 & 9) and then the CVFSA and NIFSC AGMs in the afternoon.
The conference sessions are named with the timeslot first (1,2,3 etc...), and then the session options which will be in different rooms at that time (A,B,C).
Conference Sessions that will be offered are:
Wednesday
10:30 am
1-A CISM/Resilient Minds 
Resilient Minds is dedicated to building resilient fire teams and services – to educate, empower and equip fire fighters with the skills and resources to grow and maintain psychological wellness. The Resilient Minds is a Canadian Mental Health Association program that believes in inspiring fire fighters to recognize and respond to psychological injuries and trauma in the workplace, promoting a shift to a supportive, mentally fit culture.
1-B Capital Planning in the Fire Service
Regardless of source revenue, the fire service equipment is expensive, and all has limited operational life cycles. In this session, participants will better understand capital asset planning.
1-C Community Fire Safety Assessments & CRR, Your Community, Your Risk
CFSA's are a NIFSC program designed to find a means of reviewing information from a community that will help identify areas for further attention to improve fire and life safety.  The information gathered from the assessment is also suitable to use in the development of a Community Risk Reduction Plan as it will identify key information that is needed in that planning process. 
1:00 pm
2-A Emergency Management and Fire Departments
This session will provide an overview of the First Nations' Emergency Services Society (FNESS) of British Columbia's Emergency Management Program.
2-B Inspections & Building Codes
Building and fire code inspections vary from province to province; however, the Federal perspective is that First Nations are bound by their own building and inspection practices. Which codes do we follow? Federal or Provincial? Who enforces? Who's the authority having jurisdiction? This session will explore the building and inspection practices that we should consider for our own communities.
2-C Wildfire Prevention
When structures and other human development meet or intermingle with undeveloped wildland or vegetative fuels, we refer to this a wildland urban interface (WUI). These fuels all have different burning characteristics; and when combined into a WUI fuel complex, they create uniquely complex conditions that affect the ignition and spread of fire that differs from both an isolated structure fire and an isolated wildland fire. As a result, these combined fuels help us to begin to understand the unique and often overwhelming challenges that a WUI fire presents. Indigenous communities that participate in wildfire prevention programing build skills to prevent and prepare against wildland fires.
2:30 pm
3-A Defining Your Fire Department Level of Service Standard
It's relatively easy for a fire chief to state 'this is what we do'. What's a little more complicated is to substantiate the evolution, standards, capacity, oversight, insurance, governance oversight and sustainability of the department. This session covers elements that can help define, adopt, and sustain the level of service offered by your fire department.
3-B Recruitment and Retention
Global trends tell us that community volunteerism is on a steady decline, how do Indigenous communities continue to attract and retain volunteers in this climate? This session looks at strategies, opportunities, and business cases that communities will need to recruit for potential, not experience. Strategies to keep current volunteers and encourage new Indigenous recruitment.
3-C Home Safety Assessments – Identification of your Community Trend!
The Home Safety Assessments tool developed by NIFSC is a comprehensive multi focused tool that highlight environmental and fire hazards for home occupants and strategies to mitigate against potential risks. The session will focus on the HSA tool and the summary reports provided for each community which are an extremely good gauge to identify the risk trend. The summary reports also help fire services modify and focus on public education or fire prevention that will sustain a positive trend or address emerging risks.
Thursday
9:00 am
4-A (S1) NIFSC Research – Fire Apparatus / Creating a Cost benefit Argument / Offsetting Insurance Costs
Establishing and maintaining a fire services in Canada is costly and may often been seen as an unnecessary expense, this session will demonstrate that over time the cost both capital and operating can be seen a benefit in terms of community cost saving through reduced insurance costs.
4-B Medical First Responder Services – What You Need to Know
Ambulance services and health care across Canada are coming under unprecedented pressure. While the pandemic slowly wraps up, the opioid epidemics continues to put pressure on community resources and claim community members lives. If you have ever thought about starting or enhancing your fire departments medical first responder program, this session is for you. Learn the components, regulations, equipment, standards, and training that will help you design and implement the most effective medical first responder program for your community.
4-C Occupational Health and Safety for the Fire Service
The fire service is renowned for helping community members, but are you taking care of your firefighters? This session discusses why you should have OHS, what is involved in an OHS program, identified and unidentified risks to your firefighters. As a leader I have determined I want to invest in the safety of my firefighters, the session will cover what's my plan and who can I ask for help?
10:30 am
5-A NIFSC Research: Canada's Indigenous Population: Mortality and Morbidity
National Indigenous Fire Safety Council (NIFSC) commencing is 2019 has developed many culturally sensitive programs and services made that are available to just under 700 communities that are known to…. and experienced by non-Indigenous Canadians to impact Fire Related Mortality and Morbidly, this work will help to describe the nature and extent of deaths and injuries on first nations communities in Canada.
5-B Introduction to Allied Fire Agencies in Canada
With several national and international agencies and organizations that exist and offer memberships, it can be hard to understand the return on investment of becoming a member of an organization. This session provides a broad overview of agencies and the benefits of being a member.
5-C Diversity in the Fire Service
Diversity is becoming an increased priority in all industries and even more so in the fire service industry.  To increase safety, efficiency, and effectiveness, we need to expand our resources to include all sizes, shapes, genders, ethnicities, and minority groups, but why aren't we there yet and what do we need to do to create a diverse and inclusive environment - one that will support us coming home safe after every call to action?
1:00 pm
6-A Community Public Safety Visions
As NIFSC continues to evolve to respond to the needs identified by communities, as part of the I-CAT development tool, a gap was identified within governance bodies to support the development of strategic safety goals and objectives. This session provides and overview of the process a governance body can undertake to develop public safety visions.
6-B NIRS – What's in It for My Community
The National Incident Reporting System (NIRS) was designed to steward reports of Fire Safety events from within communities. Participation in the contribution of Incident reports can demonstrate the reality of fire department utilization and contribute to credible data communities can feed back to various sectors for future funding and development of fire safety programming.
6-C Fire Department Assessments 2.0 
FDA's are a NIFSC program designed to find what may or may not be missing in fire department infrastructure; from fire department governance to types of equipment and/or apparatus needed to match the First Nation capacity in a Level of Service Standard. Conducting this assessment will assist the fire department in recognizing what is needed to meet LOSS to the community.
2:30 pm
7-A Climate Change
With climate change increase, natural disasters and community resiliency all become intrinsically connected. This session explores components and opportunities that the volunteer fire service can engage to better position its response, resources, and planning to address the constant evolution of climate change.
7-B Introduction to NIFSC Regional Support Services
The NIFSC is about more than just program delivery. As a national organization, the NIFSC is here to collaborate with regional partner organizations to identify and conduct research relevant to improving community fire safety and assist in offering a range of support including social media, graphic design, newsletters, budget submissions and other forms of administrative support. This presentation will discuss how the NIFSC can do strengthen the work you're doing to improve the lives within our communities.
7-C I-CATs are Coming
The IFMS has developed a variety of assessment tools including the Home Safety Assessment, Fire Department Assessment and Community Fire Safety Assessment to support communities to identify risks and enhance capacity. In collaboration with Indigenous Services Canada and the Bimose Tribal Council, the IFMS is initiating an Integrated Community Assessment Tool (I-CAT) to develop an integrated risk and capacity baseline for Chief & Council and community management to continue to develop capacity to mitigate risks. The session will explore the evolution of assessment tools and how community risks trends can be quantified.
Friday
8:30 am
8-A NIFSC Research – Need for Cardiovascular research within Indigenous Context
Indigenous people including First Nations, Metis, and Inuit peoples of Canada, have the highest rates of cardiovascular death compared to all other Canadians, regardless of income and education. Modifiable risk factors including smoking, hypertension, cholesterol, abdominal obesity, and type 2 diabetes, as well as reduced access to health care accounts for this disproportionate cardiovascular mortality rate among Indigenous people.
8-B Truth and Reconciliation in the Fire Service
We call upon federal, provincial, territorial, and municipal governments to provide education to public servants on the history of Aboriginal peoples, including the history and legacy of residential schools, the United Nations Declaration on the Rights of Indigenous Peoples, Treaties and Aboriginal rights, Indigenous law, and Aboriginal–Crown relations. This will require skills-based training in intercultural competency, conflict resolution, human rights, and anti-racism. 
8-C Fire Protection Model
A demonstration of NIFSC's Fire Protection Model will provide users with data-based information on death and injury rates relative to existing community characteristics. Attendees will gain the knowledge to effectively utilize the model to prioritize and estimate capital expenditures and annual maintenance costs of specific protection measures the community wants to integrate. Community and fire service leadership can utilize the data-backed results in the funding requests to effectively reduce death and injury rates.
9:00 am
9-A (S2) NIFSC Research – Fire Apparatus / Creating a Cost benefit Argument / Offsetting Insurance Costs
Establishing and maintaining a fire services in Canada is costly and may often been seen as an unnecessary expense, this session will demonstrate that over time the cost in both capital and operating can be seen a benefit in terms of community cost saving through reduced insurance costs.
9-B Leadership in the Fire Service
Recruitment of a rookie firefighter is the lifeline that keeps the troop ranks filled, investing in leadership and strategic management of the fire department provides the direction for the troops. Chief Karpluk author of the book Purpose Filled Leadership, Make A Difference In Your Fire Department, provides insights into fire service leadership for those aspiring to be leaders or those already in a formal or informal leadership position.
9-C NIFSC / IFMS – Next Steps
The NIFSC launch April 1 was a milestone to support the evolution of Indigenous fire service and the start of Indigenous communities solving an Indigenous problem. Michelle Vandevord (President) will share the Board direction and goals; Nathan Wright will provide an overview of NIFSC organization structure and Blaine Wiggins will provide an update on current and planned IFMS services.
Registration details:
- You will be asked to select which sessions you wish to attend later in the registration process, so it would help to make a short list based on the descriptions above.
- You will be asked to select which ticket type applies to you in the next page, please select the one that best suits you.
- Registration for the training sessions is on a first come, first served basis.
- If you have any problems with registration, or would like assistance with registering, please email nfc@afac-apac.ca and a member of our team will call you and assist.