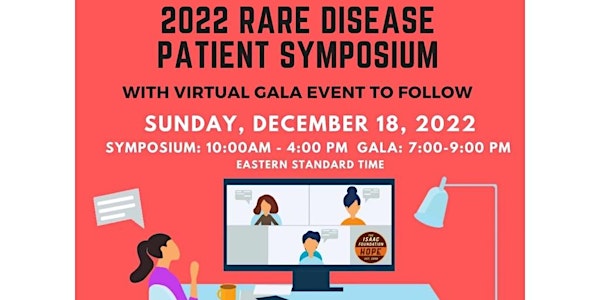 2022 Rare Disease Virtual Patient Symposium
Join us for our annual (virtual!) Rare Disease Patient Symposium and Gala for a Cure.
About this event
Our 7th Annual Patient Symposium will take place on Sunday, December 18th from 10am - 4pm EST, followed by our Gala for a Cure from 7pm - 9pm EST.
Connect with other rare disease families and patients from across the country. Through a combination of presentations, panel discussions, and breakout sessions, you'll hear from medical professionals specializing in these rare disorders. We'll discuss mental health, clinical trials, the latest research, advocacy, and opportunities to connect with other families in breakout sessions.
A detailed speaker list and agenda will be available shortly.
The morning sessions will be applicable for all families, and will focus on mental health topics that are especially relevant for individuals living with a rare disease and their families. We will end the morning with breakout sessions, where you will have the chance to meet, share, and connect with other families.
During the afternoon, we will hear from an incredible team of experts as they discuss current and future clinical trials for patients with MPS I, MPS II, MPS IV, and MPS VI.
Registration: Registration is free of charge, but required, so please register as soon as possible! We look forward to seeing you (virtually) on December 18th! We hope you'll also join us after the Symposium for our 12th annual Gala for a Cure. This festive event will include musical acts, stories, and more, and is open to anyone who would like to watch.
For more information, please connect directly with Alix Hall (alix@theisaacfoundation.com / 647.268.3882) or Andrew McFadyen (mcfadyena@me.com). We look forward to welcoming you all!