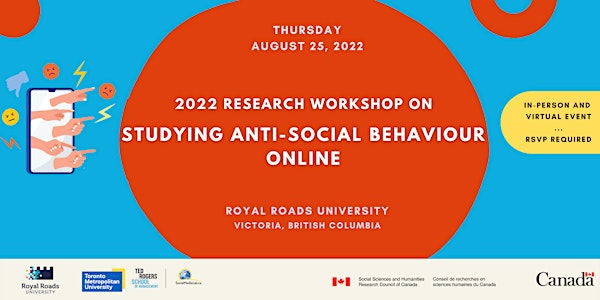 2022 Research Workshop on Studying Anti-Social Behaviour Online
Research workshop for researchers studying online anti-social behaviour
When and where
Location
Royal Roads University 2005 Sooke Road Victoria, BC V9B 5Y2 Canada
About this event
The rising tide of online anti-social behaviour has elevated public concern and skepticism over the perceived benefits and promise of social media in society. A dark side of social media has emerged and remains evident today, with various countries, governing bodies, and citizens grappling with the impending normalization of aggressive behaviour, hostility, and negative discourse in online spaces. At the individual level, anti-social behaviour on social media has real-life psychological and emotional consequences for everyday people that demand more precise attention and interventions from researchers, practitioners, social media platforms, and policymakers. At the community and organizational level, anti-social behaviour can impact work performance and relationships, community ties, and lead to stress and burnout. At the societal level, there is also a concern that some forms of anti-social behaviour, such as hate speech, may galvanize xenophobic behaviour offline.
This one-day research workshop will (1) examine the factors influencing the manifestation and propagation of online anti-social behaviour, (2) synthesize a multidisciplinary approach to study this phenomenon, and (3) develop a road map and a research agenda for future work in combating this dangerous trend.
The event is organized by Royal Roads University and the Social Media Lab at Toronto Metropolitan University. It's supported in part by funding from Royal Roads University and the Social Sciences and Humanities Research Council.