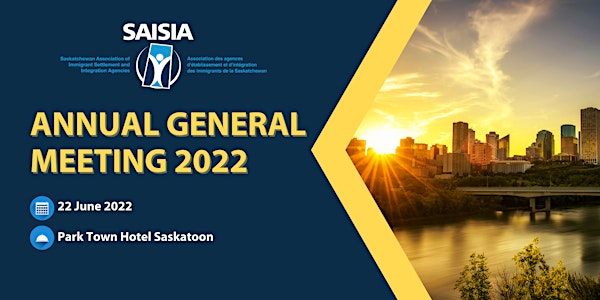 2022 SAISIA ANNUAL GENERAL MEETING
Location
Park Town Hotel
924 Spadina Crescent East
Saskatoon, SK S7K 3H5
Canada
SAISIA is excited to host the Annual General Meeting 2022 in person at Parktown Hotel Saskatoon.
About this event
Welcome to the Registration Page for our in-person 2022 SAISIA AGM on June 22nd, 2022 – 10:00 AM – 12:00 PM. The AGM will be held at Parktown Hotel – 924 Spadina Crescent E, Saskatoon, SK.
Coffee, tea and Snacks will be provided upon arrival, and lunch will be offered at 12:00 PM. Please indicate on the registration form if you have any dietary restrictions. In order to guarantee lunch, please ensure that you register for the AGM by Wednesday, June 13th at 4:30 PM.
If you are unable to attend the AGM, you can designate a Proxy from your organization by filling out the Proxy Form attached to the invitation email.
Also please note that only Full Members and Associate Members can vote during the AGM and any outstanding SAISIA Membership dues need to be received by our office before June 21st at 1:00 PM.
Don't hesitate to get in contact with anyone from the SAISIA Team if you have any questions or concerns regarding the 2022 SAISIA AGM.
We're looking forward to meeting you at the AGM.