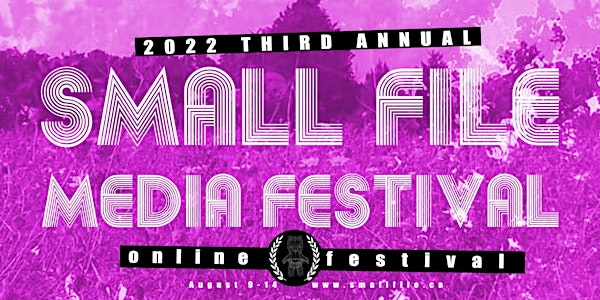 2022 Small File Media Festival Online Screenings
The Small File Media Festival is back and available for online viewing August 16-21!
When and where
Location
SFU Goldcorp Centre for the Arts 149 West Hastings Street ONLINE Vancouver, BC V6B 1H4 Canada
About this event
The School for the Contemporary Arts recognizes that we are on the unceded and occupied territories of the Musqueam, Squamish, and Tsleil-Waututh Nations.
The Small File Media Festival is back with our crazy third iteration, this year both online and in person!
Friends around the world can partake in small-file fun as in previous years! You can preview NSFT art August 9-14, join the auction August 14, and enjoy the full festival online, August 16-21. Opening and closing ceremonies will be streamed online, links will be sent out in an email reminder and will also be available at smallfile.ca.
Why small files? Because streaming media is overheating the planet. Networks, data centers, and devices contribute a whopping 4% of greenhouse gas emissions. About a third of that is the infrastructural share that supports streaming media. The whole category is busting out of control as people worldwide, intoxicated by corporate media's siren songs, stream all kinds of media in high definition, video chat, video conference, and play high-resolution online games, not to mention invest in crypto and get hooked on artificial intelligence apps.
Up to now we have been low-key, we have been playing it nice. But the world is broken. This time we are demanding—stop fossil fuels dependence bringing war and destruction worldwide!** We are demanding—unleash creative r/evolution! We are demanding—destroy the large-file clichés of thinking that prevent us from imaging a world otherwise!
International media artists both distinguished and emerging responded to this year's small-file call for movies that are PUNK/CHIC—forceful and elegant, streamlined and stealthy, uncompromising in vision, edgy in message. We received over 100 submissions from 18 countries in the categories NSFT art (gleefully lampoon media reliant on fume-belching blockchain); Portals (seed-crystals for rituals and coalitions); the Small-file song contest; and our mind-blowing Other category, in three file sizes! Molecules, infra-small loops and the like, under 1MB; Ripples, works up to 5 MB; and Trouble, bingeworthy series up to 22 MB. As ever, the Small File Team is lovingly curating the accepted works into satisfying thematic programs.
The Small File Media Festival team is Sophia Biedka, Kim Cleroux, Mena El Shazly, Joey Malbon, Laura Marks, Radek Przedpełski, and Faune Ybarra
You can find it all at smallfile.ca
Contact: info@smallfile.ca
You can find our research confirming the carbon footprint of streaming media here.
*Not So F*ing Tiny
**Large-file streaming media supports the bellicose fossil fuel economy because 79% of world energy derives from fossil fuels. Don't believe the hype about green-at-source internet corporations. The US Energy Information Administration projects a 28% increase in world energy use by 2050, mostly outside the OECD, as populations and incomes rise. Almost every kind of energy consumption will rise: renewable, nuclear, crude oil, natural gas, and petroleum. Renewables will support ONLY THE INCREASE! Fossil fuel production will maintain at a steady state! Even if new electricity generation for data centers, networks, and devices comes from renewable sources, this is in addition to, not replacing, the existing fossil-fuel-powered electricity sources.