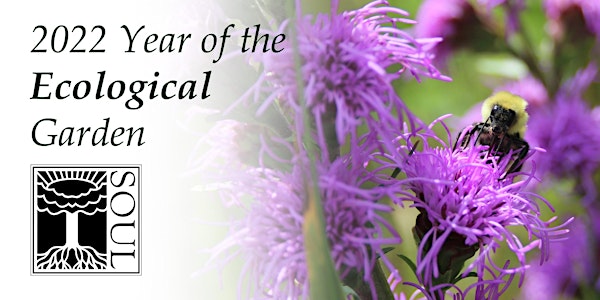 2022 Year of the Ecological Garden
A year-long series with ecological gardening experts giving presentations about their work and answering your questions
Refund Policy
Contact the organizer to request a refund.
Eventbrite's fee is nonrefundable.
About this event
SOUL's 2022 Year of the Ecological Garden
A year-long series with ecological gardening experts giving presentations about their work and answering your questions about caring for land, plants and ecosystems.
Every Tuesday at 3:00pm Eastern, noon Pacific
October: Urban Biodiversity – Native Plants, Seed Saving, Stratification and Winter Sowing
October 4th: a Presentation on the Kenhté:ke Seed Sanctuary and Learning Centre by Luke Jeffries
October 11th: Native plants for the vegetable, herb or forest garden by Sundaura Alford-Purvis of A Cultivated Art Inc.
October 18th: - Nurturing Native Plant Communities in Urban Spaces, By Sundaura Alford Purvis
Register for October 25th: A Winter Sowing Tutorial by Bev Wagar
November: The Right to Garden – Land Access, Bylaws and other Barriers to Practicing Land Care
Register for November 1st: Overcoming limitations in land use and access with Cate Henderson
Register for November 8th: Bylaws that get in the way and what you can do with Lorraine Johnson
Register for November 15th: Black farmers in southern Ontario: Equity and Food Sovereignty with Nicola from Grand River Forestry
Register for November 22nd: Community Farming program at Beetbox Farm with Kiana Simmons of Beetbox
Register for November 29th: Working with government to depave and regenerate with Daniel Buckles, of Champlain Park
December: Livelihoods in Ecological Land Care
Past Episodes:
You can find recordings of many of these episodes on the SOUL website
January: Developing Urban Ecology - Cultivating Ecological Relationships Close to Home
Episode 1: Defining Ecological and Regenerative Gardening
Episode 2: Telling the Story of Ecological Gardening
Episode 3: Becoming a Land Care Professional
February: Greener Greenspaces – Recognizing examples of greener public spaces and speaking with some of the people who have helped in their creation and care
Episode 4: Little Forest Wolfe Island/Kawehnóhkwes tsi kawè:note
Episode 5: Peace Garden
Episode 6: Pipeline Trail Pollinator Paradise
Episode 7: Naramata Permaculture Farm Garden
March: Trees in Urban Settings
Episode 8: Soil Health and Trees in Urban Settings
Episode 9: Opportunities in New and Existing Landscapes
Episode 10: Long Term Maintenance of Living Green Infrastructure
Episode 11: What to look for when selecting trees for long term success in the landscape
Episode 12: How trees grow and what this means for pruning
April: Urban Agriculture and Food Sovereignty
May: Soil Care and Composting
May 3rd: Overview of healthy soil - what is it - can you build it? Mike Dorian of Living Soil Solutions
May 10th Soil Testing by Julia Dupuis
May 17th "3Ms" (mulch, moisture, microbes) versus the NPK paradigm
May 24th Compost and Soil, What Gardeners can Do in the Space That They Have by David Greig
May 31st Organic Fertilizers and Amendments by Christina Nikolic of the Organic Gardener's Pantry
June: Ecological Turf Care and Turf Alternatives
June 7th: Mowing and foot traffic tolerant native species by Sundaura Alford-Purvis
June 14th: Organic maintenance of existing turf by Rohan Harrison of Sunnybrook HSC
June 21st: Turfgrass species and cultural management practices, including biologicals by Dr. Eric Lyons, Director Guelph Turfgrass Institute
June 28th: Wildscaping design as a lawn alternative by Joyce Hostyn
July: Greener Greenspaces – Virtual tours of some of the 2021 recognition recipients
August: Greener Greenspaces – Virtual tours of some of the 2021 recognition recipients
September: Urban Biodiversity – Pollinators and Habitat
Starting a native seed library in your community with Mélanie Ouellette of the Ottawa Wildflower Seed Library
Just Add Water: Creating a pollinator oasis with Sarah Valentine of Yogagardens
Urban beekeeping realities and livestock management in the city with Eliese Watson of ABC Bees
Working with partners and municipalities to create your own Blooming Boulevards With Jeanne McRight, President, Blooming Boulevards