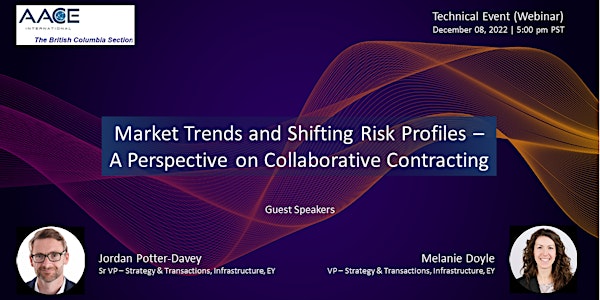 2022/23 AACE BC Technical Presentation - Webinar - December 2022
Gain valuable insights into Collaborative Contracting and how to achieve project success in the current market with shifting risk profiles
Refund Policy
Contact the organizer to request a refund.
Eventbrite's fee is nonrefundable.
About this event
AACE BC Chapter – Technical Presentation on December 08, 2022
Topic: Market Trends and Shifting Risk Profiles – A Perspective on Collaborative Contracting
Guest Speakers:
Jordan Potter-Davey, Senior Vice President – Strategy & Transactions, Infrastructure, EY
Melanie Doyle, Vice President – Strategy & Transactions, Infrastructure, EY
Schedule (PST - Pacific Standard Time):
5:00 PM – 5:05 PM Introduction
5:05 PM - 5:40 PM – Presentation
5:40 PM – 6:00 PM – Discussion and Close
Presentation Brief:
Across North America, in all sectors, project owners are experiencing pervasive cost overruns, schedule delays, and high-profile contractual disputes. Traditional procurement processes that historically yielded strong competition, attractive pricing, and included rigid quality requirements for private-sector contractors can become tense, distracting, and adversarial during delivery. While large project risks haven't changed, the underlying projects have become much larger and more complex.
In this session, we will explore:
Collaborative contracting;
The spectrum of collaboration; and
Our perspective on historical problems that we are trying to resolve through its implementation.
As market trends and shifting risk profiles push owners to explore new ways of contracting, this session will help all project professionals gain valuable insights into collaborative contracting, and why we may need to adapt or look at things in a new light to achieve success through this new model.
Speaker Bio:
Jordan is a Professional Engineer with 20 years of experience delivering infrastructure projects for both the public and private sectors. He has extensive project management, commercial, and contracts experience on projects in excess of $30B utilizing a wide variety of delivery models from traditional design-bid-build to P3s in sectors including as transportation, transit, power, and oil and gas. As a Senior Vice President, Jordan focuses on supporting clients in the avoidance, mitigation, and resolution of construction disputes. Additionally, he delivers independent strategic commercial advisory services through project delivery model options analysis, contract development and implementation reviews, governance and project oversight services, cost, risk and schedule assessments as well as project management maturity assessments.
Melanie is a Vice President with EY's Infrastructure Advisory practice with 12 years of experience. Her areas of expertise include project management, complex contract administration and analysis, commercial compliance, claims and disputes for both the public and private sector. She has completed roles in procurement, contract management and commercial oversight for a variety of capital projects and public infrastructure across Canada. Melanie's experience includes mining, oil and gas, hydroelectricity and light rail transit projects that have been delivered through various joint-delivery teams such as public-private partnerships, limited partnerships, & joint ventures.
Note:
The event time is as per Pacific time / Vancouver, BC.
This presentation will be in a webinar format over MS Teams.
An email with instructions on how to join the event and other specific details will be sent out a day before the event.
Questions for the Speaker(s) will be taken via the chat feature by the moderator.
All proceeds from the registration fees will be donated to the AACEI Scholarship Fund.
This event is not eligible for CEUs.