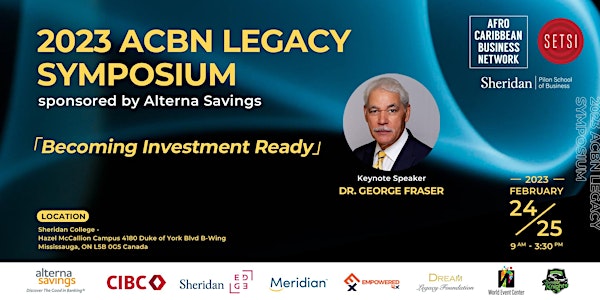 2023 ACBN Legacy Symposium sponsored by Alterna Savings
Join us in person to create a roadmap for success in your business.
When and where
Location
Sheridan College - Hazel McCallion Campus 4180 Duke of York Blvd B-Wing Mississauga, ON L5B 0G5 Canada
About this event
1 day 8 hours

Mobile eTicket
2023 ACBN Legacy Symposium sponsored by Alterna Savings
Venue: Sheridan College Mississauga (in-person)Virtual: World Event Centre PlatformDate: February 24th and 25th, 2023 (Friday and Saturday)Time: 9:00am to 3:30pmTheme: "Becoming Investment Ready"
Day 1: February 24th (Friday)
9:00 am - Opening Remarks - MC Charles Matthews
9:05 am - Welcome Message from Pilon School of Business and Sheridan College - Brian Chama, Associate Dean - Government official Remarks- Sponsor Alterna Savings Remarks
9:15 am - Keynote: Dr. George Fraser
Dr. Fraser has insisted for 40 years there be no "Sizzle Reel" of his life's work and purpose until there was something to "quantify" and "sizzle" about…
He was born in 1945 in Brooklyn, NY to a troubled family of 11 children. After serious mental health issues with his Mom, at 2 years old he and 6 of his siblings were orphaned, then put into toxic foster homes for a total of 16 years. He was not considered to be college material, so he was sent to a vocational high school and got a diploma in carpentry…the rest is history.
Dr. Fraser has ALWAYS believed: "It's not how you start, it's how you finish, that God has great plans for each of us, we must simply listen for his voice, follow directions, overcome the obstacles, and stay course.
Dr. Fraser's favorite line from Super Rapper DRAKE; "Started from the bottom now we're here!"
Here is 75 years of life in 120 second video ...
10am - 12pm Workshop 1 - Tim FrayBusiness Model (PROCESS/PLAN)
What systems do I need in place to get things done? Can it be automated?
What activities are important, and in what order?
Who are the right partners?
Goal Setting for expansion (beginning with the end in mind)
Creating operational OKR's & Kpi's
12pm Lunch Break
12:30pm - Alterna Savings Presentation: Jean Barrett
Funding opportunities available from Alterna
1pm - 3pm Workshop 2 - Chris Beth Cowie
Target Market (CUSTOMER)
Confident in my target customer - Product/service offerings and value proposition, sales
Is your Value proposition compelling
How specific can you describe your ideal customer? And do you have more than one type of customer?
Do you know where or how to find and attract new customers?
What is your relationship with your customer (one and done?)
How does your customer want you to deliver to them your product or servicer?
3pm - 3:30
Closing Conversation
3:30 - 4:30 open networking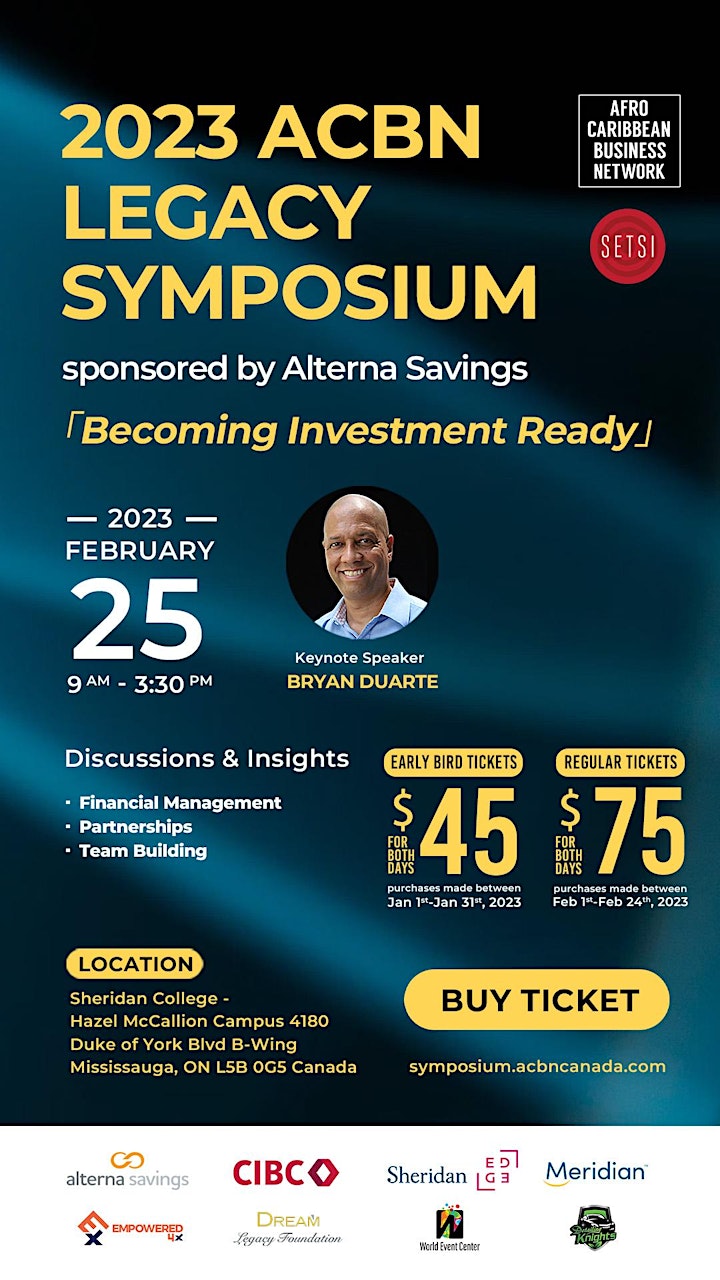 Day 2 - February 25th (Saturday)
9am Opening Remarks - MC Charles
9:05am Government Address
Minister of FedDev address
9:15am Keynote: Bryan Duarte
Bryan is a Social Venturist, Entrepreneur, a licensed Professional Engineer and has over 30 years of experience in the Energy Industry. He is the Co-Founder and the Managing Partner at BlackTech Capital ("BTC") and the Founder & CEO of Enliten. He has experience in creating, developing, and growing companies in the Energy, CleanTech and Sustainability Sectors with a focus on Black and other Underrepresented founders.
Given the challenges that Bryan faced as a black entrepreneur, especially around getting financing for his businesses, he is committed to helping to remove those obstacles for other black entrepreneurs. In addition to his work through BTC, he is a CleanTech Entrepreneur in Residence ("EIR"), Mentor or Advisor for the University of Toronto's Black Founders Network, the Canadian Black Chamber of Commerce, Toronto Metropolitan University's Office of the Vice-President, Research and Innovation and EIR for numerous other accelerators and innovation centres. He also sits on the Boards of the Black Business and Professional Association and the Centre for Learning and Development in Regent Park.
Helping to develop and grow early-stage companies and their founders is a passion for Bryan; it is all about helping others to make their dreams come true. His core values are Love, Integrity and Transparency with a focus on developing companies that are Good for People and Good for Planet.
Learn more at website: https://blacktechcapital.vclab.fund/
10am - 12pm - Andre Smith: Flip and FlossConfident in knowing my numbers - Revenue model / cost structure / measurements and targets (kpis)Do you have a good understanding of your cost to serve each customer?Do you have a good understanding of your cash flowDo you have various revenue streams?Can you forecast future sales
12pm Lunch Break
1230pm - "Brand Blitz: A High-Speed Networking Lunch for Businesses and Creators"
This lunch-in event is similar to speed dating, but instead of seeking romantic partners, the focus is on connecting Black-Owned businesses with various Black digital content creators, including bloggers, podcasters, social influencers, YouTubers, and digital community builders/founders, with the goal of forming mutually beneficial partnerships.
Sponsored by Meridian Credit Union
2pm - Entrepreneur Investor Pitch
ACBN members will have the opportunity to pitch to our panel of judges to win a prize and obtain potential investment.
3pm - Closing Remarks Ryan Knight