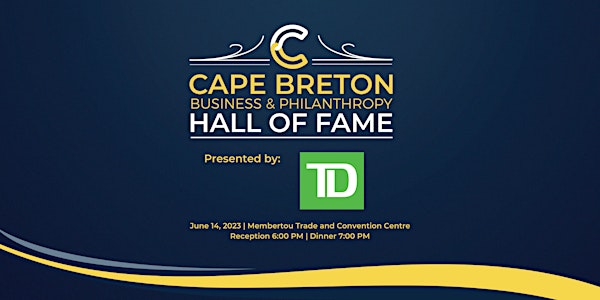 2023 Cape Business and Philanthropy Hall of Fame
Please join the Cape Breton Regional Chamber of Commerce to celebrate the 2023 Cape Breton Business and Philanthropy Hall of Fame inductees
By Cape Breton Regional Chamber of Commerce
Date and time
Wed, Jun 14, 2023 6:00 PM - 10:00 PM ADT
Location
Membertou Trade & Convention Centre 50 Maillard Street Cape Breton, NS B1S 3W3 Canada
About this event
We warmly invite you to join us in celebrating the exceptional achievements and contributions of Cape Breton's finest business leaders and philanthropists at the 2023 Cape Breton Business and Philanthropy Hall of Fame Induction Ceremony on June 14. The event will take place at the stunning Membertou Trade and Convention Centre, where you will have the opportunity to honour these outstanding individuals, who embody the highest standards of entrepreneurial spirit, personal integrity, and social consciousness.
This is an evening of recognition and appreciation, where we acknowledge the accomplishments of those who have made significant contributions to our community. We are proud to announce that this year's laureates for the Business Hall of Fame are Dr. Eileen Pottie Forrester, and Mr. Bruce Marsh. Mr. Jim Kehoe and Mrs. Roma Kehoe will be inducted into the Philanthropy Hall of Fame, and the Cape Breton Building Trades and Unionized Contractors will receive the Philanthropy Leadership Award.
By celebrating the extraordinary achievements of these remarkable individuals, we hope to inspire future generations. Part of the proceeds from the evening will be used to support scholarships and bursaries for students at Cape Breton University's Shannon School of Business. These awards are presented to students who exhibit the highest level of entrepreneurial drive, leadership, and a strong sense of community while attending CBU.
By attending the ceremony, you will not only celebrate the success of our distinguished inductees, but you will also play a crucial role in the future success of our next generation of business leaders.
Thank you for helping make a difference in the lives of our future business leaders. 
The 2023 Cape Breton Business and Philanthropy Hall of Fame is proudly presented by TD Bank.