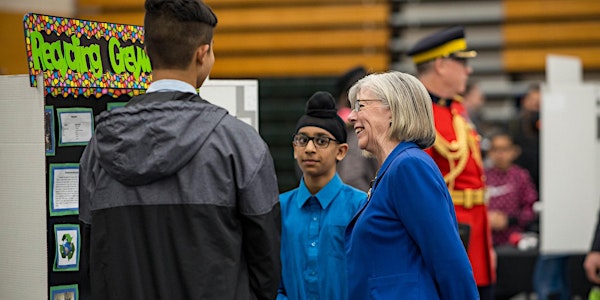 2023 Fraser Valley Regional Science Fair - Judge Registration
The Fraser Valley Regional Science Fair is seeking Science Fair Judges for our upcoming Science Fair to be held Thursday, April 6, 2023.
By University of the Fraser Valley / Faculty of Science
Date and time
Thu, Apr 6, 2023 1:00 PM - 5:00 PM PDT
Location
University of the Fraser Valley 33844 King Road Envision Athletic Centre Abbotsford, BC V2S 7M7 Canada
About this event
A judge's most important role is to encourage students to continue their interest in science.
There are are two types of judging:
Divisional Awards Judging (Grades 7-12 only)
Special Awards Judging (All grades K-12)
Divisional Judging is the more formal of the two. Judges evaluate for creativity and scientific merit. It results in the awarding of gold, silver, and bronze for our region.
Projects are entered in one of eight categories and are assigned to judges based on their areas of expertise:
Agriculture, Fisheries and Food
Curiosity and Ingenuity
Digital Technology
Disease and Illness
Energy
Environment and Climate Change
Health and Wellness
Natural Resources
The winners who receive gold, will represent the Fraser Valley and Team BC at the the Canada Wide Science Fair to be held in Edmonton, Alberta in May. https://youthscience.ca/science-fairs/cwsf/edmonton-2023/
Special Award Judging (Provincial and Regional) - Each year more than $10,000 is donated by science-oriented community businesses, professionals, and service organizations. These awards recognize and celebrate the achievements of the young scientists in the Fraser Valley. They include certificates and cash awards. Small teams of judges with expertise in the award area evaluate projects according to criteria for excellence specified by the award donor.
Many of these awards will be judged by the donors themselves. However, we always need extra judges for these awards.
We hope that you volunteer to make the afternoon a memorable one for the students, for a science fair is not only a competition, but also an educational and motivating experience for students. Students consistently report that the best part of their experience is talking with knowledgeable scientists who treat their work with respect. Please help us make this a positive and enjoyable experience for these young people.
If you have questions regarding judging at the Fraser Valley Regional Science Fair, please contact us at fvrsf@ufv.ca or call 604-504-7441 ext 4825.