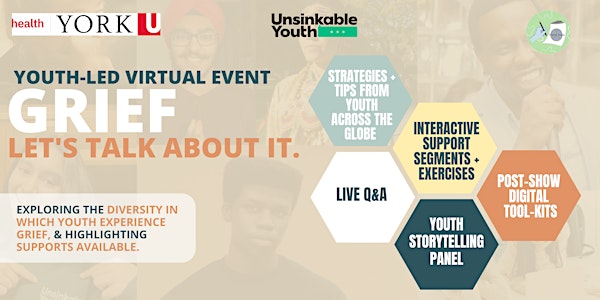 2023 Grief Event
Join us for a fun & powerful YOUTH-LED virtual event that explores the diversity in which youth experience grief & the supports available.
Date and time
Sun, Jan 29, 2023 4:00 PM - 5:00 PM PST
About this event
ATTENTION ALL YOUTH & FAMILIES:
Unsinkable has partnered with Power Project Global and York University to host a YOUTH-LED event centered around exploring the diversity in which youth experience grief.
This event is aimed to harness the power of story to ignite conversations around the spectrum of grief. In turn, educating the community, challenging stigmas, and spotlighting the supports available to help young people. The pandemic has forced our youth to feel loss in many diverse ways. With loss, comes grief and the increased need to support our youth through these healing conversations.
In order to take proactive steps forward towards mental well-being it's important that our youth have the language and understanding around the emotions that they are experiencing. This event is aimed to do just that.
More than a webinar, this unique virtual and interactive experience will tackle two topics about grief: trauma and loss and life transitions. Participants can expect to hear stories, engage in interactive exercises, and gain access to a take-home helpful toolkit. This session is also a great watch for anyone who engages with youth, whether you are a parent, guardian, coach or mentor. The session should leave participants with new strategies on how to manage their concerns around grief. All with the hopes of connecting communities and walking away with a hopeful outlook.
Sit down with the family, grab your favourite snacks and tune in for a Sunday night packed with youth storytelling, interactive activities, inspiring messages, take-home tool-kits and much more.
Register today to join the conversation!
About the organizer
Unsinkable is a Charitable Organization founded by four-time Olympian and mental health advocate Silken Laumann. Unsinkable humanizes the way people access and experience mental health support by using a practical, evidence based and non-clinical approach to support individuals on their mental health journey. Unsinkable uses storytelling to help people bridge the gap between struggling with their mental health and taking steps towards mental well-being. As a digital-first community, Unsinkable delivers four high impact support programs, that meet youth and adults where they are at on their own mental health journey.
We are in the midst of a very serious mental health crisis. The gap between individuals who are struggling and the resources they need is larger than ever. Unsinkable is eager and ready to grow the impact of their content and programs to help more individuals along their mental health journey. Together, we will create meaningful impact on the urgent need for support.