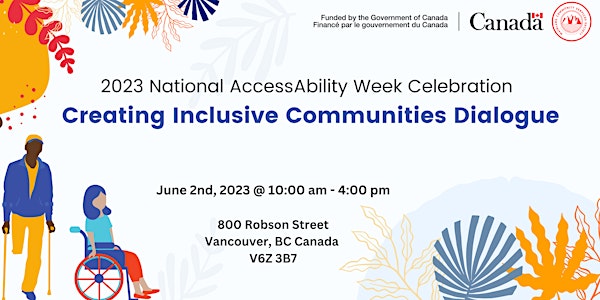 2023 National AccessAbility Week Celebration Dialogue
You're invited to the 2023 National AccessAbility Week Celebration Stakeholder Dialogue on Creating Inclusive Communities.
By Mainland Community Services Society
Date and time
Fri, Jun 2, 2023 10:00 AM - 4:00 PM PDT
Location
Robson Square 800 Robson Street Vancouver, BC V6E 1A7 Canada
About this event
2023 National AccesAbility Week Stakeholder Dialogue
Mainland Community Services Society (MCSS) working with Creating Accessible Neighbourhoods and Calvary Worship Centre is very excited to announce our upcoming National AccessAbility Week celebration dialogue entitled "Creating Inclusive Communities". The event will be executed with the goal of providing an enriching experience built on the foundations of inclusivity, knowledge, and experiences.
What is the Creating Inclusive Communities Dialogue (CICD)?
The Creating Inclusive Communities Dialogue (CICD) is a multi-stakeholder dialogue for both community leaders and change-makers working across AccessAbility sectors in British Columbia. CICD seeks to engage community leaders and changemakers to advance systems change conversations and innovative solutions to issues impacting Persons Living with Disability in BC. This dialogue is part of a growing conversation about addressing the systems that affect Persons Living with Disability. Through a number of awareness-building activities, we would sustain the conversation to provide a "Highlight on Accessibility and Inclusion: Addressing Systemic Discrimination" - a project fully funded and supported by the Federal Government of Canada.
What benefits are there for participating stakeholder organizations?
Through participating in this dialogue, participants will bring the following capacities back to their organization:
A deeper understanding of equity, power, ableism, disability justice, and accessibility.
Motivation to build collective solidarity for accessibility within their community culture.
Public relations and leadership skills geared towards generating support and resources for organizational initiatives on accessibility.
Collaborate with other leaders and practitioners to develop, and share initiatives to address issues specific to Persons Living with Disabilities.
A platform to promote and share the work of their communities broadly in the province
Enhanced networks and first-person relationships with social impact funders and policy-makers in the accessibility sector.
The dialogue is scheduled on June 2nd, 2023 between 10-00 am to 4:00 pm at UBC Robson Square. We are happy to work with your organization to find ways this opportunity can benefit you in your mission-driven work.
This free event is open to a maximum of 2 people per organization, and registration is required. We anticipate this event will reach capacity – please register via Eventbrite by June 1st, 2023. We are happy to answer your questions.
You can reach us at:
contact@mainlandcommunityservices.ca or
call +1 365-880-0241
Thank you for contributing your time to this exciting initiative. We look forward to continuing our partnership as we move forward with this dialogue!