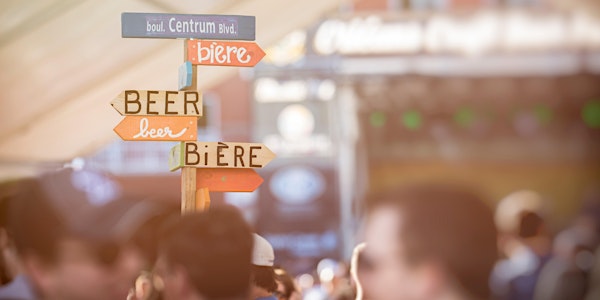 2023 Orléans Craft Beer Festival | Festival de Bières Artisanales d'Orléans
Voted Ottawa's favourite Craft Beer Festival! Voté le festival de bières artisanales le plus populaire d'Ottawa!
When and where
Location
Centrum Plaza - Outdoors! 255 Centrum Blvd Ottawa, ON K1E3W3 Canada
Refund Policy
Refunds up to 7 days before event
About this event
2 days 6 hours

Mobile eTicket
Presented by S&R Mechanical, the Orléans Craft Beer Festival (June 8-10, 2023) is the can't miss event of the season! With a great combination of outstanding craft beers, smooth wines and spirits, delicious food, and great live entertainment, we have something for everyone!
You can choose from any of these four sessions:
Thursday June 8th 5:00 pm – 11:00 pm
Friday June 9th 5:00 pm – 11:00 pm
Saturday June 10th 11:00 am - 4:00 pm
Saturday June 10th 5:00 pm - 11:00 pm
This popular outdoor festival goes on rain or shine! We've got you covered with large tents that span most of the festival grounds including the beer gardens and eating area. It's a good, old fashioned east end street party with all the best local taps and apps under the big tent!
We have a few exciting new things happening this year.
First, we now have two sessions running on the Saturday! This will allow us to have more people enjoy the festivities over the weekend.
Second, we're proud to announce that our inaugural charity beer run will take place on Saturday morning (June 10th). The Blood, Sweat, and Beers (BSB) run will help to raise money for the Orléans Cumberland Resource Centre! Here's your chance to get the most out of your Orléans Craft Beer Festival (OCBF) experience. Join us for a 5K or 10K timed run that takes you through the heart of Orleans, right to a VIP entrance of the OCBF. You'll have a chance to build up your thirst with a run before getting access to the best Beer Festival in the region.
Starting at the Place d'Orléans Park & Ride, BSB has you running through some of the oldest neighborhoods in Orléans. Wind your way through Queenswood Village, up Tenth Line, and right to Centrum Blvd. We'll transport your gear to the finish line, and you'll be a short walk back to your car/public transit after the festival. Registration includes entry into the festival on Saturday afternoon (Session3), 3 tokens, and a custom finisher's medal!
Last, but certainly not least, we're launching a new fundraising / charity program that will allow local registered charities and/or teams looking to raise funds for their organization(s) the opportunity to sell tickets to our event using a specific code that will allow them to receive a kick back on each ticket sale. Reach out to us at info@orleansfestivals.ca for further information.
Check out our website for answers to your FAQs, and for an updated list of the breweries pouring, musicians playing, and all the details you'll need!
www.orleansfestivals.ca
This is a 19+ event. Government-issued photo ID will be required to enter.
______________________________________
Présenté par S&R Mechanical, Le Festival de la Bière artisanale d'Orléans (8-10 juin 2023) est l'événement à ne pas manquer de la saison! Avec une excellente combinaison de bières artisanales exceptionnelles, de vins et spiritueux doux, de nourriture délicieuse et d'excellents spectacles en direct, nous avons quelque chose pour tout le monde!
Vous pouvez choisir l'une de ces quatre sessions:
Jeudi 8 juin 17h00 - 23h00
Vendredi 9 juin 17h00 - 23h00
Samedi 10 juin 11h00 – 16h00
Samedi 10 juin 17h00 – 23h:00
Ce festival populaire en plein air se déroule sous la pluie ou le soleil! Nous vous couvrons avec de grandes tentes qui couvrent la plupart des terrains du festival, y compris les jardins de bière et la zone de restauration. C'est une bonne vieille fête de rue de l'est sous la grande tente!
Nous avons quelques nouveautés intéressantes cette année!
Tout d'abord, nous avons maintenant deux sessions le samedi! Cela nous permettra d'avoir plus de monde pour profiter des festivités pendant le week-end.
Deuxièmement, nous sommes fiers d'annoncer que notre course à la bière caritative inaugurale aura lieu le samedi matin (10 juin). La course Blood, Sweat, and Beer (BSB) permettra de récolter des fonds pour le Centre de ressource Orléans Cumberland! Voici l'ocassion de profiter au maximum de votre expérience au Festival de la bière artisanale d'Orléans (FBAO). Joignez-vous à nous pour une course chronométrée de 5 km ou 10 km qui vous ménera au coeur d'Orléans, jusqu'à l'entrée VIP de l'FBAO. Vous aurez l'occasion d'étancher votre soif avec une course avant d'avoir accès au meilleur festival de bière de la region. Partant de parc relais de Place d'Orléans, le BSB vous fait courir à travers certains des plus anciens quartiers d'Orléans. Traversez Queenswood Village, remontez Tenth Line et allez jusqu'au boulevard Centrum. Nous transporterons votre équipement jusqu'a la ligne d'arrivée, et vous serez à quelques pas de votre voiture ou des transports en commun après le festival. L'inscription comprend l'entrée au festival, 3 jetons, et une médaille personnalisée pour le finisseur!
Enfin, et ce n'est certainement pas le moins important, nous lançons un nouveau programme de collect de fonds/caritatif qui permettra aux organisme de bienfaisance locaux enregistrés et/ou aux équipes qui cherchent à collecter des fonds pour leur(s) organisation(s) de vendre des billets pour notre événement en utilisant un code spécifique qui leur permettra de recevoir une ristourne sur chaque vente de billet.
N'hésitez pas à nous contacter à l'adresse info@orleansfestivals.ca pour de plus amples informations.
Consultez notre site Web pour trouver les réponses à vos questions, ainsi qu'une liste actualisée des brasseries et des musiciens qui se produiront, et tous les détails dont vous aurez besoin!
www.orleansfestivals.ca
Cet événement est réservé aux plus de 19 ans. Une pièce d'identité avec photo délivrée par le gouvernement sera exigée pour entrer.
Agenda
Session 1
Session 2
Session 3
Session 4
6:00 PM - 7:30 PM
Band Announcement Coming Soon!
8:00 PM - 10:30 PM
The Lionyls
Frequently asked questions
What does my festival ticket get me?
How much will beverages and food cost at the event?
Is this a 19+ event? Do I need to bring ID?
I don't plan on drinking. Do I still need to buy a ticket?
Can I leave the festival and come back in?
Is there a smoking section?
Are pets allowed access to the festival?
How do I get to the festival?
Is there parking available?
Do you accept debit and/or credit? Is there an ATM on-site?
What's the refund policy?
Que m'apporte mon billet d'entrée au festival ?
Comment les jetons fonctionnent-ils ?
Quel sera le coût des boissons et de la nourriture lors de l'événement ?
S'agit-il d'un événement réservé aux plus de 19 ans ? Dois-je apporter une pièce d'identité ?
Je n'ai pas l'intention de boire. Dois-je quand même acheter un billet ?
Quand a lieu le dernier appel ?
Puis-je quitter le festival et revenir ?
Y a-t-il une section réservée aux fumeurs ?
Les animaux de compagnie sont-ils autorisés à accéder au festival ?
Comment se rendre au festival ?
Y a-t-il des places de stationnement disponibles ?
Acceptez-vous les cartes de débit et/ou de crédit ? Y a-t-il un guichet automatique de billets ?
Quelle est la politique de remboursement ?
About the organizer
Launched in 2016, Orléans Festivals is committed to bringing awesome community events and festivals to the east end of the city!

Commencer en 2016, Festivals Orleans est engagé à apporté des événements et festivals communautaires impressionnant à l'est de la ville!