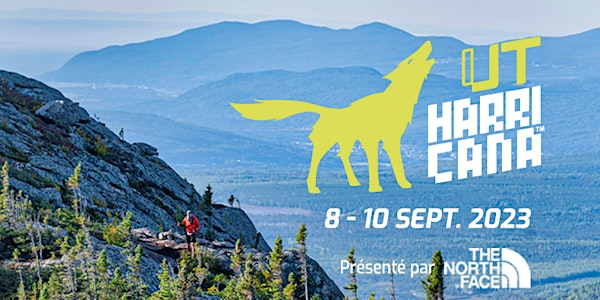 2023 Ultra-Trail Harricana™ Presented by The North Face
8th to 10th Sept. 2023 in CHARLEVOIX region (QUEBEC, CANADA) Trail running events: 125km - 80km - 65km - 42km - 28km - 20km - 10km - 5km
Location
Centre de ski mont Grand-Fonds 1000 Chemin des Loisirs La Malbaie, QC G5A 1Y6 Canada
About this event
2 days 4 hours

Mobile eTicket
* Prices in Canadian dollars / Texte en français plus bas
There is no waiting list for events, so what if the race is sold out? Here are your options:
1- By participating in the fundraiser, UTHC guarantees you a bib at the race of your choice (registration extra).
2- If you live outside the province of Quebec, write to us, we have a number of bibs reserved specifically for you.
3- Follow our website closely as there are always spots that become available due to transfers and cancellations.
An authentic trail running experience in Canada's wild back country
The North Face presents the Ultra-Trail Harricana™ du Canada (UTHC) and offers a unique way to explore the boreal forest, its fauna and the wild backcountry of Charlevoix. Each September since 2012, the  region comes together for one weekend to share the values of trail running: authenticity, humility, equality, respect and solidarity with 2 500 athletes from all over the world.
The UTHC offers challenges from short to very long distance: 5K, 10K, 20K, 28K, 42K, 65K, 80K (50 miles) and 125K. The ultra 125km course of international caliber is a linear trail with a total height gain of 4 000 meters. The race his also qualifying for the Western States 100. 
RACE RULES AND ENTRY POLICIES
 --> Read our Race Rules and Entry Policies
What's the refund policy?
Cancellation of a registration with a partial reimbursement is permitted until 31 days before race day.  All cancellation requests must be made by email at info@harricana.info.  
Il n'y a pas de liste d'attente pour les épreuves, alors quoi faire si la course affiche complet? Voici vos options:
1- En participant à la collecte de fonds, l'UTHC vous garantit un dossard à la course de votre choix (inscriptions en sus).
2- Si vous habitez hors de la province de Québec, écrivez-nous, nous avons un certain nombre de dossards réservés spécifiquement pour les athlètes de l'extérieur du Québec.
3- Suivez notre site web de proche car il y a toujours des places qui se libèrent régulièrement en raison de transferts et annulations.
Un ultra-trail au coeur de la forêt sauvage canadienne
L'Ultra-Trail Harricana™ du Canada (UTHC), présenté par The North Face, offre une façon unique d'explorer la forêt boréale, sa faune et l'arrière-pays sauvage de Charlevoix. La région se mobilise le temps d'une fin de semaine tous les mois de septembre depuis 2012 pour partager les valeurs de la course en sentier (trail running) avec plus de 2 500 athlètes provenant de partout dans le monde.
L'UTHC propose des compétitions allant de la courte distance (5 km, 10 km, 20 km et 28 km) à la longue distance (42 km, 65 km, 80 km) et un parcours de calibre international de 125 km comprenant 4000 m de dénivelé positif. La course époustouflante et exigeante est qualificative pour la Western States 100.
RÈGLEMENTS DE COURSE ET POLITIQUES D'INSCRIPTION
--> Lisez nos Règlements de course et politiques d'inscription
Quelle est la politique de remboursement ?
L'annulation d'une inscription avec remboursement partiel est autorisée jusqu'à 31 jours avant le jour de la course. Toute demande d'annulation doit être faite par courriel à info@harricana.info