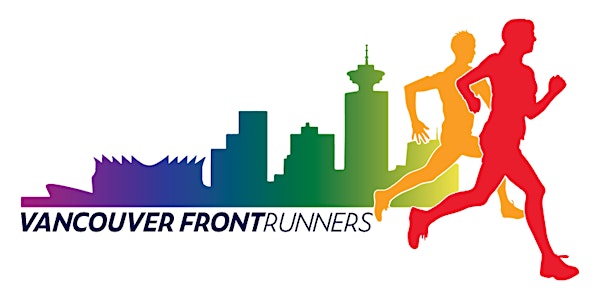 2023 Vancouver Frontrunners Membership
2023 Vancouver Frontrunners Annual Membership - valid from NOW through December 31, 2023
Refund Policy
Contact the organizer to request a refund.
Eventbrite's fee is nonrefundable.
About this event
Thanks for checking out Vancouver Frontrunners (VFR)!
Vancouver Frontrunners provides a safe and friendly environment for the 2SLGBTQIA+ community and their friends to enjoy running and walking. Vancouver Frontrunners is Canada's longest operating 2SLGBTQIA+ running and walking club; 2023 is our 40th anniversary year!
Join our welcoming club and participate in our twice-weekly runs and walks:
Wednesdays - meet at Yaletown Roundhouse at 6:30 pm
Saturdays - meet at Brockton Oval in Stanley Park at 9 am (10 am for a portion of the Winter, full details on our website and our weekly newsletter mailed to members)
Optional post-run meals: After runs, we meet up at a rotating restaurant on Wednesday evenings and our regular breakfast hangout near Stanley Park on Saturday mornings.
We promise we won't spam you! But we will send you a weekly newsletter with info on socials, late-breaking changes to runs, special events, and other items. If you don't receive a newsletter within a week of signing up, please contact us at eventbrite@vancovuerfrontrunners.org.
VFR also organizes regular social events for members ranging from potlucks to paddleboarding and running clinics to curling and snowshoeing and out-of-town races like the Whistler 50 Relay Race! VFR is also the organizer and host of Vancouver's annual Pride Run & Walk 5/10k in Stanley Park! PRW 2023 will be epic!
Please review our social media policy below and confirm your preference at checkout.
While the COVID-19 pandemic is ongoing, the club will observe all public health protocols to manage risk for members. All VFR run & walks, social, and race events are subject to any current COVID-19 restrictions.
Vancouver Frontrunners Social Media Policy
As part of our efforts to celebrate our activities and reach out to people who might be interested in joining VFR, the club regularly posts photos from our regular and special events on various publicly accessible forums (the VFR website, Instagram, Facebook, Twitter, etc.).
Before we take photos to be posted on VFR social media accounts, we will always say, "This is for social media." Unless otherwise informed, we assume that you are happy to have your image included.
If you are taking a photo that you think would make a great public post for the club, please feel free to forward it to the social media coordinator (ashleyrussellmoore@gmail.com). However, if the image includes other people, please make sure you have their permission for VFR to share it before forwarding it.
We will never tag specific people in these publicly available images.
If you are included in a specific post but you'd rather not (maybe you stumbled into some bad lighting!), please inform the current social media coordinator (communications@vancouverfrontrunners.org), and they will get it taken down as soon as possible.
As the social mores surrounding social media are constantly shifting, these policies are dynamic; please don't hesitate to reach out to anyone on the board if you think they could be revised to even better serve our VFR community!
Chances are you found us through our social media or website! Help us reach out to others. That said, we understand that not everyone is a fan of appearing on social media. Please indicate your preference at checkout, and we'll do our very best to honour it.