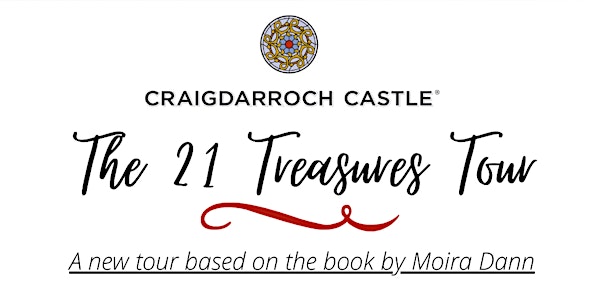 21 Treasures Tour
Try this new way to experience some of the myriad stories the Castle offers: Craigdarroch Castle in 21 Treasures.
When and where
Location
1050 Joan Crescent 1050 Joan Crescent Victoria, BC V8S 3L5 Canada
About this event
Based on the recent book by the same name by Moira Dann, the "21 Treasures Tour" will take you on 21 stops to all four floors of the Castle, top to bottom, and offer portals to stories from the many lives of the Castle: The Dunsmuir Dynasty Victoria "bonanza castle", the Military Hospital period, the Victoria College days, the Victoria School Board and Victoria Conservatory of Music eras, right up to its transition to the current incarnation as a world-class heritage site stewarded by the Castle Historical Society.
Hear the stories behind the stained-glass window …in the middle of a chimney! How a big dance was regulated by something called a "dance card" attached to the wrist of each lady at the party. Learn about the beautiful "art -case" Steinway piano ordered by one Dunsmuir brother and delivered to another, after his brother was killed by drink. Ponder the tale of the Dining Room door-to-nowhere, that leads straight out to a 12-foot drop. See Dunsmuir-era intercom, known as a "speaking tube." Look at how the floor was raised to install the plumbing needed for the hospital's institutional bathroom on the second floor.
Craigdarroch Castle in 21 Treasures is a 90-minute (approx.) tour designed to raise and answer many questions contained within its walls and introduce you to many of the characters who once lived here.
COVD-19 Precautions are in place and masks are required when visiting Craigdarroch Castle and the Visitor Centre.
Please note: There are 87 stairs to the tower and no ramps or elevators.