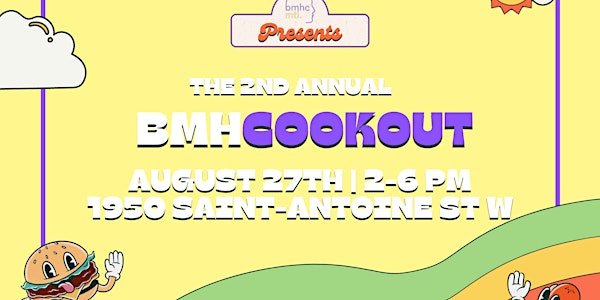 '22 BMHCookout Panel
The BMHCookout creates a safer space where necessary conversations on mental health meet great food and even better company.
About this event
Black Mental Health Connections, is an alliance of organizations and individuals focused on the mental health and well-being of the English-speaking Black community in Montreal. The BMHCookout is BMHC's second annual barbecue, with free food, activities and a curated panel of mental health advocates and practitioners.
This event allows you to access the panel portion of the event online from 3:00 - 5:00pm. Join us in this genuine, and vulnerable setting to destigmatize mental health, while encouraging healing.
About the Panelists
Samanta Nyinawumuntu
Samanta Nyinawumuntu describes themselves as a Black queer being who hails from the mountains for Rwanda. They are a daughter, friend, granddaughter, auntie, student, artist, facilitator, farmer, and community organizer whose mission is to facilitate and co-create intentional spaces that center a healing justice framework for people who are, and have been historically marginalized. Samanta creates programs for queer, and or Trans Black, Indigenous and Youth of Colour at Project 10, and they are the founder & director of the Black Healing Centre. An organization that aims to provide an accessible and safer healing space for Black folks in Tio'tia:ke (MTL).
Khan Bouba-Delambaye
Khan has a background in psychology, holding a Masters in Counselling Psychology from McGill university. is the owner of KB-D Counselling & Consulting, providing both clinical support and consulting in the areas of mental health and EDIA (Equity, Diversity, Inclusion, Accessibility), to his clients. Through his business, Khan also engages in content development and facilitation for workshops, trainings, and facilitated discussions, as well as designing student outreach & leadership programs for academic institutions. Khan serves as a guest-speaker, and has done a number of interviews for CBC, CTV, as well as several podcasts, radio shows and newspapers.
Kay Thellot
Kay Thellot, a practicing Manbo Asongwe of Vodou Ayisyen, is currently pursuing a Master's in Counselling Psychology. With a Bachelor in Psychology and a 15-year social intervention career, Kay has focused her work with youth and their families through an empowerment lens by, among other actions, creating and leading workshops in community, artistic and spiritual spaces. Guided by this experience, Kay's online platform Prensip Minokan is geared towards the work of juxtaposing and superimposing western and Haitian ancestral knowledge towards proposing Vodou Ayisyen as an inherently fully developed Afro-Indigenous decolonized option for wellness and healing. For more information, please visit prensipminokan.com.