About this Event
Early bird tickets on sale now until February 7, 2020!
The 22nd Annual LifeSciences BC Awards, presented by FARRIS on April 2, 2020, is an opportunity to celebrate our community's many achievements, small wins and big victories, with our peers, family and friends. This is our moment to recognize and honour the efforts of all those who have invested their lives' work in mastering successful health outcomes.
The 22nd Annual LifeSciences BC Award Categories:
Genome BC Award for Scientific Excellence
Michael Smith Foundation for Health Research – Aubrey J. Tingle Prize
Milton Wong Award for Leadership
Deal of the Year Award
Strategic Life Sciences Partner of the Year Award
Medical/Digital Technology Company of the Year Award
Life Sciences Company of the Year Award
Dr. Don Rix Award for Lifetime Achievement
B.C. has found its place on the international life sciences stage and is recognized in Canada and beyond for its significant accomplishments in medical technology, biopharmaceuticals, health delivery systems, and medical research & development initiatives. We have reached beyond our borders to impact patient health and connect to the world at large, while ensuring the life science sector here, at home, remains vibrant and sustainable.
We are fortunate to have a life science ecosystem that bridges academia and a thriving research & development bionetworks, including world-class healthcare facilities, distinguished health & medical foundations, and renowned centres of excellence that are supportive of translation and commercializing innovation in healthcare.
Please join us in celebrating our 2020 LifeSciences BC Award winners on April 2, 2020!
Thank you to our sponsors!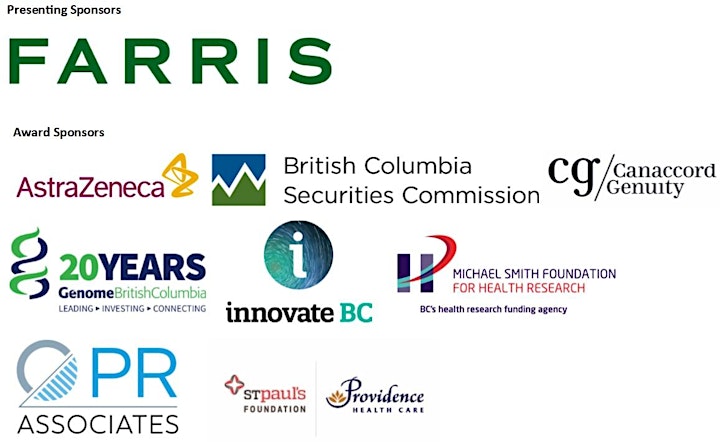 For more information, please contact:
Ryan Butt
Senior Manager, Events & Outreach
Tel.: 604-669-9909 ext. 104
rbutt@lifesciencesbc.ca
Notes:
** Please note no refunds after March 2, 2020
***If paying by cheque, please make it payable to LifeSciences British Columbia and include 5% GST.