RSD10 Workshop Series | #22 | Alberto Soriano, Josina Vink, and Shivani Prakash
About this event
This workshop is part of the 2021 Relating Systems Thinking and Design Symposium (RSD10).
You must be registered with RSD10 to access workshops. Visit RSDsymposium.org for more information. Full details about this session are available from the RSD10 workshop page.
Workshop sign-up for all delegates opens on October 8.
SDA member advance sign-up is October 1-7.
Instructions
To register, click the promo code that was sent to you by email and enter the code where it says, "Enter promo code".
Questions? Direct chat/email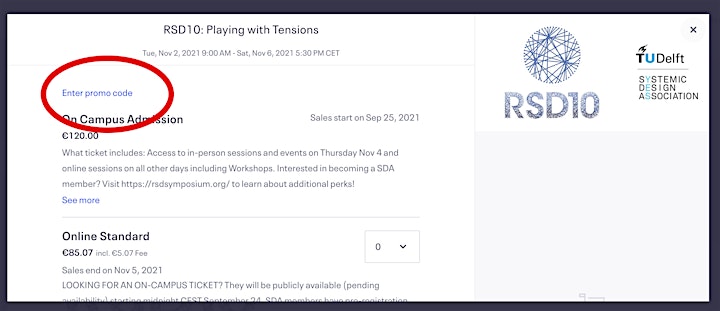 TIP
Keep it all together! Logged in SDA members can keep a page of bookmarked resources. It's an excellent way to set up your RSD10 program. This feature is available year-round so you can save your current favourites from hundreds of RSD systemic design resources in one place. Check out the screen tip below.
Organizer of #23 Systemic Design as a Hegemonic Force (on-campus only)
With more than 2,000 students and a 350-strong research team, the TU Delft Faculty of Industrial Design Engineering is now one of the world's leading design schools. Industrial Design, popularly referred to as IDE, is speeding up its reputation thanks to its strong ties to business, government institutions and NGOs.