Description
Cette TROISIÈME rencontre de 2018 pour les utilisateurs de Raspberry Pi (et d'Arduino) du grand Montréal se tiendra le mercredi 25 avril 2018 à 18:30.
Nous avons 2 conférences de prévues. Une première couvrira 5 à 8 trucs sur le langage Python (ces trucs vous seront utiles quelque soit la plateforme que vous utilisiez). Une seconde couvrira un projet Arduino de contrôle de moteurs ET un outil logiciel super intéressant. Nous concluerons par notre forum d'entraide/appels à l'aide pour ceux et celles qui ont des questions ou encore besoin de conseils.
Agenda:
1 - Nouvelles du Club (15 minutes) - Jean-Marc Bélisle

Courtes informations sur le Club et activités à venir.
2 - 5 à 8 trucs en Python (30 minutes) - Jean-Marc Bélisle
Le langage Python est un langage complet et puissant, doté de librairies extrêmement complètes permettant de solutionner les problèmes les plus complexes: de l'interaction avec les composantes matérielles en passant par l'analyse de sites Web ou encore la solution et la cartographie de problèmes scientifiques complexes.
De grandes firmes telles Google et Ubisoft utilisent le Python pour développer des systèmes et des outils essentiels pour leurs organisations. Les 5 à 8 truc (ou particularités) démontrés vous seront utiles dans vos projets. Ou encore à défaut d'être utiles, elles vous en apprendront plus sur ce langage fort intéressant.
3 - PAUSE Réseautage (30 minutes) - Tous
Un projet: Interagir avec le monde réel présente son lot d'embûches et de problèmes. Contrôler un moteur pour faire monter/descendre un store de fenêtre peut sembler relativement simple et pourtant ... Daniel nous parle d'un projet qui bien que documenté (voir le lien : Toîle IKEA motorisée ) comporte plusieurs obstacles. Daniel parlera de ces problèmes et comment les éviter (drivers, alimentation, moteurs "stepper", engrenages... etc )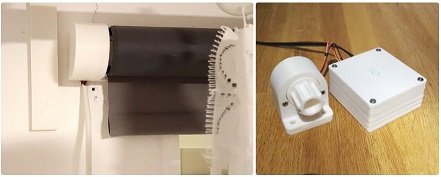 Un outil: l'application (piscope) permet de simuler un "logic-analyzer" avec un Raspberry Pi ( ). Super pratique pour savoir ce qui se passe avec les GPIO lorsque contrôlés par des applications qui les utilisent/modifient.
.5 - Table ronde (30 minutes): vos projets, vos problèmes, vos questions, vos appels à l'aide, etc ...
Profitez de la présence d'autres passionnés pour nous faire part des projets que vous menez/envisagez, des problèmes que vous avez, de vos questions et même de vos appels à l'aide. Cette communauté est d'une rare générosité.
Partagez cette invitation autour de vous ! Et si vous êtes tentés par l'expérience de faire une présentation à une rencontre ultérieure, faites le moi savoir : Les volontaires sont toujours les bienvenu(e)s!!!
Au plaisir de vous rencontrer à cette occasion.
Jean-Marc Bélisle.

Le Club Framboise tient à remercier District 3 pour son accueil.
Although the group is predominantly French-speaking, English participants and speakers are also very welcome!