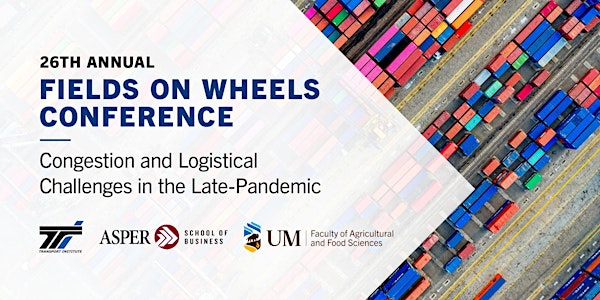 26th Annual Fields on Wheels Conference
Congestion and Logistical Challenges in the Late-pandemic
About this event
The pandemic has disrupted supply chains worldwide. Covid testing regimes have created bottlenecks, while macroeconomic stimulus waves are rebounding across market demands and prices. In the late stage of the pandemic food supply chains face interesting times.
The 26th Annual Fields on Wheels Conference is once more, a Webinar. By now, we had hoped to hold a traditional gathering, but in the late-pandemic, we are virtual again. The good news is that as communications replace transportation, we can welcome participants from all parts of Canada and beyond to "attend." And, with the help of our sponsors, we are making the conference available to everyone FREE of charge.
The formal program begins with a global view of the events that have choked supply chains and disturbed world markets. Peter Earle, of the American Institute for Economic Research, outlines the congestion sources of the North American transportation networks. The local impacts are updated by Doug Mills, from the Port of Vancouver, and Stephen Paul, of Ray-Mont Logistics.
"Near shoring," or focusing on North America, is topical because the pandemic has exposed the vulnerabilities of trans-oceanic supply chains. New rail linkages from Canada to Mexico are being forged to facilitate trade. The CAXXOR investment at the Port of Mazatlán that forges a rail link to Centreport are discussed. Dr. Gaston Cedillo, Instituto Mexicano del Transporte will provide analysis and comment on new rail connections with Canada from the Mexican perspective.
Food processing continues to expand and diversify the options for farmers. This year is a perfect example of the greater stability local markets can provide. New oilseed crushing capacity is described by Chris Vervaet, of the Canadian Oilseed Processor Association. Todd Lewis, of the Agricultural Producers of Saskatchewan, describes what this means to farmers. The grain export supply chain is also investing to improve efficiency and create opportunities at the country elevators and transfer points.
Finally, looking beyond the immediate problems of congestion and delays, Joel Carlson, CPCS will present scenario forecasts of the Canadian grain supply chain exports to 2030.
The Fields on Wheels conference brings together representatives from all segments of the agricultural and logistics supply chains. You should participate in this packed day because you are a stakeholder in this critical industry, either as a farmer, a logistics provider, an exporter, an industry manager, a policymaker, a regulator, an academic, a student or as a food consumer.
Zoom link: https://us02web.zoom.us/j/84185587673
Meeting ID: 841 8558 7673
Passcode: 134959