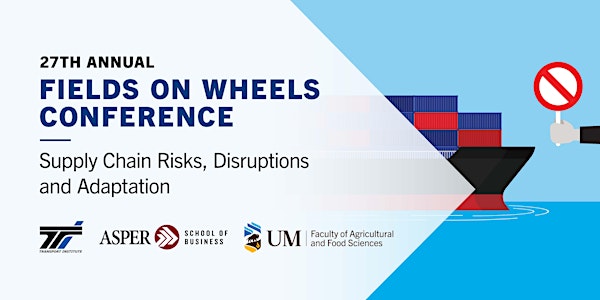 27th Fields on Wheels Conference
Supply Chain Risks, Disruptions and Adaptation
About this event
6 hours 30 minutes

Mobile eTicket
The risk of supply chain disruptions was accentuated by the pandemic that caused congestion in the ports and surface transportation. As this disturbance is passing, the general feeling that more things could go wrong seems to be greater. Of course, logistical problems are nothing new, but the consequences have become more costly. Long extended supply chains held together by sophisticated communications improved efficiency and lowered costs by minimizing inventories. When supply chain disruptions appear, the system has fewer buffers to lessen the effect.
Advancing climate change increases the exposure of transportation systems to extreme weather disruptions. Heat waves, droughts, and floods slow or delay transport. More dramatic weather phenomena, like atmospheric rivers and hurricanes, destroy infrastructure, which takes weeks or months to rebuild. Weather-related disruptions are difficult to anticipate or prepare for.
Man-made disruptions to supply chains are becoming more prevalent. After years of peaceful co-existence, the world is being divided into allegiances and spheres of commercial interest. The Russian invasion of Ukraine has created new battle lines, and the careless use of customs barriers for political ends has turned back decades of careful trade negotiations. Examples are new import tariffs that interrupted exports of Canadian lentils to India and canola to China. The flipside of disruption is adaptation. Exporters and importers are pulling back, seeking more reliable supply chain partners and reliable trade corridors.
Technology can also disrupt supply chains. Better ways to conduct trade dislodge established systems. The digital revolution has created new ways of buying and selling that do not depend as much on established infrastructure or financial institutions. Some innovations, like Bitcoin may introduce more risk, while blockchain technology promises to make trade more secure.
Transportation connects all parts of supply chains, and normally it is "invisible." When something disturbs the flow, the impacts are widespread, frontpage news. The 27th Fields on Wheels brings together experts in agricultural supply chains via a webinar format to address the current and pending issues affecting agricultural transportation.
You should participate in this packed day if you are a stakeholder to this critical industry, whether as a producer or a logistics service provider, a policymaker, regulator, academic, student or a customer.