About this Event
FIND YOUR PERFECT VOLUNTEER OPPORTUNITY
What does it mean to find the perfect volunteer opportunity? It means finding the right place to invest in both your community and in yourself. What do you care most about? What experiences do you want to have? What do you want to learn? What do you not want to do?
Choosing the perfect opportunity will be much easier when you can talk in person with the organizations and agencies that need your help.
The event is free of charge, so come out and chat with 1, 10, or ALL of the great organisations looking for different skills and time commitments, and find volunteer opportunities that are perfect for you.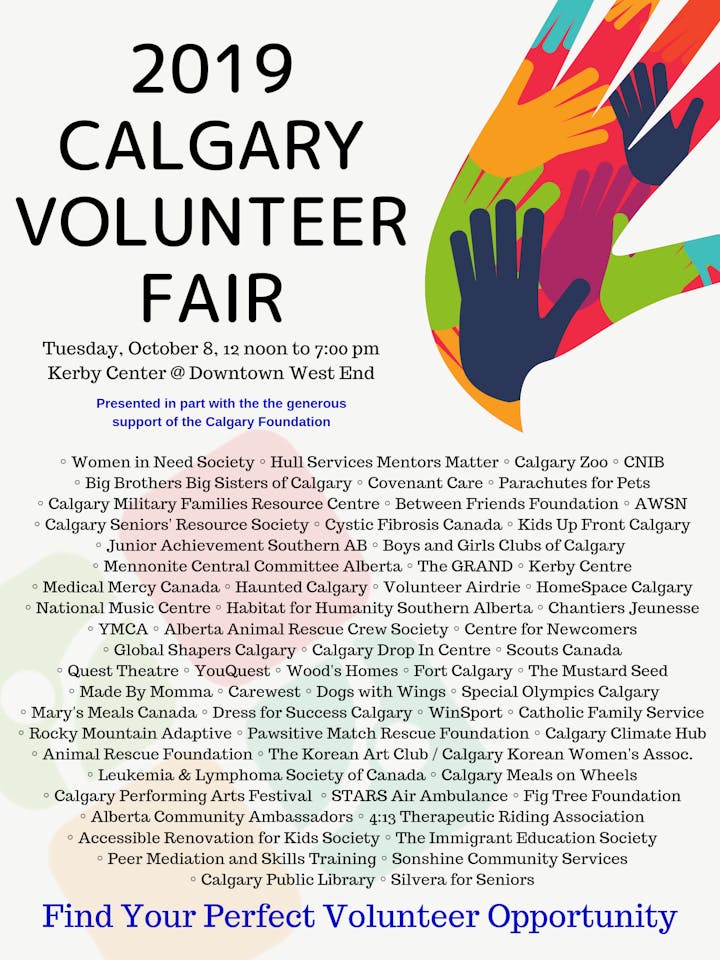 WHY THE CALGARY VOLUNTEER FAIR?
We have spoken with many people over the years who express interest in becoming a volunteer, but they just don't know where to start. There are so many organizations and so many causes. It's confusing. Even if you know what cause or area of interest is most compelling for you, it is challenging to choose among the various organizations who do work in that space.
The Calgary Volunteer Fair wants to make all of this easier for you. We are providing you with the opportunity to explore your options in a casual, no-pressure environment where the only obligation is to show up and be curious.
WHY DO YOU WANT TO VOLUNTEER?
Are you new in Calgary or looking to build your social circle? Volunteering can be an incredible way to make new friends who share your interests. It's easy to bond with people who care about the same things that you do.
Do you want to gain experience in a skill? Volunteering offers many unique opportunities to contribute to the well-being of your community while building out your transferable skills.
Would you like to be healthier and live longer? A recent study showed that being a regular volunteer correlates with being healthier than those who do not volunteer. Sure, they don't know why, but it's worth a shot, no?
Are you a young professional looking to build professional connections? Joining a non-profit board can be a great way to build relationships with others who are already in or working towards positions of influence.
Do you like fun? Most volunteers have fun, regardless of why they do it.