Description
Beatroute Magazine presents this second annual fundraiser for W2 Community Media Arts Society. Performances by: The Librarian vs Self Evident, HxdB vs Cure, Mandai, Vandettas, Bastet, Cherchez La Femme, Drugzndreamz, Frank Grimes, Andrew Van Hassel, Krusha vs Expendable Youth, Willisist vs Dubconscious, Woodhead.
The concept is exciting and exemplifies the diverse, collaborative spirit of the city itself. Take seemingly disparate sounds and micro-scenes, throw them into a blender, add stunning visual media, and a wonderful community venue to house it all.
Lots going on with 3 levels, including photo booth, winter light and media arts show in Atrium, Woodward's Winter Aboriginal Market and more!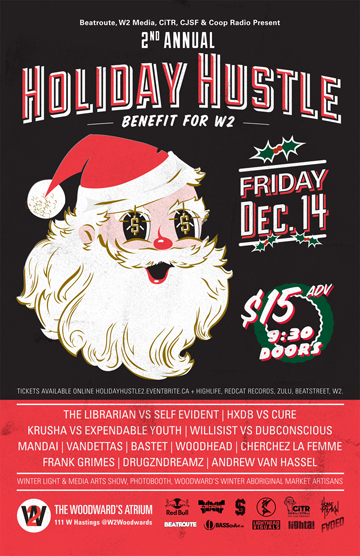 ////////////////////
Advance tickets only $15
Online: http://fritenitevancouver.eventbrite.com/
Group of friends 5 for only $75. Get tix for your crew.
Your favourite ticket outlet will have them soon:
W2 Media Cafe, 111 W Hastings
Beatstreet, 439 W Hastings
Zulu Records, 1972 West 4th
Highlife Records, 1317 Commercial Dr
Red Cat Records, 4332 Main Street
\\\\\\\\\\\\\\\\\\\\
The Librarian: http://soundcloud.com/the-librarian
vs
Self Evident: http://soundcloud.com/self_evident
Self Evident is one of the most enigmatic figures in Canadian EDM. One of the most diverse and prolific Vancouver artists and member of Vancouver's Lighta! crew, with a sound that is almost instantly recognizable as "Self Evident" and nothing else. With superhuman DJ skills to back up his exciting productions, his sets are often buzzed about for months after.
The Librarian is a name on the lips on many elated festival-goers on the West Coast. She is a co-founder and organizer of the Bass Coast Project, which has oft been compared to the larger, Shambhala, for its incredibly high level of production and meticulously curated lineup. Not only that but Andrea has become one of the most revered bass music DJs in Western Canada, stylishly exploring the entire post-dubstep spectrum, her sets too becoming some of the most buzzed about moments of festival season.
HxdB: http://soundcloud.com/hexadecibel
vs
CURE: http://soundcloud.com/dj_cure
A couple of the best party-rocking underground DJs in the city, thrilling crowds with their bleeding-edge, diverse musical styling. Cure, besides being a member of Lighta! is best known as the founder of the innovative record label, Aufect Recordings, which has been responsible for releasing music by Canadian mainstays XI, Bombaman and Mark Instinct. HxdB, was later brought onboard to help build the Aufect brand through events co-ordination and A&R. HxdB himself has, in a short time, gained international recognition through his original music productions, collaborations and slick remixes, finding their way into the sets of some of the biggest named DJs in the world, frequently heard on BBC 1Xtra & Rinse FM. Also, releasing music on a number of critically acclaimed record labels as wide ranging as Tectonic, Palms Out & Brownswood. ++Props to HxdB and Cure for helping shape this year's Holiday Hustle!
Expendable Youth: http://soundcloud.com/expendableyouth
vs
Krusha: http://soundcloud.com/krusha
Besides helping hold down one of Vancouver's consistent bass music weeklies, Faded, these guys have individually gained quite a global following, respectively. Expendable Youth has enjoyed success by releasing on Diplo's Mad Decent sister label, Jefferies, with their unique blend of club-ready sounds of varying flavours. In addition, Matt works with one of the most active promoters of EDM in Vancouver, helping on some of the largest events in the city.
Krusha, is no newcomer either, coming from a rich background in Drum & Bass with a handful of notable 12" releases on D&B mainstays Barcode, Human Imprint and Obscene. He is also a veteran DJ unafraid to experiment with different sounds, combining his love for Jungle, with more modern takes on the electronic spectrum to create a fresh perspective but always maintaining the dance-floor satisfaction in his productions.
Woodhead: http://soundcloud.com/woodhead
vs
MC Thinktank: http://soundcloud.com/thinktank-1
In the House and Funk realm, these two gentlemen are without parallel, as they are both part of the renowned Homebreakin Crew. Woodhead has a slew of exceptional releases on Homebreakin, Punchout & East Van Digital, that prove he is an ace producer in addition to his already spectacular skills as a DJ, his sets setting him apart from imitators hoping to recreate even a sliver of the magic seen at Shambhala and across the city for years. Thinktank, his compatriot, is regarded by many as one of the most versatile MCs in Canada, equally at ease on stage beside Hip Hop legends or any manner of EDM show. Having recorded with Nu-Funk legends All Good Funk Alliance and Vancouver's own emperor of Funk, Neighbour, Devon proves he is no one trick pony, rather a well-rounded musician that can lay down in the studio or on stage.
Willisist: http://shahdjs.com
vs
Dubconscious: http://soundcloud.com/dubconscious
Two more names that will almost certainly be known to local EDM fans. As one of the founding members of Vancouver's pre-eminent Drum & Bass crew, SHAHdjs, Willisist has been instrumental in the continual success and appreciation of the sound in Vancouver. Successfully bringing heavy-hitters in electronic music for 5 straight years and deservedly earning a reputation as one of the most honest and reliable players in the city. He also capably handles any size crowd with his razor sharp DJ skills.
Dubconscious on the other hand has spent the last several years of his life, travelling coast to coast across Canada making his presence known in every city he touches down in. A true master of the craft, his DJ sets are flawlessly mixed and exceptionally diverse, which has raised his profile locally and works a broad range of bills.
Cherchez La Femme: http://www.waldorfhotel.com/2011/08/get-acquainted-with-natasha-lands/
One of the busiest figures in Vancouver's frantic nightlife scene. Cherchez is hard to keep track of, not because she's particularly elusive, but because she is busy creating vibes at many of the city's venues either with her music or art shows. She has been responsible for bringing so many incredibly talented individuals to the city of just about every imaginable sound, from Hip Hop, to Indie, to Metal, to EDM, she is one of Vancouver's most forward-edge curators. This spirit of adventure follows her into her DJ sets, where fans can expect to not know what to expect, instead relying on on her innate musical understanding to assure rad times for all.
Mandai: http://soundcloud.com/mandai
Mandai is proud to represent as one of the Lighta! crew, blending dancehall classics with newer gems and throwing down dub plates acquired during trips to Jamaica. Originally inspired by her travels in Africa and then by the underground dancehall scene in Vancouver, she stays loyal to the island vibes. She has performed at Bass Coast, Shambhala, is a regular at the infamous Thursday Ting, and many events..
Drugzndreamz: http://www.youtube.com/user/DRUGZNDREAMZ
DRUGZNDREAMZ is a Audio/visual collective from Vancouver, Canada. Their live show has been called a Dubadelic trip; A visionary quest of sound and light. The band consists of musicians Marc Nyiti, Eric J. Breitenbach, The Magician and visual/projection artist Stuart Ward. DRUGZNDREAMZ burst on the scene in 2011 and performed support slots at sold out shows with international acts such as Dirtyphonics and Crystal Method. 2012 saw the band headline such festivals as Diversity and Carrington Bay.
Vandettas: http://www.youtube.com/user/Vandettasmusic
\//\|\|D=††/\S are an indie-pop trip-hop band from Vancouver, BC. Formed in 2011, by Killawatt recording artist Heatwave, DirtyRadio bass player and co-songwriter Dwight James Abell, and DRUGZNDREAMZ band member and producer Eric J. Breitenbach. Check out their songs 'Feel At Home' & 'The Truth' and see them live. Debut album coming early 2013!
Andrew Van Hassel: http://soundcloud.com/andrewvanhassel
What we know is that Andrew's music is shockingly tasteful and filled with all kinds of delicious emotions. Opting to use mostly analogue gear in his productions, he actually shares the same air in the living room with his roommate, Longwalkshortdock. He combines his love of live performance with his own elegant productions to create an entertaining and engaging experience, executing his deep knowledge of music and wizardry of synth manipulation on stage. Creating a soulful blend of techno and house aesthetics with soaring textural melodies, and glistening synth leads, often featuring his own vocals.
Frank Grimes: http://soundcloud.com/frankgrimes
In addition to being one of the most exciting young tattoo artists in the city, this guy is also rapidly becoming renowned for his chops as a producer. Combining the best elements of 90s R&B, modern electronic music and a ghetto aesthetic that is undeniably fun. He has released music on Canada's Aufect Recordings and Crude that demonstrate his unique style perfectly. Frank takes it one step further with his DJ sets by fusing his love of hip hop and R&B with his own original productions and other exciting, bleeding-edge club tunes.
314: http://soundcloud.com/314
Relative newcomers 314 have not wasted any time in making an impression on Vancouver. Sean and Liam have already been hard at work hosting events in conjunction with Aufect, and honing their skills behind the decks. They seamlessly combine house, techno and all manner of the aptly ambiguous "post-whatever" realm of sound.
Bastet: http://soundcloud.com/bastet
Originally hailing from Nelson, BC, Hilary now calls Vancouver her home. An experienced DJ that manages to keep crowds thoroughly enthralled with her unique mixes and forward-thinking sounds. She blends all manner of bass music in her energetic sets, leaving the unprepared begging for more.
Organizer of 2nd Annual Holiday Hustle
W2 brings spaces to life with the arts and creative technology in the Downtown Eastside of Vancouver.

Come visit us at our new, permanent 10,000 sf ome in the Atrium of Woodward's:
W2 Media Cafe
111 W Hastings
Vancouver BC V5T 4B5
Phone 604-689-9896

W2 is people-powered, meaning mostly run by volunteers who care about making positive change happen. Your contribution of time or financial donation are equally welcome.